Jadakiss Discovers He's Amazing At Axe-Throwing: 'There's Nothing I Can't Do!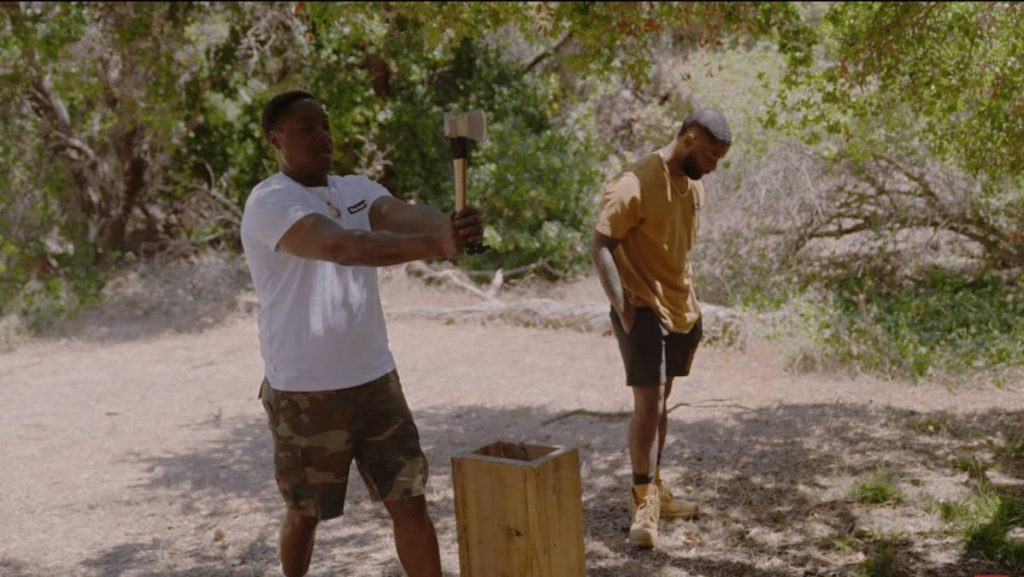 Jadakiss has discovered that he's pretty good at throwing axes, and made sure to let people know it too.
During Jada's hike on the Complex show Hiking With Rappers, the LOX veteran was asked to try his hand at throwing axes at a target, and despite having a broken finger, gave series host King Keraun a run for his money.
After a brief demonstration, Jada attempted to toss the axe with one hand, which proved futile due to his handicap. But once the 47-year-old rapper switched to two hands, he quickly got the hang of it.
"It's not a bullseye but it's damn good for eight and a half fingers," Jada proclaimed at the four-minute mark. He struck the target again on his second try, to which he yelled, "You kidding me? I'm getting fierce!" He then nailed the bullseye on his third try. "There's nothing I can't do!" Jada yelled.
Elsewhere in the hike, the "Jason" rhymer reflected fondly on the late DMX and the impact on his career.
"I think X was instrumental to my career as well as my brothers," Jada said. "As far as leveling up and going in the big studios and actually start doing projects and going on tour, we all did that together in the beginning."
He continued: "I still remember to this day, me and Shake being on the block in front of his building and X coming and be like, 'Yo, I got these guys. They wanna sign me, and I'm signing, and y'all are signing with me,' and that turned out to be Ruff Ryders."
Cam'ron, Ma$e and Jadakiss will soon take the New York sound on the road for their joint 3 Headed Monster Tour, which kicks off in Bridgeport, Connecticut on October 19.
The tour  wraps in San Diego, California on Gallagher Square at Petco Park on Thursday, October 6, with stops in Philadelphia and Pittsburgh, Pennsylvania; Elmont, New York; Norfolk, Virginia; and Augusta, Georgia along the way.
While Jada's always been inspired by DMX and his signature delivery, the Kiss Tha Game Goodbye rapper recently listed out a few other rappers who inspired him as well, including other fellow New York legends like Nas and The Notorious B.I.G.
"It took me a while, that's like education in music just to know the different [sonic] of people's voices," Jada told Uproxx. "Just unique voices for me as I started learning about it. I think Guru, rest in peace. [Method Man], you know when the [Wu-Tang Clan] came Meth's voice was deep and raspy and just he has an ill voice."
He continued: "Big, with the nasal. Sounds like he's having a hard time breathing but that's making his cadence extra crazy. Tone-Loc, Tone-Loc's voice was ill. Nas, with the nasal. That's voices! So don't get mad at me."