Kanye West Thanks Drake For Support Amid 'White Lives Matter' Backlash: 'It Warmed My Heart'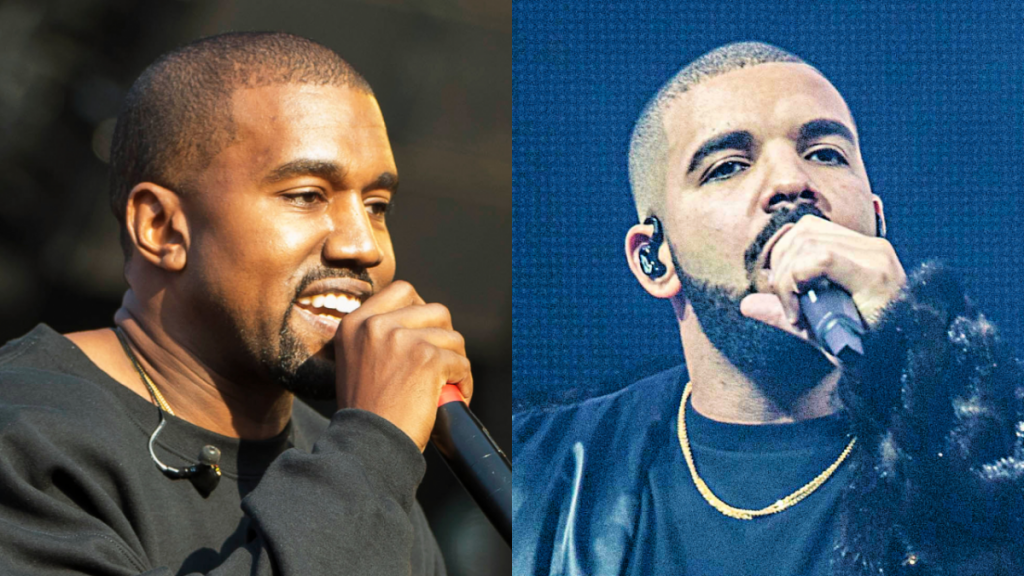 Kanye West has thanked Drake for seemingly lending his support amid the backlash to his "White Lives Matter" shirt.
As he continued to post his way through the controversy on Thursday (October 6), the G.O.O.D. Music mogul shared a screenshot of Drizzy liking one of his recent Instagram posts, saying it "warmed his heart."
Ye also called for a match-up between Drake's Nike sub-label, Nocta, and his own Donda Academy basketball team, before declaring Drake's music will soundtrack the Doves' future games.
"EVERYONE KNOWS ME AND DRAKE HAVE HAD A RIVALRY IN THE PAST IT REALLY WARMED MY HEART TO SEE DRAKE LIKE ONE OF MY POST," he wrote. "WE STILL NEED THE DONDA TEAM TO PLAY NOCTA ALL DRAKE MUSIC WILL BE PLAYED AT DONDA GAMES MOVING FORWARD."
View this post on Instagram
The post Drake liked was a screenshot of an E! News headline about Justin Bieber's wife, Hailey, defending Vogue editor Gabriella Karefa-Johnson after she criticized Kanye's "White Lives Matter" shirt.
"My respect for you runs deep my friend!" Hailey wrote in support of Karefa-Johnson on her Instagram Stories. "To know is to adore you and to work with you is an honor. The most kind. The most talented. The most fun. The most chic."
Kanye captioned his post: "Wait Am I canceled again??? Justin please let me know," while warning Bieber in another post: "Get your girl before I get mad."
View this post on Instagram
It's one of several posts from the Chicago rap icon following the outrage over the "White Lives Matter" shirt he wore at his Yeezy Season 9 show during Paris Fashion Week in Monday (October 3).
Much like when he caused a stir with his previous comments about slavery being a "choice" and support for President Donald Trump, Kanye has dug his heels in and refused to apologize.
"Everyone knows that Black Lives Matter was a scam," he initially wrote in response to the backlash, referencing the multi-million dollar financial scandals that have plagued the organization. "Now its over[.] You're welcome."
In another post, he emphatically stated: "Here's my latest response when people ask me why I made a tee that says white lives matter… THEY DO."
As for his relationship with Drake, their long-simmering rivalry exploded into a fully fledged feud last year with a series of lyrical jabs, petty moves and personal leaks in the run up to the release of their respective albums, Donda and Certified Lover Boy.
However, the Hip Hop heavyweights eventually buried the hatchet and reunited on stage at the Free Larry Hoover Benefit Concert in Los Angeles that December. The truce was brokered by notorious Rap-A-Lot Records founder J. Prince, who arranged a sit-down at Drake's "Embassy" estate in Toronto.
"I painted the bigger picture to Drake," Prince explained in an interview with Billboard. "I let him know that this is a moment and movement that can save lives. I believe by Drake and Kanye being an example, as two of Hip Hop's top artists, that lives would be saved.
"I believe this is going to be imitated and it's important to be an example to those that look up to you and that meant something to Drake — just the life-saving event wrapped around putting the spotlight on injustice, prison reform, and my brother Larry Hoover."
He added: "Everything is icing on the cake after that, because he never envisioned things like that. So I had to tap into a power greater than the anger or whatever these guys had for one another."