Jim Jones & Juelz Santana Gang Up On Memphis Bleek With Verzuz Taunts: 'You Are Incapable'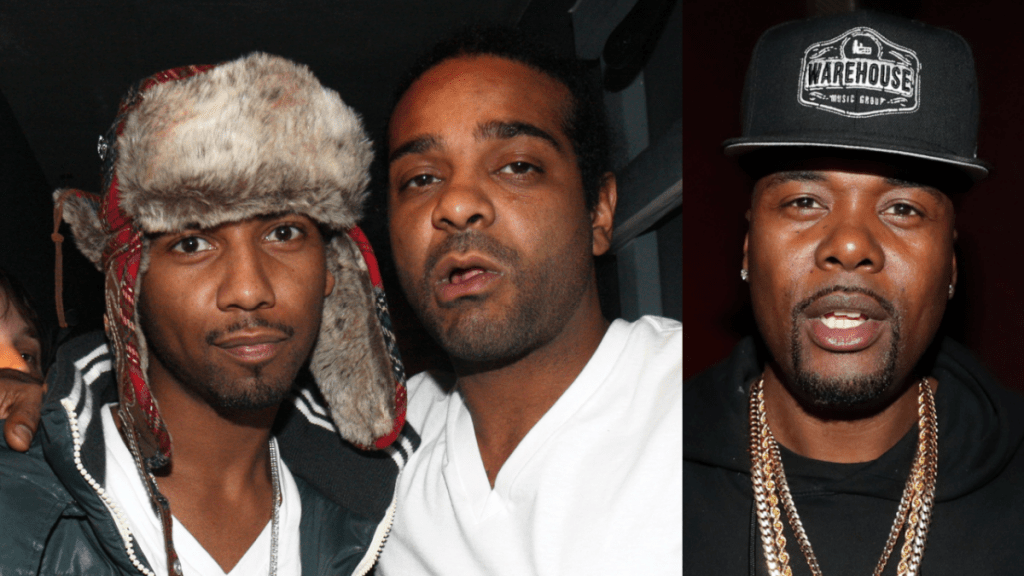 New York, NY – The war of words between Juelz Santana and Memphis Bleek has Jim Jones giving his two cents yet again. On Thursday (June 16), Capo posted a video on Instagram featuring Juelz by his side as the Dipset duo called out their former Roc-A-Fella labelmate.
The back-and-forth between Juelz and Bleek has been going on for weeks, and the latest round of shots saw Jim dragging Bleek for several reasons — one of them being his alleged lack of iced-out jewelry. Juelz even briefly joined the fun by hurling disses at the Brooklyn rapper, claiming he needed a "life raft."
"Y'all already want to start this with us now? Don't do that," Jim said in the clip. "Come on, chill out, you dig? We not even going to at nobody, stop playing with us bro, you dig? You n-ggas not even outside, man. Stop it, jack, stop. As we talk to you from the middle of Harlem, ya heard? This shit we do ain't for you. Cool out, we really active out here. We really like that."
He continued, "I understand you getting interviews and all that right now. You need some more jewelry before you even talk to us first, ya heard? You need at least a [million] in jewelry before you even stunt. Give me at least 250[K] in jewelry before you start playing with us. We too lit, too much drip, the bars are extraordinary, too many hits. We ain't going to play with y'all. I know y'all saw The LOX [battle], this ain't that. Don't play with us."
Juelz — who sparked the back-and-forth during a recent visit to Drink Champs — capped off the taunting by alleging Memphis Bleek poses no threat in the Verzuz ring. "You are incapable," he stated.
View this post on Instagram
The trolling carried over on to Jim Jones' Instagram Story, where he continued to diss the Coming of Age rapper and his jewelry pieces. According to Capo, JAY-Z needs to lend some ice to his longtime protégé.
"Tell Hov let u hold some more ice before u talk to me u looking like big daddy cane out here," he captioned the post.
Jim Jones did something similar prior to the Verzuz battle between The Diplomats and The LOX last August. He engaged in several rounds of trash-talking with Styles P, and fans know how that ultimately turned out for the iconic Harlem collective.
The "We Fly High" rapper has been trying to get another Verzuz going ever since Dipset was dismantled during that battle. Jadakiss turned down his challenge, but there may be a bout with Lloyd Banks on the cards after Jones claimed he would "smoke" the G-Unit rapper on the Verzuz stage earlier this week.