Kanye West Calls Drake 'Greatest Rapper Ever,' Suggests He Slept With Kris Jenner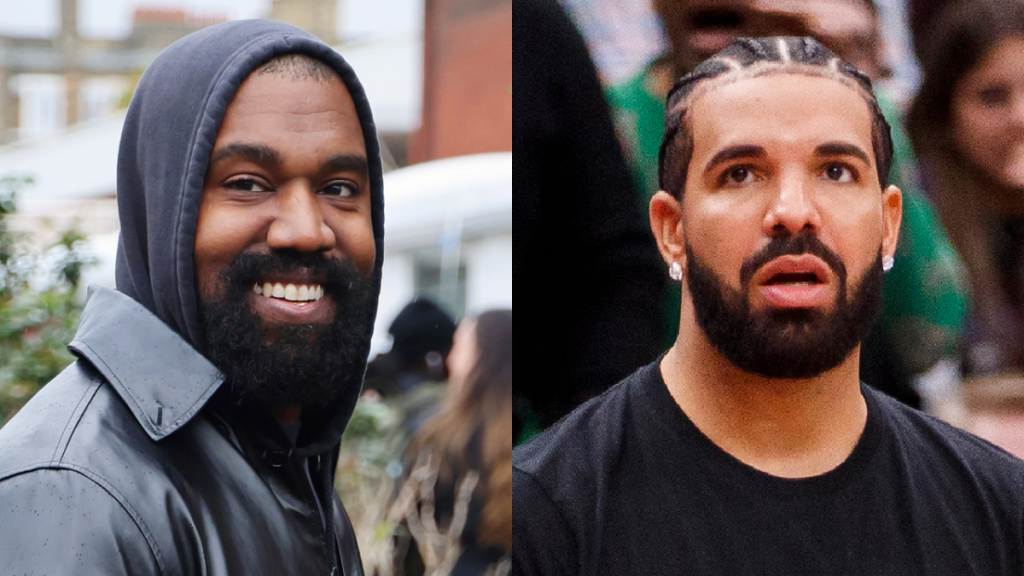 Kanye West has implied that Drake once slept with Kris Jenner, the mother of his ex-wife Kim Kardashian.
The bombshell claim came during Ye's latest Drink Champs interview on Saturday (October 15), where he alluded to the OVO hitmaker having sex with the reality TV star, who is 31 years his senior.
Kanye began by heaping high praise on Drake — with whom he made peace last December following a high-profile feud — unapologetically crowning him "the greatest rapper ever."
He was then asked by Drink Champs co-host N.O.R.E. about a recent Instagram post where he claimed Drizzy will "fuck ya baby mama's mama."
"Yeah that was hard," Ye replied as the room erupted in laughter. "You know what it mean… Aye, Corey [Gamble] know what it mean," he added, referencing Jenner's longtime boyfriend.
I own the internet for the whole weekend I'll give it back soon #drinkchamps pic.twitter.com/VmZpuo3X73

— N.O.R.E (@noreaga) October 16, 2022
Kanye West alluded to Drake and Kris Jenner's alleged rendezvous during his Instagram posting spree following the backlash to the "White Lives Matter" shirt he wore at his Yeezy Season 9 show in Paris earlier this month.
"Drake a fuck ya baby mama's mama[.] That's real war," he wrote in an iPhone Note on October 6 along with the caption: "Bernard Arnault weak," referencing the LVMH Moët Hennessy Louis Vuitton chairman who he recently accused of "killing" Virgil Abloh.
Kanye never revisited the topic, although he did namedrop Drake numerous more times on Instagram — including thanking him for liking one of his posts in the face of widespread condemnation over his controversial shirt.
"EVERYONE KNOWS ME AND DRAKE HAVE HAD A RIVALRY IN THE PAST IT REALLY WARMED MY HEART TO SEE DRAKE LIKE ONE OF MY POST," Ye wrote. "WE STILL NEED THE DONDA TEAM TO PLAY NOCTA ALL DRAKE MUSIC WILL BE PLAYED AT DONDA GAMES MOVING FORWARD."
View this post on Instagram
This isn't the first time salacious rumors have surfaced about Drake and the Kardashian-Jenner clan. In 2018, speculation arose that the Toronto rapper slept with Kim Kardashian during his feud with Kanye West thanks to various suggestive song lyrics that were interpreted as references to the SKIMS founder.
During his previous appearance on Drink Champs last November, Kanye shot down the notion that Drake slept with Kardashian, with whom he shares four children and is currently entangled in a bitter divorce.
"I had this conversation where Drake was like, 'I never fucked Kim.' But I was like, 'But you acted like you did,'" he said. "You got bars that's like, 'Hidden Hills, give your wife the chills.' It's like somebody throwing a marble and hiding their hand. All that's disrespectful.
"It [got] to the point where Kim was like, 'I don't listen to this n-gga no more. This n-gga acting like he fucked.' [Drake and I] never really had that conversation like, 'Oh, I never fucked Kim.' No, but did you ever DM her? Everything else around it. 'Cause it ain't about just the actual act of it."
Kardashian denied the rumors herself in 2018 when she commented on a clip of Nick Cannon discussing the topic during an appearance on Everyday Struggle. "Never happened. End of story," she wrote on The Shade Room's Instagram post.