Kanye West Spotted With Jadakiss, Chance The Rapper + More In New 'Donda' Livestream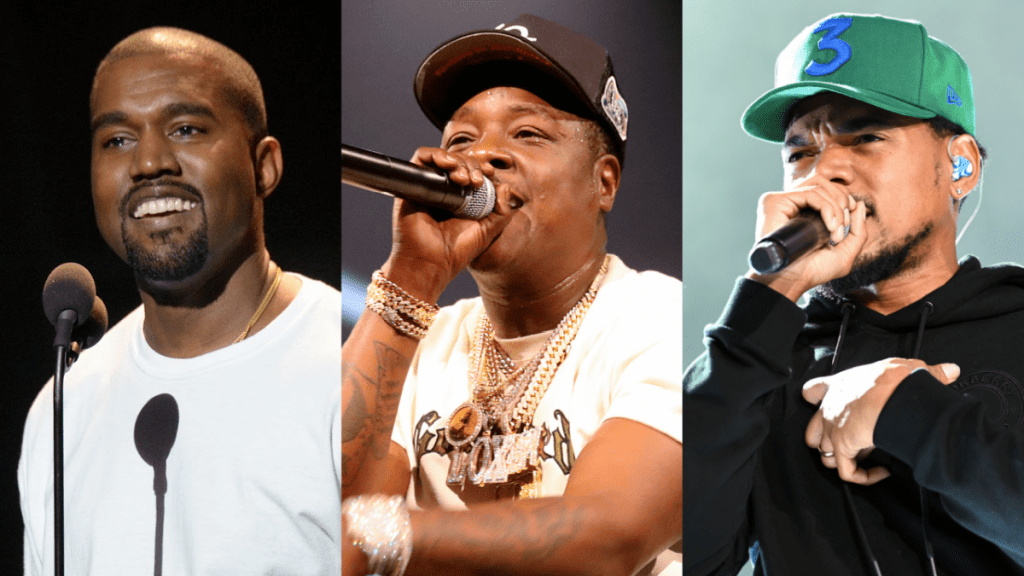 Atlanta, GA – Ahead of the second Donda listening party at Atlanta's Mercedes-Benz Stadium on Thursday (August 5), Kanye West has launched a livestream on Apple Music giving fans an intimate glimpse into his recording process as he readies the release of his highly-anticipated tenth studio album.
The stream, which is available to watch below, is being broadcast live from Kanye's studio/bedroom in the Mercedes-Benz Stadium, where he's been holed up since the first Donda listening party on July 22.
[email protected] prepares and presents his 10th album #Donda, live from Mercedes-Benz Stadium in Atlanta during an exclusive livestream event.

Watch it now, only on Apple Music:https://t.co/w5603YUviT pic.twitter.com/HR4tRd0YZC

— Apple Music (@AppleMusic) August 5, 2021
Although there's no sound on the livestream, fans who tuned in overnight still had reason to be excited by the scenes on their screen as Kanye was joined by a rotation of familiar faces in his living quarters, dubbed the "Donda Super Room."
Jadakiss, Styles P and Sheek Louch, fresh off their Verzuz victory over Dipset, continued their celebrations by joining Yeezy in his makeshift headquarters, looking as jubilant as one would expect.
View this post on Instagram
Elsewhere, Chance The Rapper, Vic Mensa, Fivio Foreign, Lil Yachty and The Internet's Steve Lacy appeared in the livestream, donning either a Donda-branded bulletproof vest or items from Kanye's Donda merch collection. Kanye has been seen wearing a bulletproof vest and a spiky Balencia outfit alongside one of his trademark masks.
pic.twitter.com/0hFWEaoiax

— TeamKanyeDaily (@TeamKanyeDaily) August 5, 2021
Of course, Kanye's faithful production and engineer partner Mike Dean, whose name is likely to appear in the final credits, has also been in the mix (no pun intended). It remains to be seen whether Jadakiss, Chance or any of the other artists who've popped up on the livestream so far will appear on the album, though.
In between finishing up his album and kicking it with friends, Kanye has been filmed on the livestream working out to his new music, doing bicep curls and press-ups. (Clearly, he wasn't lying when he rapped, "All chest, no legs".)
[email protected] lifting weights and doing push-ups on the #DONDA livestream tonight. (8.5.21) pic.twitter.com/RpVGd9T1SO

— Photos Of Kanye West (@PhotosOfKanye) August 5, 2021
Although the livestream is being broadcast exclusively on Apple Music, fans without a subscription to the streaming service aren't completely out of luck. Kanye West's website currently lists coordinates of 26 locations around the world — from London, England to Lagos, Nigeria — where fans can publicly watch the stream.
After missing its latest July 23 release date, Donda is set to arrive on Friday (August 6) following the album's second listening party in Atlanta tonight.