Kendrick Lamar Gets Collab Request From Madonna: 'His New Record Is History-Making'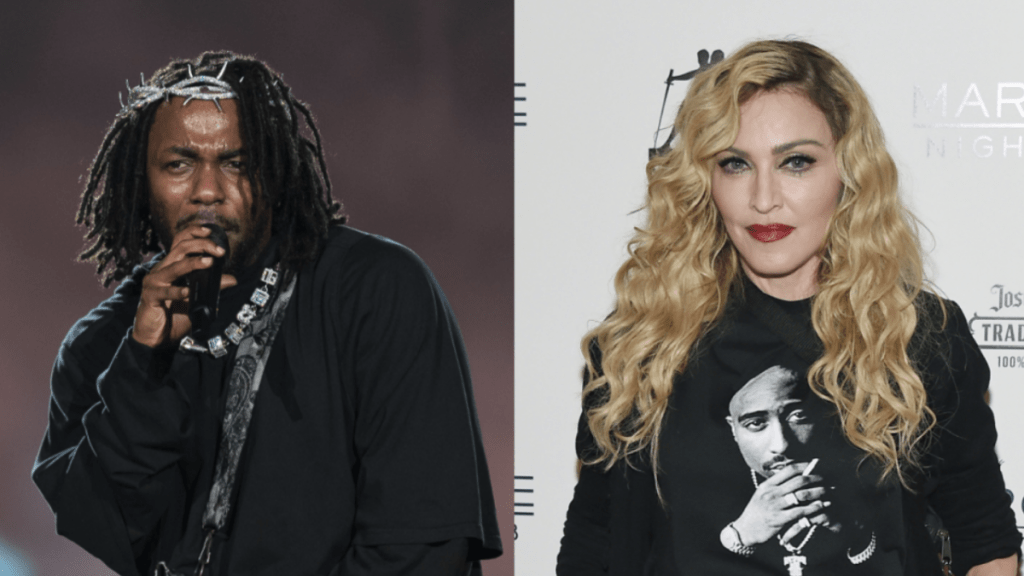 Kendrick Lamar can add Madonna to the long list of artists eager to work with him.
The Queen of Pop put her K. Dot collaboration dreams in the air during an appearance on The Tonight Show on Thursday (August 11), telling host Jimmy Fallon: "There's one artist that I worship more than anything in life and I would love to collaborate with him, and that's Kendrick Lamar."
Madonna also heaped high praise on the Compton native's latest album Mr. Morale & The Big Steppers, saying: "His new record is history-making. Mind-bogglingly brilliant. It's insane."
Madonna was in the building to promote her new compilation album Finally Enough Love: 50 Number Ones, which includes remixes of her record-breaking 50 No. 1 Billboard Dance Club singles. It boasts appearances from Nicki Minaj, Swae Lee, Timbaland and more.
The Like a Virgin hitmaker isn't the only musician enamored with Mr. Morale & The Big Steppers. Tyler, The Creator professed his love for Kendrick's fifth album during his "All Star Series" interview with Converse in June.
"I love that album, but I feel like he touches on shit that's so, like, open and honest that some people can't listen to it because they probably feel like he's looking at them in their eyes," he said. "And they're like, 'Oh, I can't panic. Uhhh, I can't listen to this. Put on something else so I can hit my dougie.' And keep forgetting and numbing the shit that he's talking about."
Eminem, Snoop Dogg, Pusha T, The Game and Lupe Fiasco are among those who've also praised the project, with Slim Shady telling his good friend Dr. Dre, "this Kendrick album is f****** ridiculous. I'm speechless" on Twitter in May.
Madonna recently checked off another bucket list collaboration when she joined forces with Beyoncé for "The Queens Remix" to her Renaissance anthem "Break My Soul."
As for Kendrick Lamar, he's staying busy on the road as his Mr. Morale & The Big Steppers Tour continues north of the border with back-to-back shows in Toronto beginning Friday (August 12), before heading to Detroit on Sunday (August 14).
In another clip from her Tonight Show appearance, watch Madonna and The Roots perform her 2000 hit "Music" using strictly classroom instruments below.