Kevin Gates Claims Women With Acne Have The Best Sex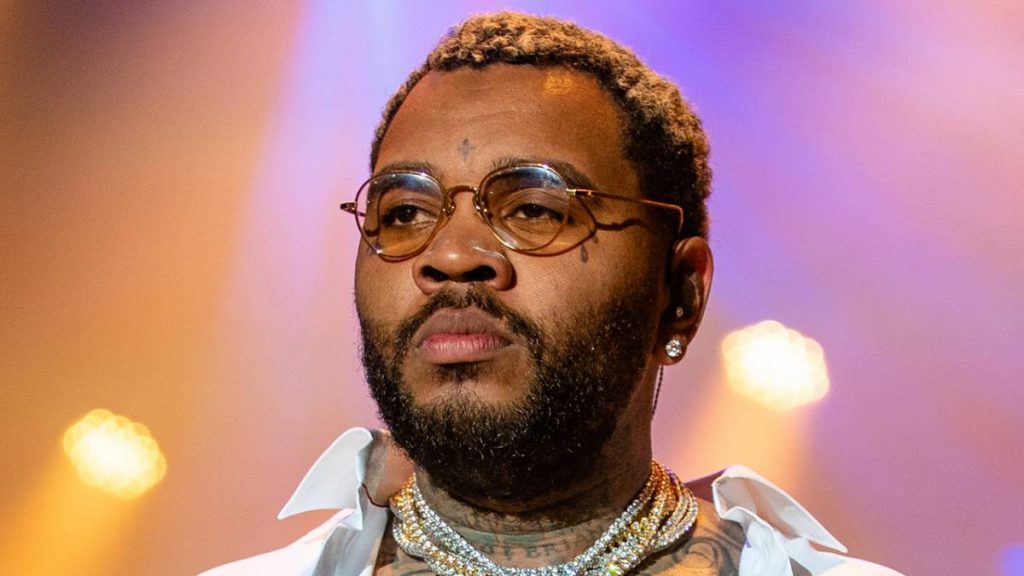 Kevin Gates has been making some pretty questionable statements lately, and his most recent take about women with acne is no different.
On Wednesday (August 3), the Baton Rouge, Louisiana native stopped by The Breakfast Club, where he spoke about meeting his match in the bedroom. According to Gates, there's someone who almost fits the bill because of her skin condition.
"I haven't met my match, but I met somebody that's really close," Kevin Gates explained. "And the reason I say she really really close — oh God, don't kill me — she got acne in her face."
He continued: "I know this gon' sound crazy. A lot of women with acne in they face got good pussy. 'Cause they hormones are so imbalanced, that it cause them to have congestion. So they not releasing properly. See, once I really put it on her, her face start clearing up."
The rapper then heralded the woman in question as one of the best he's ever slept with. "I'm not saying all women with acne got … but a lot of the things that go on with us are really internally," the Khaza rapper said. "I'm not just saying it for that, but she up there. She in my top three."
Check out Kevin Gates' visit to The Breakfast Club below, with the acne conversation starting around the 24:10 mark.
Elsewhere during the conversation, Gates spoke about his love for Beyoncé and the x-rated lyrics he had for her on his "Super General" freestyle, explaining that he's not afraid to speak his mind when it comes to women.
"That's one of the most beautiful women in the world. I can't be a fan?" Gates explained. "I'm sitting in a trap house around the monsters just looking at the TV just like 'Man, I swear to God…' When I said that, everybody feel like that. They just scared to say it. I ain't scared to say it."
Kevin Gates made even more controversial comments towards Beyoncé during an interview with Bootleg Kev in June. The rapper said he would happily drink the Renaissance singer's urine if he had the chance.
"You're the most beautiful woman in the world," Gates said. "I would drink your piss. Like, what the fuck? Come on, man. Right here in my mouth. I speak for the n-gga's that incarcerated that sit there and watch these people on TV and everything. This is what everybody thinking."
Kevin Gates sat down with HipHopDX in June for an exclusive interview in which he reflected on the moments he spent with the late Nipsey Hussle.
"Every time we was supposed to work or make music, we never recorded we would just sit there and talk all night," Gates said. "About like interesting shit, dude was very intelligent. He was tapped in. He was tapped in. He was tapped in.
"It was refreshing I'd talk to him and it was like I was talking to myself because the things that he would say, he would present them in a way that would be like, 'yeah that's cool.' But me, I'm so passionate and don't give a fuck [so] people look at me like, 'you're weird you're crazy', but people judge me so much. People just love to judge me for no reason I ain't never do nothing. But you know, dude was tapped in."
When asked if Nip ever bestowed any meaningful wisdom onto Gates, the New Orleans rapper instead recalled the last few times they ran into each other before he was gunned down outside his Maraton Clothing Store in Southern Los Angeles.
"I was with my family at Disneyland and he was with his family at Disneyland," Gates recalled. "This was so crazy. When I seen him at Disneyland we was both fasting…and then the time before his passing and his changing of form we was both fasting at the same time again. I was like, 'Man, I'm just breaking my fast.' He's like, 'Me too, come have some champagne.' We both had on the same thing just a bow tie, a white shirt and some black pants."