Kevin Gates' Simulated Onstage Sex Acts Leave Twitter Tongue-Tied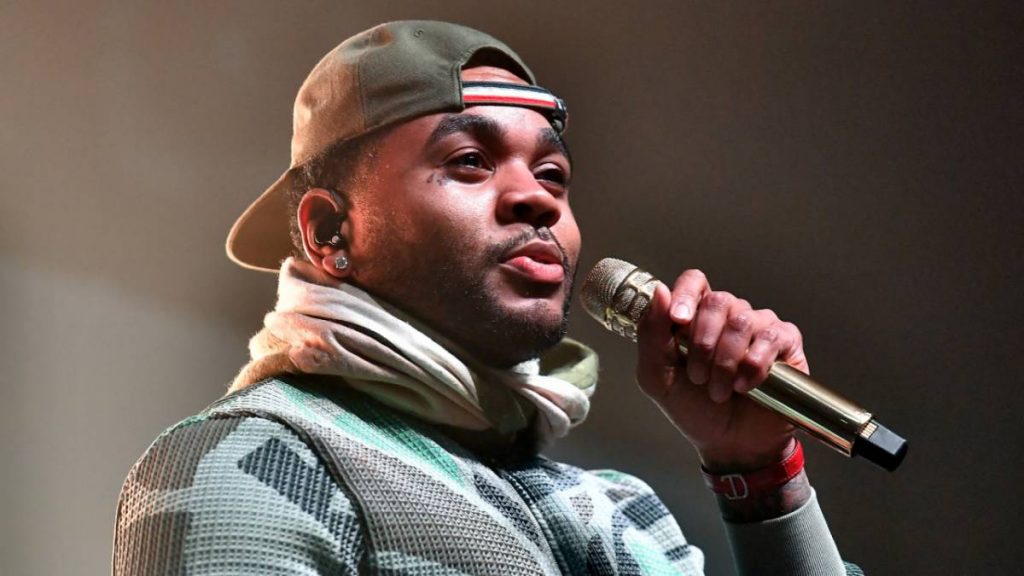 Kevin Gates raised a few eyebrows at a recent performance where his explicit onstage antics got a little too explicit.
In a pair of videos posted to Twitter on Tuesday (September 13), Gates simulates a sex act on the microphone and goes into vivid detail about what he would do to please a woman.
He then starts rapping: "I'm sayin' bitch bend over, stand up on your toes/ Breathe through your nose/ Slow, stroke […]/ Dick all in your stomach/Dick all in your stomach/Pull your hair, slap your ass, bitch, you bet not do no running,"
is this what kevin gates concerts are really like pic.twitter.com/rsar5QLagp

— Amani🌟 (@Emohjify) September 13, 2022
Of course, this is nothing new for a Kevin Gates concert; his performances are routinely sexual in nature. Just last month, comedian Druski joked the Baton Rouge native should be behind bars for the way he acts during shows.
"We not gone act like this N-gga dont Deserve JailTime," he wrote on Instagram alongside a set of laughing emojis. "This aint normal man." Gates responded: "#itbeyourownpeople."
In July, the Khaza rapper left City Girls' Yung Miami nearly speechless when he talked about a sexual relationship with his cousin in an episode of Caresha Please. At one point during the conversation, she asked him point blank, "Did you really fuck your cousin?"
Gates explained his grandmother pulled him aside three months into their relationship and told him, "Baby, that's your cousin." But he continued dating the woman for three years, adding, "I ain't about to stop!"
Gates previously discussed the relationship in 2015 with multiple Instagram posts. As he said at the time: "N-ggas be talkin' about, 'Yeah, Y'all look like brother and sister.' Shit no. I'm fuckin' the shit out her, come to find out she my cousin, you heard me?
"But I ain't bout to stop f–kin' with her. Shit the p-ssy good and we click. Shit, I ain't grow up with you knowing you was my people. I don't get tired."
Kevin Gates' latest onstage antics have some Twitter users cracking jokes and others wondering if he's OK. Check out some of the reactions below.
LMAO the old white women loving Kevin Gates 🤣 pic.twitter.com/89nlm12pUi

— Daily Loud (@DailyLoud) September 14, 2022
Funniest video on social media rn! LISTENNNN!! Kevin Gates seems like the type to put a spell on you.🫣🥵🤣 pic.twitter.com/F6mmim5f0u

— COURTNEY 💙🫶🏽 (@courtneyhalltv) September 7, 2022
if there's anyone who should be put inside of a mental facility it's this man https://t.co/9goC4tkRg0

— perc angle (@bloodybalmain) September 14, 2022
Buying Kevin Gates tickets to scoop me a sugar momma pic.twitter.com/N0a2ejYT1S

— MadeAccJustToPostMyWavesOnThisThread (@made_waves) September 13, 2022
????? Is he okay? No like this is a serious question? https://t.co/YROViQDUiu

— LIONESS🤎 (@nisemb_) September 14, 2022
The security guard so fed up https://t.co/MBLGDjqAM1

— Alex (@Sahbabiifan333) September 14, 2022
Every video I see of this guy is worse than the video I saw before https://t.co/UHFfdfFemu

— Full time wrestling fan/Jobu Tupaki admirer (@downbadsir) September 14, 2022