Kid Cudi 'Entergalactic' Is A Worthy Potential Final Flight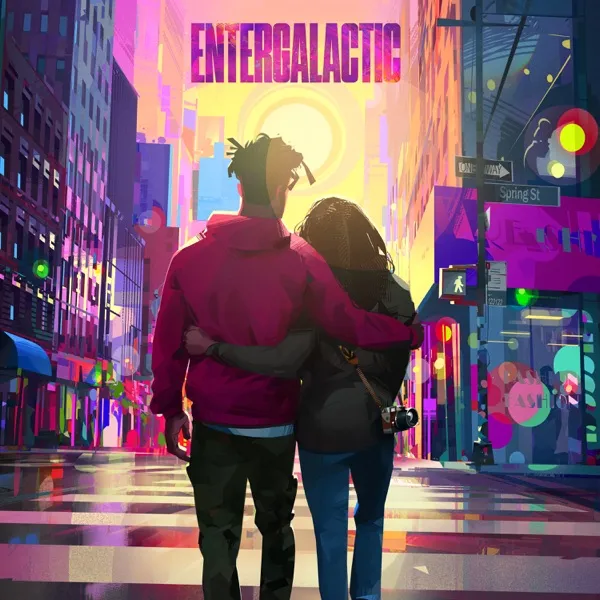 Earlier this month, Kid Cudi on an episode of Complex's 'Hot Ones,' while putting in work on spicy chicken wings, divulged some even spicier personal news: "I just don't know if I want to do music and drop albums for too much longer. I'm kind of nearing the end on all things Kid Cudi. I'm really curious to see what else I can do." This is certainly a piece of information nobody was expecting as all signs pointed to the Cleveland crooner being in a very musical place lately. From consistently dropping well received music to being amid a very successful stadium tour, it would appear Cudder was gearing up for his 2020s musical ascendancy. 
Even though it was a quick quip dished out over hot wings, the possibility of Cudi hanging up the hums is now a serious possibility. If that happens to be the case, then ENTERGALACTIC would classify as Cudi's final offering. The good news? It's an album that diehards and casual fans alike will find to be strong, soothing and firmly Cudi-core. 
The 15-track album doubles as a soundtrack for Cudi's recently released animated film of the same name. The adult oriented anime flick centers around a fictional Cudi living in New York City juggling his love life, friendships and career as a thriving visual artist. The sonic background, of course, being songs from this new album. 
For those looking to fill their Air MAGs to the brim the croons and hums, intro track "Entergalactic Theme" is simply that; 90 seconds of distorted humming and hawing. For those looking for some classic Cudi, the album really kicks off on the second track "New Mode". The song is a slow burn banger that will make any Cudi fan relieved to hear lyrics like "Finally got my head right, it's a new me/It's like I got heaven in my sights now, beauty I see" and "When the going's gettin' tough/And you know you can't give up, no way." It's when lines like this are sung with his one-of-a-kind euphonious voice that it's easy to see why people credit Cudi with saving their lives. 
A lot of this album hovers in the medium-slow BPM range. "Angel" and "Ignite The Love" are on the even slower side of that as Cudi croons through an emotional pair on songs. It's clear that even after a decade of looking, lusting and longing for love, Cudi still knows how to pen a ballad. 
In contrast, the biggest spike of braggadocio comes half way through the album courtesy of the 2 Chainz backed "Can't Believe It" which is really just a diet-banger that will exist somewhere on an NBA2K loading screen. 
Looking at the production credits should also give listeners a sense that this album is strictly Cudi-core. Longtime collaborator, producer and band-mate Dot Da Genius has a hand in every single track – as any good Cudi album does. Even the engineering, mixing and mastering team, lead by Steven Velez, who have been arranging Cudi's music since 2015's Passion, Pain & Demon Slayin' are in on this LP. 
Unlike some of Cudi's classic albums, this one is held to only 15 tracks – a smidgen shorter than normal. Being shorter by only four to five songs might not seem like it would make a huge listening difference – but it does. There are less skits, interludes and skippable tracks that usually hurt Cudi's albums.
Plus, the album isn't broken up into "acts" as many of Cudi's albums tend to be. This small detail allows more fluidity to hop around the album and pick favorite songs without feeling like you're breaching some type of musical theatre ruling. That said, the digestibility of this album renders the proverbial envelope not pushed – which is perfectly appropriate at this point in his career.
As the two Don Toliver assisted tracks ("Somewhere to Fly" and "Burrow") calmly rock the album to an end, it should come as no surprise that ENTERGALACTIC is one of Cudi's most digestible albums in a long time. The songs are equal parts catchy, meaningful and galaxy-brain without taking more than 45 minutes altogether. Who knows if this is truly the moon man's final landing but either way you slice it – it's a fun "final" flight.