Lauryn Hill's Daughter Defends Kanye West's 'White Lives Matter' Shirt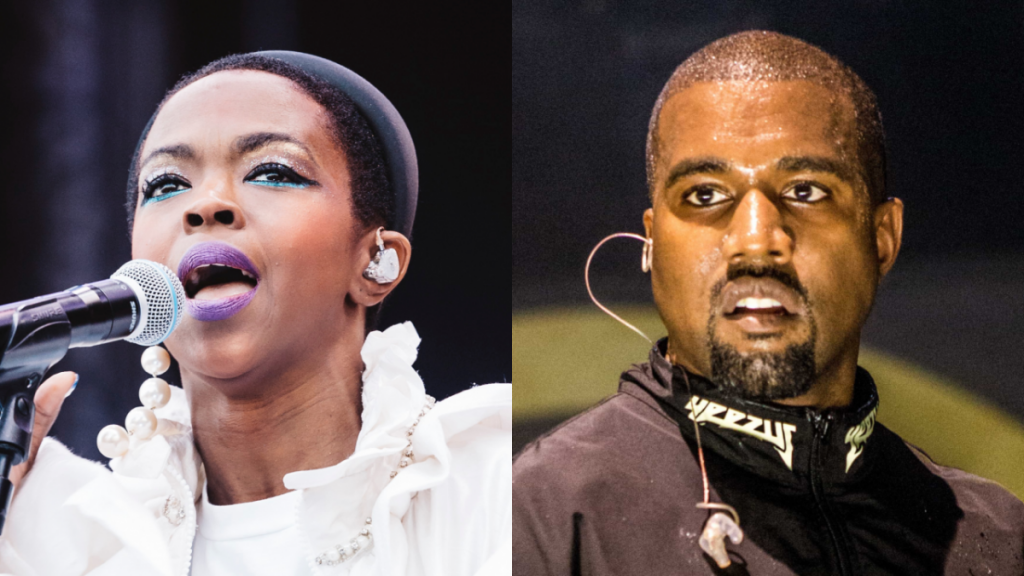 Lauryn Hill's daughter Selah Marley has defended Kanye West's "White Lives Matter" shirt after coming under fire for wearing the garment at his Yeezy Season 9 show in Paris.
The 23-year-old — whose father is Rohan Marley, the son of late reggae legend Bob Marley – modeled the controversial shirt on the runway during the exclusive fashion event in the French capital on Monday (October 3).
Ye also wore the shirt himself, which featured the white supremacist slogan — a racist response to the Black Lives Matter movement — on the back and an image of Pope John Paul II on the front.
Kanye West got Lauryn Hill daughter wearing a 'White Lives Matter' tee pic.twitter.com/5tcF0y9Plj

— AAYAN X (@AAYANFIXMYLIFE) October 4, 2022
While it's unclear if it was her decision to wear the shirt, Marley nevertheless faced criticism on social media, with many wondering aloud what her mother and grandfather — both revered for their political activism — would think.
But it seems Marley isn't willing to yield to outside opinions or expectations. The model took to her Instagram Stories on Tuesday (October 4) to defend the "White Lives Matter" shirt and push back against those trying to "bully" her into changing her stance.
"The past 24 hours has allowed me to realize that most of yall are stuck in a hive mind mentality," she wrote. "You do what the group tells you to do & think what the group tells you to think.
"Witnessing someone break free from 'the agenda' sends you all into such a panic that you will do whatever it takes to force them back into the box that you feel they should exist in. All morale & empathy is eliminated due to the fact you feel justified by your emotions."
She continued: "The victim becomes the victimizer. You can not bully me, manipulate me or coax me into silence. Nor will you bully me into being who you want me to be. I don't care how many tweets you make, DMs you send, or articles you write.
"Throughout all of the chaos, I have yet to speak on my experience. If you know me, you know that nothing I do is without deep thought & intention. Wait til you hear what I have to say."
Marley later posted a screenshot of a text she sent to Kanye West asking him to provide more "clarity" behind his "White Lives Matter" shirt design, which she believes was done with "pure" intentions, in an effort to "heal our community."
"hey ye is this your actual number? this is selah btw," she wrote in the text. "you may be sleeping i think that what we did has obviously created a lot of conversation & i would like us to continue that conversation & provide the necessary depth & clarity that we are both extremely capable of.
"i love taking risks & embracing freedom, but in this case, i think we can continue to discuss the depth behind our decisions to show the purity of our intentions & provide healing to our community. love you so much. let's keep this going—in a healthy way."
She captioned the photo: "i think he's sleeping but i'm ready for us to have the conversation. tell @kanyewest to text me when he wakes up so we can continue to move this conversation forward & provide the necessary clarity, depth, & healing that we are collectively in need of. love you guys regardless."
Kanye reposted the message on his own Instagram Stories, although it's unclear if he actually replied to her text. Marley responded to Ye's repost with: "it's happening" along with a burning heart emoji.
Kanye West was roundly criticized for his "White Lives Matter" shirt, exacerbated by a photo of him posing next to Candace Owens — the controversial rightwing commentator he's cozied up to in recent years – in matching shirts at his Yeezy Season 9 show.
Jaden Smith, Boosie Badazz and Marc Lamont Hill were among the high-profile figures who condemned him, but much like when he's been questioned over his views on race and politics in the past, the billionaire rap mogul refused to apologize.
"Everyone knows that Black Lives Matter was a scam," he wrote on his Instagram Stories in response to the backlash, referencing the multi-million dollar financial scandals that have plagued the organization. "Now its over[.] You're welcome."