Lil' Kim's Ex Mr. Papers Issues Warning To 50 Cent Over Remarks About His Daughter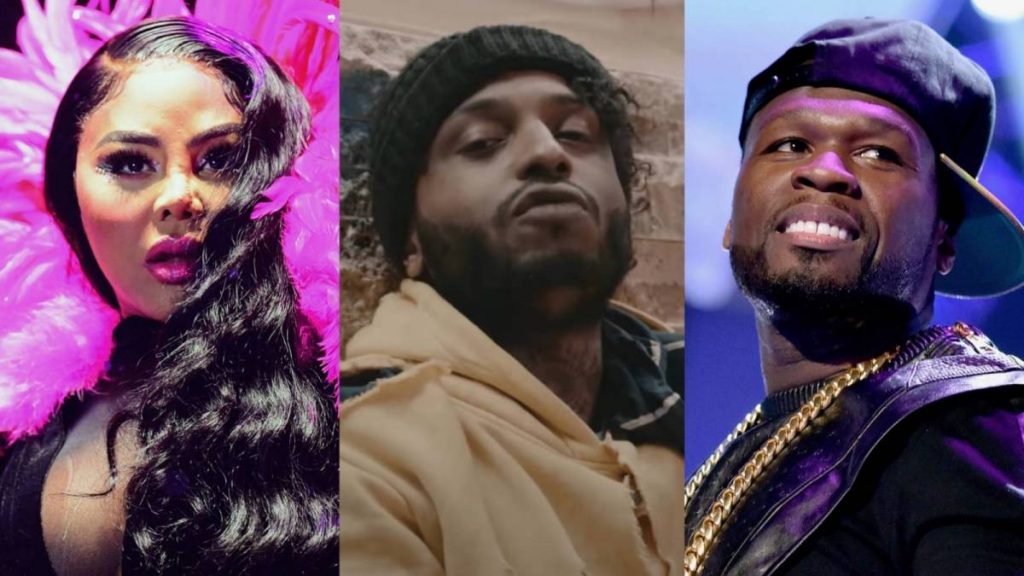 Lil' Kim's ex Mr. Papers has issued a warning to 50 Cent after the G-Unit mogul made disparaging remarks about his and the Queen Bee's daughter.
On Friday (September 9), 50 stirred the pot with Kim when he claimed the Brooklyn rapper dissed Nicki Minaj's infant son in the opening line of her remix of Megan Thee Stallion's "Plan B."
"N-gga, you's a bitch, your father's a bitch, your brother's a bitch/ Keep acting like this and your son gon' be a bitch," Kim raps on the song.
50 Cent made the accusation in an Instagram post while tagging Nick Minaj, which has since been taken down. "QGTM @nickiminaj you better light her ass up I'm watching. she said something about the baby," he wrote. 50 then mentioned Kim's daughter, adding: "her baby eye fucked up. LOL."
Lil' Kim then shot down the claims on her Instagram Stories and called out 50 for bringing her child into the conversation.
"I never said a word about anyone's child… please feel free to listen to the song where we were clearly talking about an EX," she said. "To try and twist my words to have an excuse to take digs at my child is disgusting. I'm one of the most disrespected legends in the game but what you will not do is come for MY CHILD."
Now, in a since deleted instagram Story, Kim's baby daddy had a few words for 50, warning the Power executive to keep his daughter's name out his mouth. "@50Cent keep my Daughter out ya Internet comedy," Mr. Papers wrote.
He then turned his attention to his ex and the disappearance of her new remix with Megan from YouTube, claiming the track is about him. "Shorty made a whole song about me and YouTube took it down [face palm emoji] God don't like ugly ma," he wrote before ending the post with: "Plan what ?"
He later posted another Instagram Story that said: "I DON'T GOT BEEF WITH NOBODY."
Lil' Kim's ex Mr. Papers issues warning to 50 Cent over remarks about his daughter ?

⏩ READ MORE: https://t.co/Vh73lsxMIh pic.twitter.com/M3E2JfrEZh

— HipHopDX (@HipHopDX) September 10, 2022
This isn't the first time Mr. Papers has come for 50's neck. Back in October, after the "Candy Shop" hitmaker compared Kim to the monster Lubdan from the 1993 film Leprechaun, he reminded Fif of his role in the 2012 film All Things Fall Apart in which he dropped 54 pounds to play a character dying of cancer — and how the film flopped.
"Remember when 50 Cent loss all that weight to play a cancer patient and STILL nobody saw the movie," Mr. Papers wrote on Instagram alongside a still from the movie. "Old man lost all that weight to try n get a Oscar & this dumb ass movie ended up on BET @50cent."
Meanwhile, Charli Baltimore has revealed she once recorded a mixtape full of diss records going at 50 Cent, and that she wanted to put out during the height of the Queens rapper's infamous beef with Ja Rule and Murder Inc.
Making the revelation in a recent episode of the BET docu-series The Murder Inc. Story, Charli recalled the long-running feud between 50's G-Unit crew and her then label, and how she wanted to retaliate on wax.
"Irv [Gotti] wanted us to just ignore the situation 'cause he felt like we were untouchable," Charli explains in a clip from the third episode of The Murder Inc. Story. "I recorded a whole mixtape going at 50 that Irv kinda shut down."