Lil Zay Osama Asks JAY-Z & Kim Kardashian For Help Following Machine Gun Arrest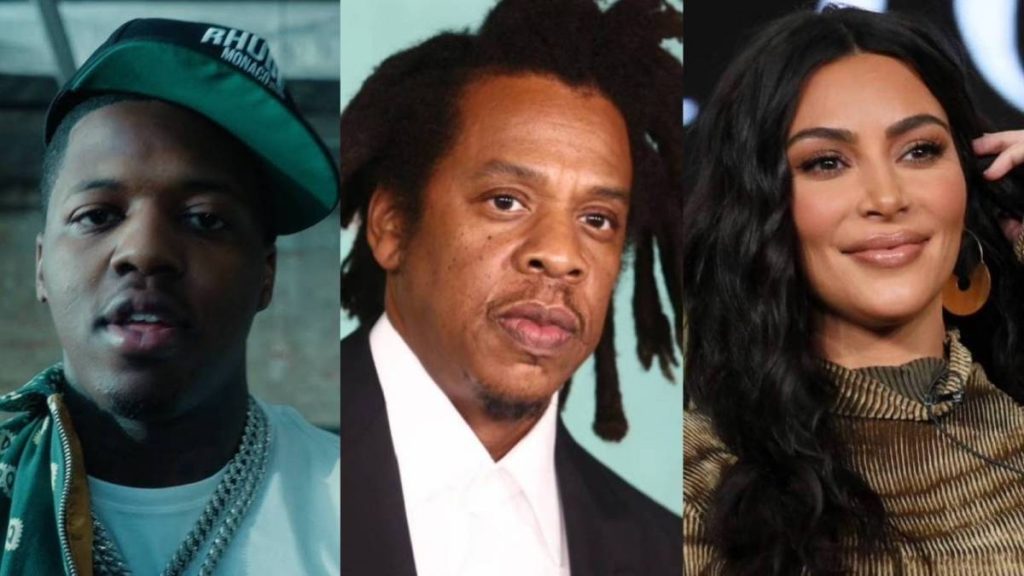 Lil Zay Osama is calling on some high-profile celebrities to help him get out of a sticky situation involving an abandoned weapon.
Earlier this month, the Chicago rapper was arrested in New York after he was accused of leaving a retrofitted machine gun in an Uber. He was on IG Live at the time of his arrest.
According to the New York Post, Brooklyn federal prosecutors claimed the car's driver noticed that Lil Zay was holding a weapon when he picked up Lil Zay and his friends from a hotel in Manhattan. Upon arriving at their destination, a studio in Queens, Zay is said to have left the weapon in the back seat.
The Uber driver immediately contacted the police to report the abandoned weapon, a Glock 22.40 which had been enhanced with a "switch" device, which gives the gun rapid fire capability like a machine gun.
The 25-year-old (real name Isaiah Dukes) was charged with possession of a machine gun and being a felon in possession of a firearm. If convicted on both charges, he would face up to 20 years in prison.
Now, Lil Zay Osama, who claims he's innocent, is asking JAY-Z and Kim Kardashian for help with his case.
On Saturday (October 8), the "Have You Ever" rapper took to his Instagram Stories to issue a plea to the aforementioned, with his first post simply saying: "I Need Jayz Help."
In a much deeper second post, he spoke on his situation and how he believes he's been targeted like so many other rappers. "It's crazy i thought people would say free me hoping i do better and wish the best," Lil Zay wrote. "yall really in the comments and on blogs saying 20 and 30 plus ima get and yall hope i get time im dum and etc.
"Don't believe everything u hear i been out here i know how to move dont believe everything u hear #Glahhh."
He continued: "Newyork aint playing fair they líen on my name they targeting all artist ! Most of our artists is Black men so u know what this about ! They tryna do us [100 emoji] Tag @kimkardashian i need her."
pic.twitter.com/ksztBiI6is

— HipHopDX (@HipHopDX) October 9, 2022
Lil Zay Osama's plea for Kim K to get involved in his case comes after the reality star turned prison reform activist shared a message of support for Gunna earlier this month in relation to his RICO case alongside Young Thug and 26 other YSL affiliates.
Kardashian shared some of the details that were included in the latest petition from the rapper's legal team, however she has not made a direct comment as to whether she has been in contact with Gunna or his attorneys.
Kardashian has famously lobbied for the release of several individuals as part of her journey to become an attorney, including petitioning for then President Donald Trump to intervene in A$AP Rocky's 2019 arrest in Sweden. She's also raised awareness for C-Murder who has spent nearly a decade behind bars for a murder he claims he didn't commit.
As for JAY-Z, his social justice division Team ROC recently raised over $1 million for the Midwest Innocence Project (MIP) to investigate wrongful convictions in Wyandotte County, Kansas.
The team has also seen results in its fight for reform at Mississippi's Parchman Penitentiary. After JAY-Z, Yo Gotti and Team ROC filed multiple suits against the prison and its healthcare provider Centene, the team has since secured legal representation for more than 200 inmates at the Mississippi State Penitentiary at Parchman.
The U.S. Justice Department issued a report in April confirming "Mississippi routinely violates the constitutional rights of people incarcerated at Parchmen," and has moved to provide "the state of Mississippi with written notice of the supporting facts for these findings and the minimum remedial measures necessary to address them."