Long Beach Rapper Driew Channels JAY-Z, Lil Wayne & Jeezy On 'Can't Make It Up' Album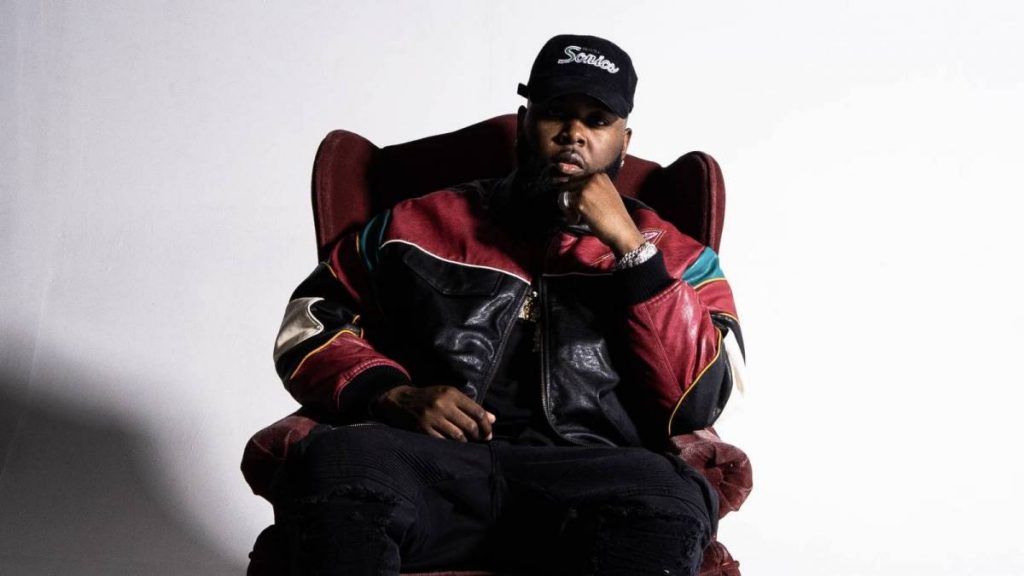 EXCLUSIVE – If there were a phrase West Coast rapper Driew would use to describe this moment in his career, it would have to be "stay true to yourself." The Long Beach, California product has been working hard crafting a rap career for himself over the last eight years, and that mantra has kept him going even when people still aren't familiar with who he is.
"There's going to be so many people that got so many opinions and so many, 'Nah, bro, You got to do this to get on,' and all of that, and some people actually get on, and they ain't even them no more," Driew tells HipHopDX. "I refuse for that to happen to me. My team, they know who I am and they respect it. Stay true to yourself, because, n-gga, it ain't no redos with this life shit."
Driew has been making music his whole life, and it wasn't until the Jerkin' movement in the early 2010s that he started gaining traction. However, that era quickly died out, and Driew had to pivot if he wanted to continue surviving in the music industry. The kids that were dancing and making bass-heavy songs were no longer tapping into that colorful era, and life became real.
"When Jerkin' died down, those same spots that we were going to and living the culture wasn't the same, and you weren't that kid jerking no more," says Driew. "The politics was totally different, so a lot of these kids really hopped off the porch, and they had to face the trials and tribulations of real life, and that's basically what happened to me."
He continued, "Being a product of the environment and going through the motions was new to us because the jerking shit really gave us kids an outlet, and you got to be a kid. But when that shit died down, we had to grow up and live this thing we call life."
On his latest album, Can't Make It Up, Driew reflects on those times of growth and maneuvering through an industry filled with ups and downs. The one thing that remained constant was how he stayed true to who he is, and that only strengthened him to be in the position to tell his story to those coming up under him.
Songs such as "Advice," "Chances," Yeah" and more have Driew dishing out advice on some of the most relatable topics. His main goal is to be a voice of reason for those stuck in a game where clout and social media clicks are the pulse of the culture. People who live in that mindset aren't being authentic with themselves, and Driew wants to remind his fans that can only get you so far.
"I feel like music is a great way to really guide these kids and have them go down certain roads that benefits them," says Driew. "I feel, through my music, I'm keeping it straight, and I'm keeping it real, but I'm also telling people what's going on with shit when you do this. If you do that, this is what can come out of that."
View this post on Instagram
Driew modeled this way of thinking after his influences growing up as a kid listening to Hip Hop. JAY-Z, Lil Wayne and Jeezy reigned supreme in Driew's headphones, and those three are some of the best storytellers in Hip Hop. For Driew, having an impact similar to Hov, Weezy and the Snowman is more important than any success or money that can come from this industry.
"When you talking that real talk and then that talk that people really feel and they know that it's all facts, you never die," says Driew. "You know what I'm saying? Because at the end of the day, it's more broke people than rich people, and there's more fucking sad people than happy people, so when you talking that pain and you talking that real shit that's going on in people's everyday lives, it's going to keep going like that.
"I don't even consider myself a rapper. Me, I paint pictures with my words. I'm really a storyteller. I'm an artist with this, and I feel that's what separate me from everyone else now because people are just rapping. I really take everyday life, everyday struggle, and put it to the music. It simplifies everything for me and I'm able just to express myself. I can gather shit from any situation and really put it on the beat. You got to feel what I'm saying, not just catch a vibe."
View this post on Instagram
Like his album title says, Driew can't make any of this up. If he does, it'll be a disservice to himself and his fans because he doesn't believe in the lack of authenticity some of his peers in the rap game have shown. According to Driew, there's no feeling or connection to anything if someone or something is being fraudulent.
"A lot of these artists and young n-ggas are on some real crash dummy shit," Driew says. "I ain't no preacher or motivational speaker, but I keep it real as possible. For everything that I say, it's something behind that and I'm not going to tell you to go and slide if it ain't no purpose behind it. You got to live for something, not die for nothing, and I promise you, with my music, you'll understand that."
Stay tuned for more of our conversation with Driew and stream Can't Make It Up below.