Lupe Fiasco Breaks Down JAY-Z's 'GOD DID' Verse, Says It's 'Absolutely Not' His Best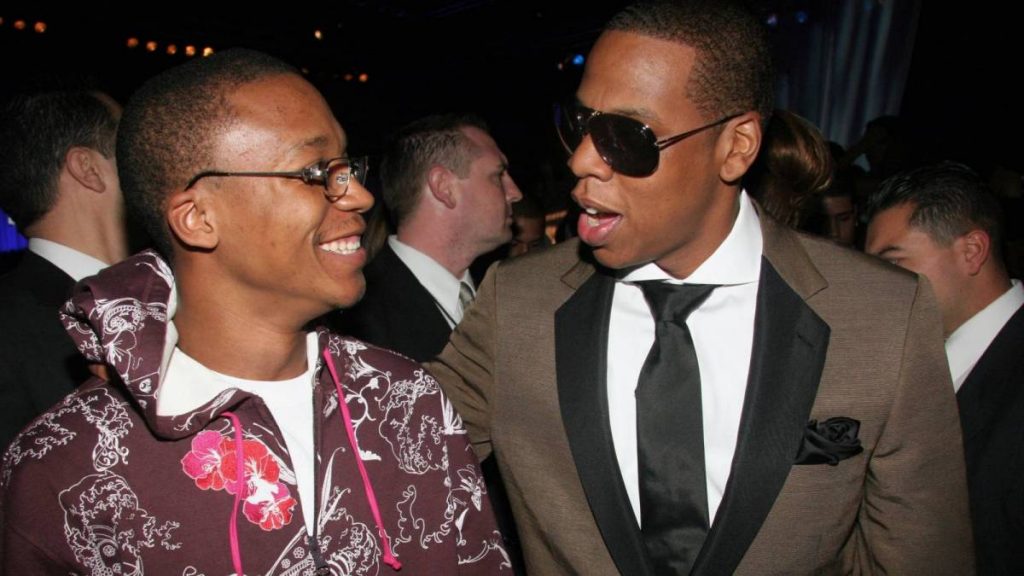 EXCLUSIVE – Lupe Fiasco has shared his thoughts on JAY-Z's much lauded "GOD DID" verse, explaining that the Brooklyn legend's catalog is too deep for the DJ Khaled feature to be considered among his best.
Speaking to HipHopDX, the Chicago rapper prefaced his opinion about JAY-Z's latest offering by making it clear that his fandom for the Roc Nation mogul goes far and beyond the average music enthusiast.
"I'm not a JAY-Z fan, I am a JAY-Z child," Lupe explained. "I'm a son of JAY-Z. I am the son of Jigga. I literally learned how to rap by rapping over JAY-Z records. [I'd] put on Reasonable Doubt and I would write raps on top of him rapping. I study him deeply.
"He executive produced my first album. I've been in studio with him, there's business things that have occurred. There's a deep, rich history with me and Jay that the world knows about, or maybe the world doesn't know about it. It's not really super public. But I've given him records and we have a song together, right? I can say I've got a record with JAY-Z."
Lupe added: "So every time JAY-Z raps, I start rapping. It's like a Pavlovian response. And that's why I can't listen to Jay, because if I do I'll start rapping the entire day. The bars are just coming because it's like the bell rings. It's like, raps, raps, raps. That's the effect he has on me."
JAY-Z's "GOD DID" verse has garnered widespread acclaim ever since being released on DJ Khaled's chart-topping album of the same name late last month. The track also features Rick Ross, Lil Wayne, John Legend and Fridayy.
Praised for being recorded in a single take, Jay's 80-bar clinic also prompted a nearly 12-minute breakdown from MSNBC's Hip Hop-quoting anchor Ari Melber, which has now been released on Hov's official Apple Music, Spotify and TIDAL streaming accounts.
The hype surrounding the verse has kicked off a wider conversation about whether or not "GOD DID" is one of JAY-Z's greatest verses ever. Lupe Fiasco doesn't think so.
"So I went to listen to Khaled's album, only to hear the JAY-Z verse. Because when JAY-Z puts out a verse you gotta go see what he's talking about," Lupe told DX. "Is it JAY-Z's best verse? Absolutely not. Everybody knows that, right? Everybody knows that that's not JAY-Z's greatest verse of all time."
Lupe was then asked if "GOD DID" was one of JAY-Z's best verses. "No, it's not," he answered. "But let's separate that. And here's the approach from two ways: Are we talking about technically use of language JAY-Z? The skilled lyricist who flips entendres. That JAY-Z? Or are we talking about billionaire Jay? Socialite Jay. Entrepreneur Jay."
He continued: "In this era where there's conflation between rap and success, and the best rappers are the most successful rappers, and JAY-Z is bar none one of the most successful rappers of all time, right? So if we're looking at it from a business standpoint, as a business verse, yeah, it's his best business verse because that's what he was talking about. He's talking about business and cap tables, you know? All this other stuff."
The "Superstar" hitmaker, who for the best part of 15 years has been one of Hip Hop's most respected and detail-orientated lyricists, then looked at Jay's verse through the lens of a wordsmith.
"But from the rapper side, no, it's not his best verse from a rapper rapping rap, rappity rap rap JAY-Z. No way. The first verse on 'Marcy Me' from 4:44, it don't touch that. The way he was in the pocket and flipping and doing his shit, it's like, ooh! I'm getting giggles just thinking about it.
"I don't think lyrically from rapper JAY-Z — and I don't think Jay thinks that either — I don't think he thinks that that's his greatest verse of all time. Do I think it's his greatest verse of this time? And in this climate, the way we conflate rap with success? Sure."
Besides "Marcy Me," which Lupe called "insane," he also highlighted another 4:44 track, "Smile," as having a better verse. But before he ventured too far down the rabbit hole in terms of naming other verses he feels are more superior, Lupe stopped himself.
"I wasn't ready for this conversation to go as deeply, so I'm not. I'm just gonna leave it alone," he said before returning to his original train of thought. "I don't think it's his best verse of all time. I don't think people think that. I think that it's just such heads above the water of who he was on the song with.
"And then you rarely hear from Jay, let alone in long form. We rarely get long form Jay — we always get 16-bar Jay or 32-bar Jay, but we never get fucking 80, 90-bar Jay — and to see him do that, I think it had the same effect that other long form versus have, whether it be Black Thought at Funkmaster Flex or Drake on some of his outros, where he just fucking goes."
He added: "I think we've never seen Jay go that long. I can't remember a verse where he went that long. So I think it might be his longest continuous verse and he was hitting his shit."
The 1st & 15th rapper's comments come after Fivio Foreign recently claimed that he and JAY-Z are responsible for bringing long verses back to Hip Hop.
Because of the verse's length and Jay's ability to stay in pocket and wow fans with an array of dizzying lyrics throughout, Lupe Fiasco said he understands why the average listener might deem "GOD DID" among JAY-Z's best.
"I think there are people who don't really know Jay as rapper JAY-Z, they know him as kinda like Roc Nation JAY-Z, businessman JAY-Z, circle of bosses type JAY-Z," he explained. "So to see somebody continuously rapping and rapping really good for like three or four straight minutes, it kinda fucks them up, you know?
"So in that capacity I can see why people would say [it's his best verse]. Like, yes, this is his greatest verse 'cause it's his longest verse and he was able to show that it's not just a fluke. It's not just 16 bars and then he moves on. It's like, 'No, I can do this all day.' So, in that case, yes."
Lupe then talked comparisons and said a good parallel for the verse would be Black Thought's 2017 Funkmaster Flex freestyle. "What do you compare JAY-Z to? Is it Jay's best verse or is it the best verse of all time?" he asked. "I think people are saying it's Jay's best verse.
"So if I had to compare it to something, I would say Black Thought's Funkmaster Flex. If we're gonna compare a long form artist just going for blood for fucking multiple minutes? Then I can see why people would say that. And there's validity to it. But do I, as being the son of JAY-Z, think that it's Jay's best work on a record? No."
Released in June, Lupe Fiasco's most recent record, DRILL MUSIC IN ZION, is in the conversation for 2022 album of the year. In a 4.1 rated review, HipHopDX's Riley Wallace said of Lupe's eighth studio LP: "With no filler or fluff, this album is bound to satisfy those who like their bars bountiful and Lupe Fiasco in peak form."
When asked whether he had any verses that might contend with Hov's on "GOD DID," Lupe replied in a facetious manner: "Yeah, DRILL MUSIC IN ZION is the absolute shit. I think it's absolutely mind crushing."
After making sure to point out the playfulness in his response, Lupe doubled down on his love for Hov and how it's bigger than just being a fan. "It's beyond fandom," he explained. "I literally would not be rapping if it wasn't for Jay. And rapping the way that I rap at the level that I rap is all due to JAY-Z as a lyricist. So I studied Jay deeper than probably some people do superficially.
"I consider myself to be a peer of JAY-Z on many levels. I respect what he does and I understand what some of that is. So some of it's hype. We live in a hype generation, that's fine and that's cool, and I like hype, sometimes. But when I look at it, I gotta kind of look at it from two ways."
Lupe then returned to the "GOD DID" debate one last time. "So I can see why people would say that it's his greatest verse with the caveats that I just kind of put out, like it is his longest verse and he's going bar for bar," he said. "I mean, he's hitting every bar. But is that his greatest move? You know, his greatest kind of stroke on a record? I personally don't think so. But no shade, it's still the fucking shit."
Lupe Fiasco's DRILL MUSIC IN ZION is out now on streaming. It was also just released on vinyl — purchase it here.