Meek Mill Reacts To JAY-Z Saying They'll Never Have Beef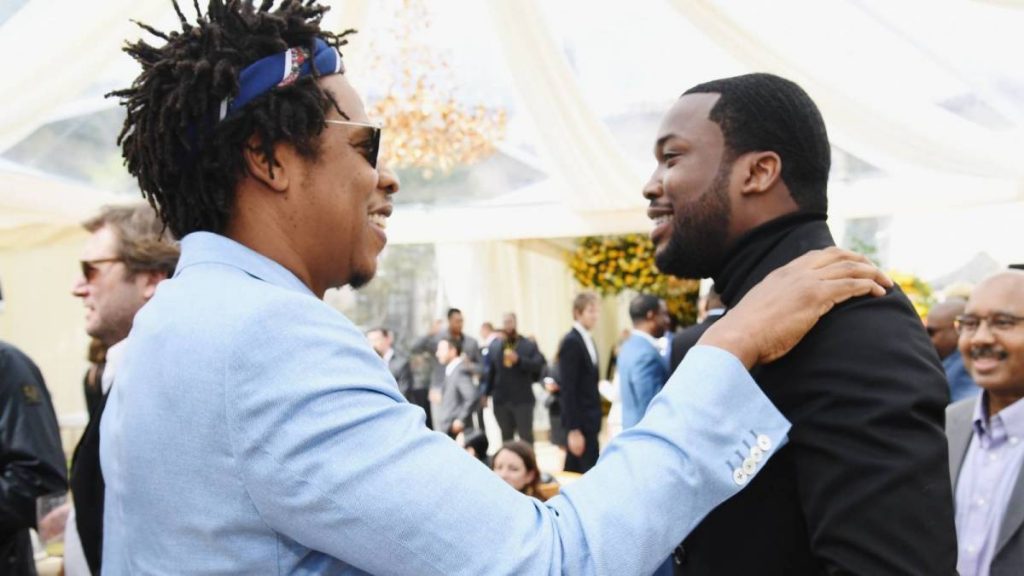 Meek Mill has reacted to JAY-Z proclaiming the two of them will never engage in beef with one another.
Back in July, Meek announced he was leaving Jigga's Roc Nation Management. Hov addressed the split earlier today (August 26) on DJ Khaled's "GOD DID," a song that also features Rick Ross, Lil Wayne, John Legend and Fridayy, taken from Khaled's new album of the same name.
"Me and Meek could never beef, I freed that n-gga from a whole bid, Hov did," he raps on the song. "Next time we have a discussion who the G.O.A.T., you donkeys know this."
Roc Nation motocross rider Chino Braxton took to Twitter upon hearing JAY-Z's verse, overjoyed that the Blueprint rapper announced there was no beef between himself and Meek.
"My n-gga HOV say 'Me & meek will never beef i free'd dat N-gga from a whole bid' HOV DID!!!" Braxton tweeted.
This caught the attention of Meek, who doubled down on Jay's sentiment, retweeting Braxton's message with the caption: "Never!!!!!!"
Never!!!!!! https://t.co/RaRLP3gNHz

— MeekMill (@MeekMill) August 26, 2022
When news first broke about Meek Mill leaving Roc Nation, the Philly rhymer assured fans there were no issues and that he still had other partnerships with JAY-Z.
"All I seen today was meek and roc part ways," he wrote on Twitter. "I'm personally handling my own business so I can take risk and grow ..we came to that agreement together..I have a label deal with roc for my artist and I got reform super tied with them and many other investments wit jigga."
He continued: "And roc nation is my family don't mix my post aimed at Atlantic mixed up with roc or MMG …they ain't stop nothing I'm doing we made about a 100m together des mike and Hov saved my life b4 And put a lot of energy into it I'm not behind on my favors in life wit my people I'm good."
During a 2019 interview with Business Insider, Meek Mill explained how JAY-Z changed his perspective on business.
"He's just a different type of guy," he said at the time. "He's about his business. He's never late, he's on point. He's checking on his business every chance he gets. Basically, I've seen JAY-Z, and then I've watched other artists who came up around his time. He actually built something.
"He built businesses, and he built things that made him become the man who he is, that we could call a billionaire guy. He built that, and I watched that, and I studied that. That's why I'm working the way I'm working now to build a foundation for myself too."
On the music side of things, Meek announced last month he'd be dropping some new material starting in August to honor the anniversary of his father's death. The rapper wrote on Twitter that by the fall, he plans to flood the streets with 10 independent mixtapes.
"10 tapes independently starting September," he wrote. "New music dropping AUGUST 18 the day my dad died is when I start wylinnnnnnn again. I'm not dropping albums on Friday either!"
Although Meek announced he would be dropping new music on August 18, nothing has yet materialized. He did, however, preview a few new cuts earlier in the month, including one that flips a classic Big Pun joint.