Megan Thee Stallion Sends Message To Her Label In L.A. Leakers Freestyle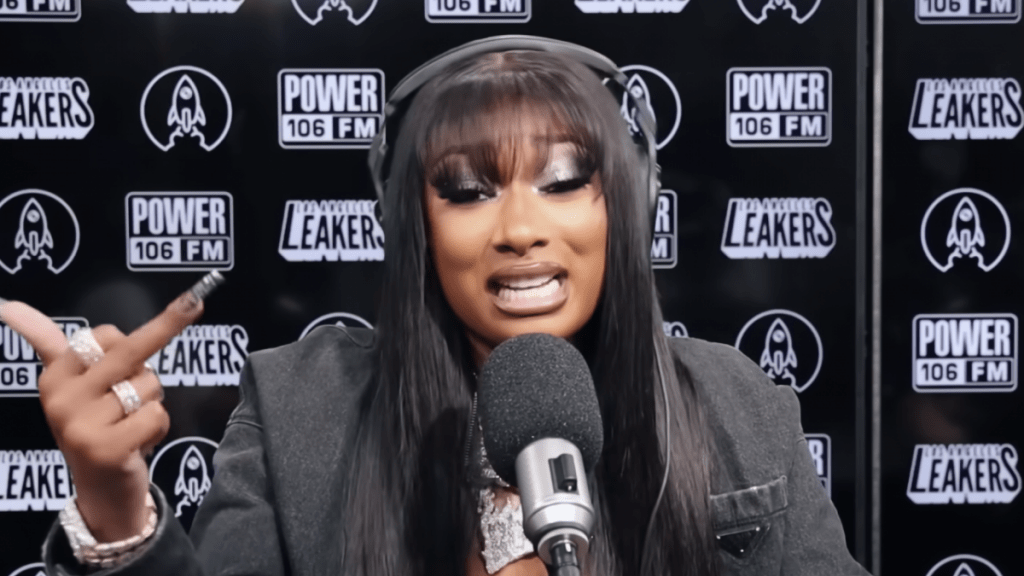 Megan Thee Stallion is keeping her foot on her label's neck.
Three years after her last appearance the show, the Houston hottie delivered a fiery L.A. Leakers freestyle during a visit to Power 106's Justin Credible and DJ Sourmilk on Monday (August 8).
While cruising over Warren G and Nate Dogg's "Regulate" beat, Tina Snow sent a clear message to her record label.
"These bitches don't like me but I got to make them hate me/How you want to be me, at the same time wanna shade me?/I be making money on the muthafucking daily/Got my label mad but them n-ggas gotta pay me," she rapped.
Megan Thee Stallion is currently entangled in a messy legal battle with 1501 Certified Entertainment, an independent Houston label owned by former baseball player Carl Crawford, who she signed to in 2018.
The 27-year-old has filed multiple lawsuits against the company over the last two years, accusing them of locking her into an "unconscionable" contract and preventing her from releasing music.
1501 countersued Megan earlier this year, arguing her 2021 project Something For Thee Hotties doesn't qualify as an album and therefore doesn't count toward fulfilling her contract.
Megan aired out her frustrations with her label on social media just days before her L.A. Leakers freestyle. "I can't catch a break my label hate me and my shit always leak," she wrote in an Instagram Story. "At this point invite the hotties to the studio and shoots."
She added on Twitter: "Why continue to choose peace when everyone else choosing violence??? Lol I got money I PAY FOR ALOT OF MY OWNNNN SHITTTTT I'll start from scratch bc I'm a mf hustler BABYYYY."
Megan Thee Stallion is currently gearing up to release her sophomore album, which she recently revealed is finished. In an interview with Rolling Stone in June, she hinted the project will take fans on an emotional rollercoaster.
"I want to take you through so many different emotions," she said. "At first you was twerking, now you might be crying."
The as-yet-untitled album has spawned a handful of singles, including the Jodeci and Wu-Tang Clan-sampling "Plan B" and "Pressurelicious" featuring Future. It will serve as the follow-up to 2020's Good News, which debuted at No. 2 on the Billboard 200.