Nas + Pete Rock Drummer Daru Jones Almost Steals Jack White's Spotlight – Almost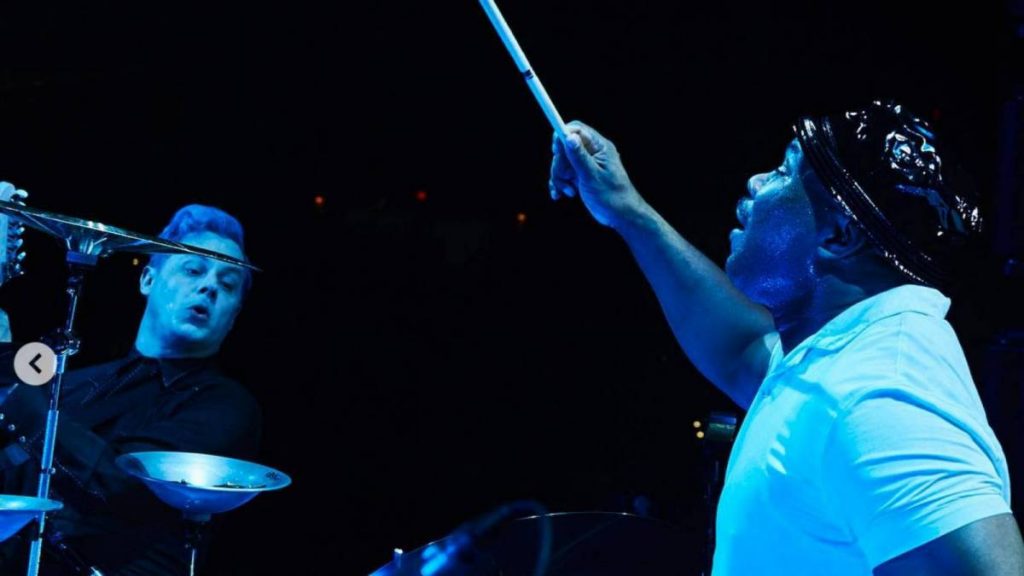 Broomfield, CO – White Stripes founder Jack White is easily one of the most dynamic and talented guitarists in the world right now, but it's impossible not to notice the top-tier drumming of Daru Jones whenever he graces the stage.
The 2x-Grammy Award winner has been playing with White for over 10 years and was by his side on Saturday night (June 11) at the 1st Bank Center in Broomfield, Colorado as part of the Fear Of The Dawn Tour.
View this post on Instagram
As White ripped through songs from his latest album Fear Of The Dawn, Jones — in his denim Kangol bucket hat and matching button-up shirt — murdered the drums, giving songs such as "Taking Me Back," "Into The Twilight" and "Hi-De-Ho" chest-rattling moments loud enough to rouse the dead.
The blue aesthetic of White's stage setup complimented the Fear Of The Dawn cover art, White's electric baby blue hair and numerous blue guitars, while the giant screen in the background utilized a duo tone effect to tie it all together.
"Hi-De-Ho," which features Q-Tip on the album cut, was a reminder of both Jones and White's respect for Hip Hop culture. Even the DJ who opened the show (albeit not so thoughtfully) paid homage to the culture with songs such as "Apache" by The Sugarhill Gang and Run-DMC's "Sucker M.C.s" — which actually ended up being White's entrance song.
The DJ played a weird mix of singles ranging from Metallica and Tom Petty to "Everybody Everybody" by Black Box, the song used in Downey's Unstoppables commercial, leaving many White fans scratching their heads. But the arduous submersion into DJ hell proved to be worth it as White proceeded to blow everyone's minds with his otherworldly skills.
Although Q-Tip wasn't there in the flesh, it was still satisfying to hear the Tribe Called Quest legend's voice blaring through the speakers. It's when White is at its best — full volume, high octane and non-stop energy accented by his dramatic final strums on each song. The only gripe was phones weren't allowed inside the venue, so there are no personal photos or videos of the eventful night. Instead, White's tour photographer uploaded several photographs to the Third Man Records founder's official Instagram account after the performance for fans to use at-will.
View this post on Instagram
Meanwhile, Jones has already carved his legacy in stone with additional collaborations with Black Milk, Pharoahe Monch and many others. As musical director for Pete Rock and the Soul Brothers, the Michigan native joined bassist MonoNeon, keyboardist Big Yuki and singer Jermaine Holmes for PeteStrumentals 3. Released in 2020, it served as Rock's first sample-free endeavor and forced Rock to rely on the Soul Brothers for every note.
During an interview with HipHopDX in December 2020, the legendary producer explained how his relationship with Jones began.
"We connected through friends," he said at the time. "I met Daru a couple of years back and we just hit it off. I told him what I wanted to do and he helped me. He's the one that helped me handpick the musicians who are in the band. Me, my musical taste is on 10 plus, anyway because I'm not going to listen to any half-ass player. I'm going to listen to someone who knows what they're doing."
The Fear Of The Dawn Tour continues Sunday night (June 12) in Lincoln, Nebraska and culminates in Santiago on October 16. Jack White also has another album on the way titled Entering Heaven Alive, which is expected to drop on July 22. Until then, check out the tour dates below.
June 27 – London, UK – Eventim Apollo @
June 28 – London, UK – Eventim Apollo +
June 30 – Cologne, Germany – Palladium @
July 01 – Amsterdam, Netherlands – AFAS Live +
July 02 – Leipzig, Germany – Haus Auensee <
July 04 – Berlin, Germany – Verti Music Hall <
July 05 – Prague, Czech Republic – Forum Karlin <<<
July 07 – Lyon, France – Le Radiant @@
July 08 – Barcelona, Spain – Cruïlla Festival*
July 10 – Madrid, Spain – Mad Cool Festival *
July 12 – Carcassonne, France – Festival de Carcassonne @@
July 14 – Zurich, Switzerland – Samsung Hall ++
July 15 – Frankfurt, Germany – Jahrhunderthalle ++
July 16 – Brussels, Belgium – Forest National <<
July 18 – Paris, France – L'Olympia >>
July 19 – Paris, France – L'Olympia >>
July 20 – Paris, France – L'Olympia >>
July 30 – Yuzawa, Japan – Fuji Rock Festival*
August 13 – Minneapolis, MN – Armory ^^
August 14 – Des Moines, IA – Val Air Ballroom^^^^
August 16 – Milwaukee, WI – UWM Panther Arena ^^^^
August 17 – Indianapolis, IN – TCU Amphitheater at White River State Park ^^^^
August 19 – Toronto, ON – Budweiser Stage #
August 21 – Lewiston, NY – Artpark ††
August 23 – Portland, ME – Cross Insurance Arena §§§§
August 24 – Baltimore, MD – Pier Six Pavilion §§§§
August 25 – Charlotte, NC – Charlotte Metro Credit Union Amphitheatre §§§§
August 27 – Huntsville, AL – Orion Amphitheater ####
August 28 – St. Louis, MO – Saint Louis Music Park ####
August 29 – Kansas City, MO – Starlight Theatre ####
September 15 – Louisville, KY – Bourbon & Beyond*
September 17-18 – Atlanta, GA – Music Midtown*
October 1 – Dana Point, CA – Ohana Festival*
October 7-8 – Guadalajara, MX – Tecate Coordenada*
October 14 – Buenos Aires, AR – Primavera Sound Buenos Aires*
October 16 – Santiago, CL – Primavera Sound Santiago*
* Festival Performance
w/ SPECIAL GUESTS (NORTH AMERICA)
**** The Backseat Lovers (June 6-8)
†††† Delvon Lamarr Organ Trio (June 10-12)
^^^^ Ezra Furman (August 14, 16-17)
††Cherry Glazerr (August 21)
§§§§ Cautious Clay (August 23-25)
#### Glove (August 27-29)
w/ SPECIAL GUESTS (EUROPE/UK)
@ Chubby & The Gang (June 27, 30)
+ Yard Act (June 28, July 1)
< SONS (July 2, 4)
<<< Doctor Victor (July 5)
@@ Ko Ko Mo (July 7, 12)
++ Larkin Poe (July 14-15)
<< Equal Idiots (July 16)
>> Mdou Moctar (July 18, 19, 20)