New Music Friday – New Albums From Lupe Fiasco, Chris Brown, Giveon, French Montana & Harry Fraud + More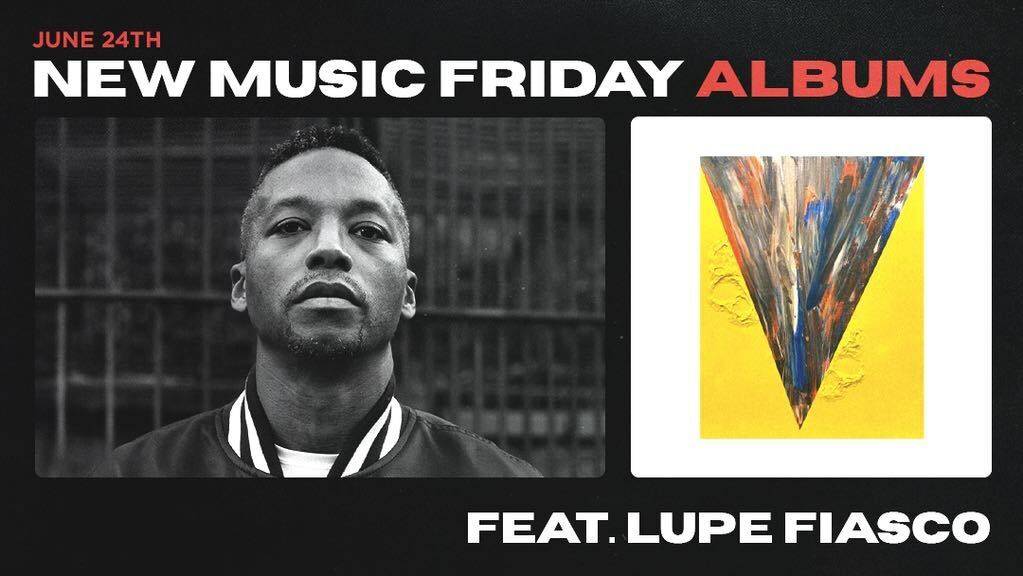 HipHopDX – Now that summer is officially in full swing, multiple mainstream artists are stepping up to the home plate with new releases in hand, with intentions of batting a home run to start the season.
As a result, this week's edition of HipHopDX's New Music Friday Albums coverage features a stacked lineup of heavy-hitters such as multi-platinum vocalist Chris Brown and Chicago rap titans Lupe Fiasco and Lil Durk.
Additional highlighted releases include new projects from artists such as Giveon, French Montana and Harry Fraud, Roddy Ricch and more.
Check out all of the albums that were released on Friday (June 24), below.
Lupe Fiasco – Drill Music In Zion
As veteran lyricist Lupe Fiasco prepares to deliver his eighth studio album Drill Music In Zion, it's as if he is both looking to the future and remarking on the past all at once. With his debut album Food & Liquor celebrating its 15th anniversary last year, it's endearingly nostalgic to see Lupe join forces with Soundtrakk — the producer behind his seminal "Kick, Push" hit — for the entirety of his latest project.
The 10-track album also captures Lupe Fiasco at a new lyrical pinnacle as the Chicago native challenged himself to complete the recording of the entire project within 24 hours. Some 72 hours later, Drill Music In Zion was completed, and by the standards of Lupe himself, it turned out to be one of his most cohesive, dynamic releases to date.
"Your whole life you're physically growing, and as an artist, I feel like I'm taller now," the 40-year-old MC said in a statement about the project. "Soundtrakk is the swordmaker, I'm the samurai, he's the mechanic, and I'm the driver."
Chris Brown – Breezy
In the three years since the release of his multi-platinum Indigo album, Chris Brown fans have without a doubt been patiently waiting for new material from the "No Guidance" vocalist. And following the release of his WizKid-assisted vibe "Call Me Everyday" the excitement of the impending arrival of Breezy season began to set in.
Coupled with an insane press run, which is already yielding neck-snapping headlines instigating a possible future Beyoncé collaboration, in addition to revealing Diddy previously passed up his opportunity to sign CB to a record deal, Chris Brown has captured the attention of the world yet again.
All things considered, Chris Brown's Breezy album is likely the largest release of the year. But not because of the R&B singer's monolithic stature, instead, because there are 57-tracks being collectively released between the standard and deluxe edition versions of the project.
For now, enjoy the first 24 songs of CB's latest release, which includes features from artists such as Ella Mai, EST Gee, Lil Baby, Lil Wayne and more.
Giveon – Give Or Take
Even though the beginning of his career was somewhat boosted by the Drake effect, following the popularity of his and Drizzy's anthemic 2020 "Chicago Freestyle" collaboration, Giveon has since created his own vibrant buzz.
For starters, the Epic Records artist captivated over 687 million listeners with his love-sick "Heartbreak Anniversary" record. Then he managed to put forth a banner effort in 2021 off the strength of his beloved When It's All Said And Done…Take Time project. Seemingly energized with an even more earnest and unabashed mantra, vividly displayed by his recent "Lie Again" single, Giveon is ready to unleash his new album Give Or Take.
The 15-track offering also doubles as a coming-out party for his upcoming North American tour, which kicks off midway through August and runs through late October.
French Montana & Harry Fraud – Montega
There's no denying the level of consistency both French Montana and Harry Fraud have maintained throughout their storied careers, thus far.
The Brooklyn-bred producer has notably delivered outstanding LP arrangments for artists such as Benny The Butcher, Jim Jones, Dave East and Curren$y, among others. And French has continued to deliver radio-ready hits year after year with offerings such as his 2021 They Got Amnesia album, which is home to his "Mopstick" banger featuring Kodak Black.
Now, with the momentum of his rap posse cut "Bricks & Bags" assisted by Benny The Butcher and Jadakiss, and co-sign from the Mayor of the Big Apple, French Montana and Harry Fraud join forces for their New York-facing Montega collab project.
Lil Durk – 7220 (Deluxe)
Lil Durk is truly personifying his self-proclaimed moniker as Chicago's JAY-Z with his dominant run in 2022.
He kicked the year off in March with the release of his 7220 album, which debuted at No. 1 on the Billboard 200 and racked up 120,500 total album-equivalent units sold in the first week. Durkio has also remained committed to his purpose as a leader in the Chi and launched an HBCU college program through his Neighborhood Heroes Foundation last month in an effort to help introduce students to an array of career paths.
As he continues to show no signs of slowing down, Lil Durk has also done an exceptional job of keeping his promise to fans by unleashing his 7220 (Deluxe) album, featuring guest appearances from artists such as Moneybagg Yo, A Boogie Wit Da Hoodie, Doodie Lo and more. The album also arrives in conjunction with the announcement of the accompanying tour, which kicks off in September.
Roddy Ricch – The Big 3 EP
West Coast rapper Roddy Ricch has already been having a wild start to Summer 2022.
He recently made an appearance at Hot 97 Summer Jam, which culminated in a rowdy crowd chanting "fuck NYPD" following his arrest on a weapon possessions charge, which was dismissed on June 11. The 23-year-old has also been named the supporting act of the North American leg of Post Malone's Twelve Carat Toothache Tour, which begins its 33-city trek on September 10 in Omaha, Nebraska.
Now, just days after initially teasing the release, the "Die Young" rapper has delivered the follow-up to his 2021 Live Life Fast album with his new project, The Big 3 EP.
Erica Banks – Diary Of The Flow Queen
Warner Records signee Erica Banks has an interesting come-up story, to say the least.
Growing up in the surrounding suburbs of Dallas, she quickly gravitated to rhythm-friendly extra-curricular activities such as cheer and drill teams. By the time she got to college, music was what she set her sights on, and thus, she dropped out and began focusing on her career by delivering rap-heavy releases such as her popular "No Hook" singles. By 2019, the 23-year-old scored her first big hit with her "Buss It" anthem that went viral on TikTok and went on to be co-signed by Houston native Travis Scott with his guest verse on the remix to the track.
Fast forward to 2022, Erica Banks is ready to tell her story, and get sexy while doing so, via her 13-track Diary Of The Flow Queen album.
Big Grip – I Do What I Want
Up-and-coming artist Big Grip is making his presence known with the undeniable presence of his thunderous street bangers.
The East Atlanta-bred rapper has already collaborated with notable acts such as Foogiano and Dirty Tay and managed to make a sizable Impression on newfound listeners with his popular 3 Tickets EP last year.
Now, with the support of producers such as over 808 Sco of 808 Mafia and Beatjunkiez' Eazy, Big Grip is preparing to take the lead within the new generation of trap music curators via his 10-track I Do what I Want album.
This week's Honorable Mentions list features new offerings from Cochise, Robb Bank$, BKTheRula and Ski Mask The Slumpgod, A1 X J1, Wale The Sage, Bolsen and more.
Also, peep this week's New Music Friday Singles coverage featuring new releases from Kid Cudi, Denzel Curry, JID and Dot Da Genius, NBA YoungBoy and Brent Fiayaz, among others.
Stay up-to-date with the latest Hip Hop and R&B releases here.