'Pushin P' Co-Captain Future Adds To Instagram Money Message Train – But Keeps Beef Out Of It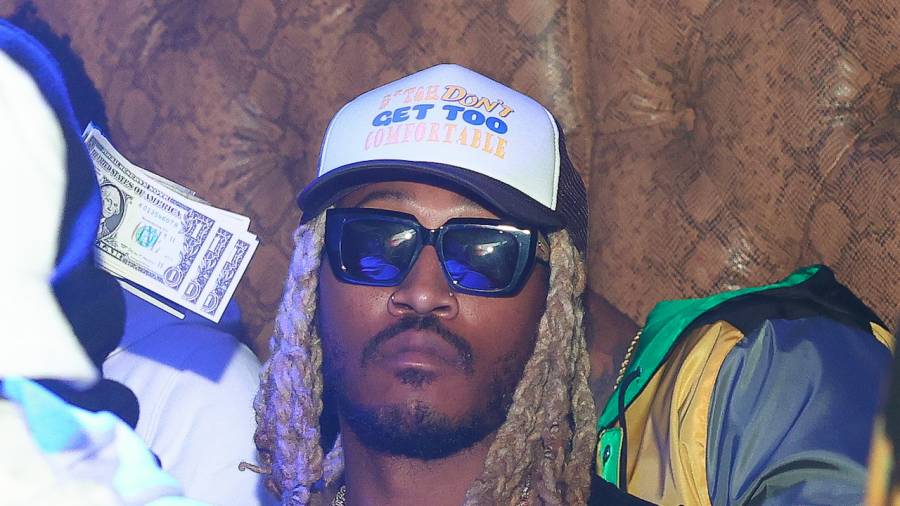 Like NBA YoungBoy and Lil Durk, Future has also shared a money-spread message on Instagram — except his wasn't nearly as cryptic as YB's or Durk's messages.
In an IG story post on Friday (January 21), Future arranged his money to spell out his belief that he is the top dog and snapped a picture of the scene with a bird's eye view angle showcasing his fresh Balenciaga socks firmly planted in the couch above the spread.
"I'm dat n-gga," the message Future wrote with his bills read.
View this post on Instagram
The Freeband gang hitmaker's post arrives just hours after O' Block representative Lil Durk shared a message of his own, which read "Hurry y'all bitch azz Up," along with a brief note from Durk which appears to be angled as a sneak diss toward YB — who just released his Colors album this past Friday.
"We color bling but we still see red," Lil Durk wrote in the post caption.
Lil Durk's post is allegedly his response to NBA YoungBoy, who appeared in a pair of photos this past Wednesday posing next to the phrases "You n-ggas gone die," and "stay safe," which he also spelled out with money.
Top initially sent shots Lil Durk's way on his single "Bring The Hook" earlier this month, rapping on the track "O' Block pack get rolled up," in addition to several other lines insensitive to the shooting death of Welcome To O' Block rapper King Von.
Aside from his IG money message exploits, Future and Southside were recently confirmed as executive producers for Freeband gang rapper Doe Boy's upcoming album Oh Really,which is set for release on January 26.
Artists such as Babyface Ray, Moneybagg Yo, 42 Dugg, Rowdy Rebel, Lil Uzi Vert, Ty Dolla $ign, G Herbo, Roddy Ricch, and 2022 HipHopDX Rising Star Nardo Wick are featured on the album while additional production credits include Tay Keith, Wheezy, Buddha Bless, ATL Jacob and Hitmaka.