Rapper Big Pooh Links With Jared Evan On RZA-Inspired New Single 'Stranger'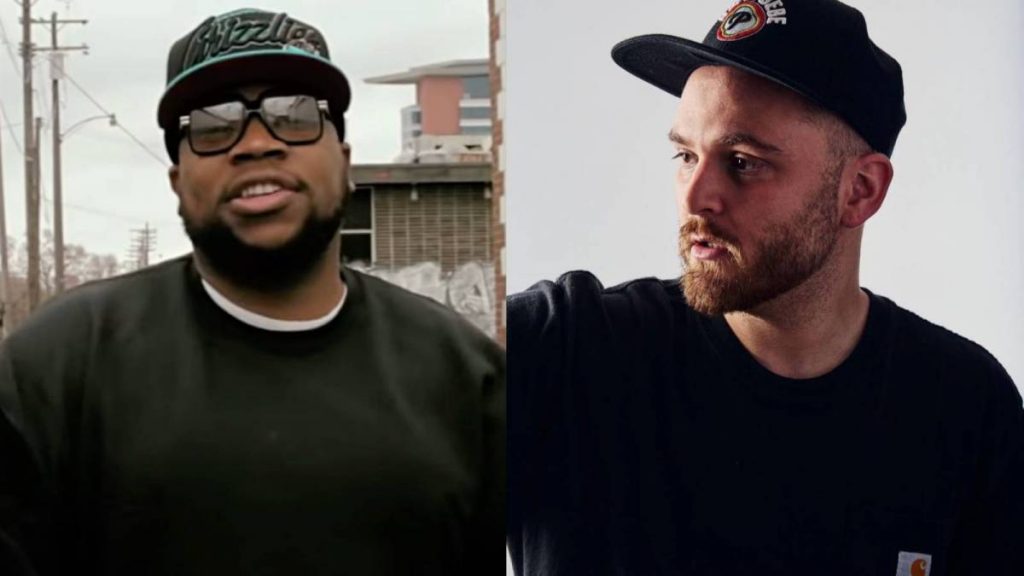 EXCLUSIVE – Rapper Big Pooh has teamed up with Jared Evan to drop off "Stranger," the second single from the New York artist's upcoming new album BB3 (Boom Bap & Blues 3).
Following on from lead single "Reincarnated" featuring Reks, Evan's latest record lifts the lid on his his relationship with today's music industry, one that's obsessed with streaming figures, followers and viral moments.
The former Interscope Records artist feels like an outsider — or a "stranger" — as he manoeuvres the indie landscape, which is something Big Pooh can relate to. "I enjoy living life on the outside of the circle/ Where the grays flash rays of truth/ Don't be a menace 'fore I finish this juice/ Another spoof will probably go viral," the Little Brother MC spits on the soulful track.
"Stranger" — which was the first song recorded for BB3 — comes with production inspired by RZA and melodies influenced by Al Green. According to Evan, it's the "perfect Boom Bap & Blues poster song." Check it out below.
"To me, 'Stranger' is the perfect Boom Bap & Blues poster song. It's the perfect balance between vintage soul and the raw, dirty, classic Hip Hop that I grew up loving," Jared Evan told HipHopDX. "On the production tip I channeled RZA and on the melodic tip I channeled Al Green. And then I got to fire off one of my iller verses next to one of my idols. It's a very special song to me."
Explaining how his "idol" Rapper Big Pooh came to be on the track, Evan continued: "After I made the beat and wrote/recorded the hook, I immediately thought of Little Brother. Being that I'm actually close with Pooh, I sent him the beat and asked him what he thought and he was floored. He sent me his verse back in like a day and it just fit perfectly. I knew instantly that I would make it a single."
Due out October 14 via 4th Chapter Music, BB3 is the third installment in the talented New York rapper, singer, songwriter and producer's Boom Bap & Blues series; it follows on from 2013's Boom Bap & Blues and 2014's Still Blue.
The album is set to include production from Statik Selktah (who produced the entirety of the first two albums in the series), Nef, The Arcitype and D-Que. The majority of the production, however, will be handled by Evan himself.
"This is the first volume in the Boom Bap & Blues series where I handled the bulk of the production, entire curation of features, mixing and even mastering," Jared Evan told HipHopDX. "It's also the first one without Statik behind the boards all the way through like the previous two albums."
Not wanting to reveal too much about what fans can expect from BB3, the L.A.-based New Yorker previously shared a few bits about the forthcoming project with DX.
"What I'll say about the sound and direction of this volume – it's the most raw, golden era Hip Hop sound out of all the volumes. I feel as if the previous two lean a little more towards R&B and soul as opposed to a grimier, dirty and raw golden era sound that this one embodies," he said. "To me, this new one has the most cohesive feel, as well as the grimiest out of all of the installments."
Meanwhile, Rapper Big Pooh's most recent project was his new solo album, To Dream In Color, which was released on August 22.
Arriving three years after the release of Little Brother's latest album, 2019's May The Lord Watch, Pooh said of his new LP in a statement: "To Dream In Color represents living life. A lot of times we are so focused on goals that we never stop to see all that we've accomplished… With this album, my focus was on painting a picture with words. I wanted to essentially create an audio book.
"My hope is that listeners get a better sense of who I am as a person by actually hearing my story. I speak about lacking confidence, stage fright, swallowing pride, my childhood, and so much more. This is my most personal body of work and it's some scary shit knowing people are gonna listen, judge, and maybe take something away from it that I didn't intend. That's when you know you have made great art, though."