Review: Dee-1 Makes Mixtape Songs Sound Like Album Cuts On 'Timeless'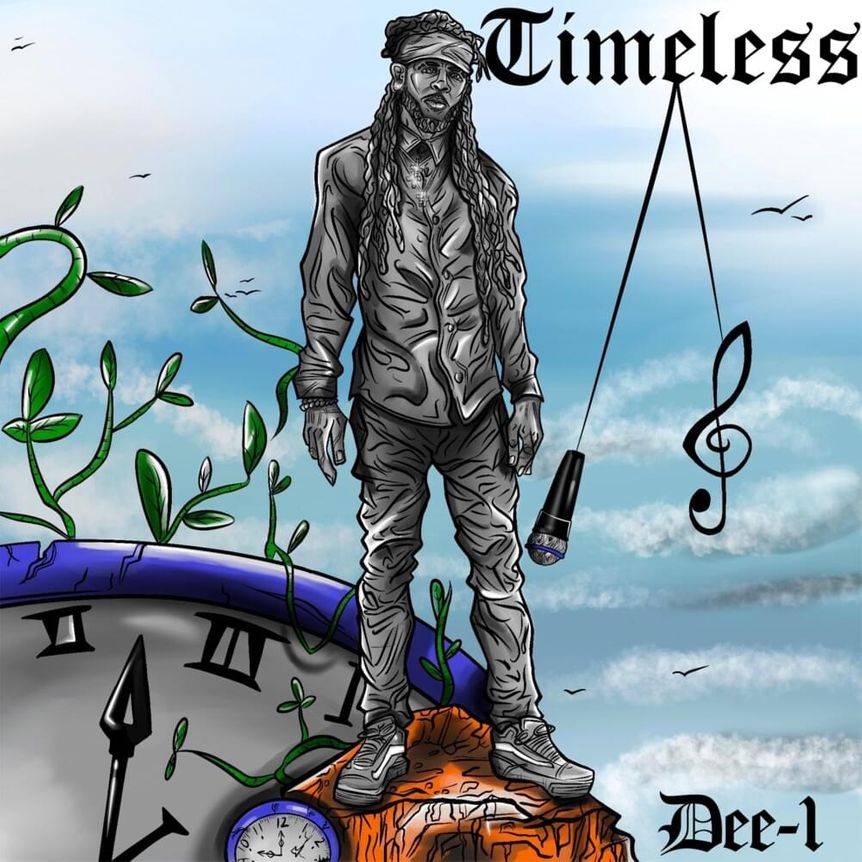 Dee-1 pulled a fast one on 'em. 
A few weeks ago, the spirited lyricist decided to see how much his fans were paying attention. He repackaged five old songs from mixtape as singles, and most of his fans reacted as if they were brand new joints. He turned this concept into a full-length album, Timeless, which consists of mixtape songs from 7-9 years ago. The result is music that, while not outstanding, stands the test of time on the merit of engaging content and soulful production. 
Even a stranger to Dee-1's music could surmise the opening song, "It's My Turn," is either a deliberate throwback joint or a cut from a previous era. He flows on the track like Lil Wayne over clipped organs and thick drums that sound right out of Tha Carter II, but Dee sets himself apart from the outset when he humorously declares, "My head hurt and my breath funky, that's how I'm livin'/No Phat Farm, my pockets sittin' on Russell 'Slimmons'." He jumps from thought to thought over a beat that could ride out for days, making for one of the strongest album openers of the year. 
Dee-1 has been tagged with the "Christian rapper" label, but he's really just a Christian dude who raps. His faith permeates his outlook, his stories and even the light that shines through his voice. And yet, his every-man personality makes him just as akin to a sober version of Devin the Dude as it does to Bizzle. 
Each song has an episodic feel to it, as if Seinfeld and Atlanta were mashed together and dipped in communion wine. He rides a bouncy beat alongside Kourtney Heart's vocals on "Found Tha One," declares his joy for each day on "OD on Life," and breaks down the struggles of an MC on the mathematically-brilliant "Writer's Block." Though the songs come from different projects and vary musically from relentless piano-key thumpers ("Only God Can Judge Me") to drawn-out soul ("Blue"), they are tied together by Dee-1's ability to meld raw emotions with a take-life-as-it-comes approach. 
There are no real weak joints here, save "Really Feel This," which is marred by a lackluster hook. Multiple cuts sound fresh in 2020, and even the songs that are clearly from different eras are memorable in their own right. In that sense, Dee-1 succeeded in creating an album with stamina. However, truly timeless music, like Jay-Z's The Blueprint or Bob Dylan's Blood on the Tracks, features masterful songs that have a "wow" factor to them. To that end, Timeless misses the mark. The exception to this is "Stranger," on which Dee-1 paints a picture of interactions with people amidst struggle. His formidable delivery over mid-tempo, cinematic production makes for an impactful listen. The song stands above the rest as a great piece of art independent from styles or eras.
Dee-1 has now released two albums in less than 12 months that are worthy of replay value. While the album title Timeless is more a clever play on Dee's experiment than it is a representation of classics, the album itself is further proof that Dee-1 has become one of the most reliable rappers out.