Review: Stove God Cook$ Delivers Masterful Lyrics Over Roc Marciano Beats On 'Reasonable Drought'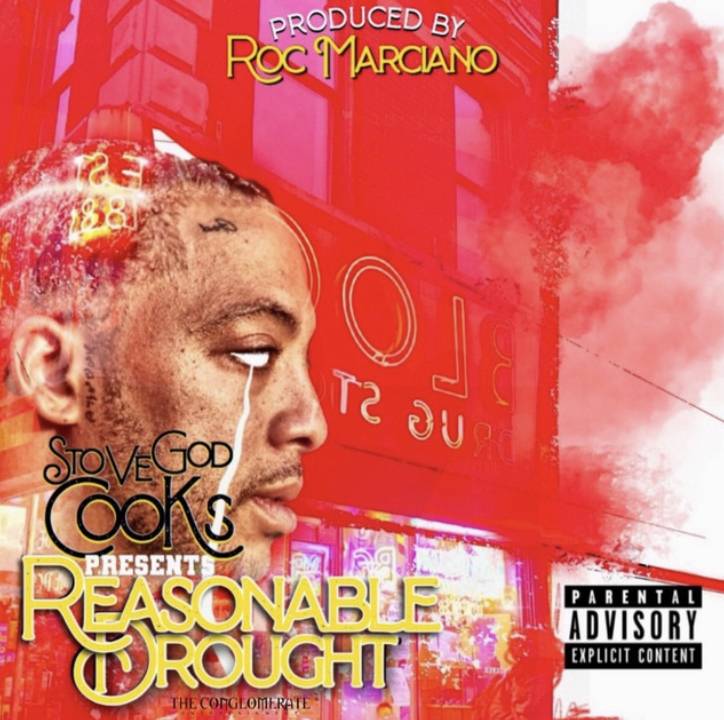 A few years removed from first aligning with Busta Rhymes' Conglomerate Records, Syracuse MC Aaron Cook$ — now known as Stove God Cook$ — has finally released his highly anticipated debut LP, Reasonable Drought (a tongue-in-cheek nod to the classic debut Reasonable Doubt).
View this post on Instagram

THE GROUND BREAKING MASTERPIECE BY STOVE GOD COOKS AKA @GODCOOKS DEBUT ALBUM #REASONABLEDROUGHT PROD BY @ROCMARCI AVAILABLE AND STREAMING EVERYWHERE RIGHT NOW!!!! #THECONGLOMERATE!!
Upon its release, many on social media hailed the project as a definite classic. While it's early to predict how time will treat it, it's an upper echelon slice of Hip Hop.
While his manager, Brand Nubian MC (and Vlad TV regular) Lord Jamar, may have groomed his flow along with Busta, surely neither of them could have predicted the magic that would ensue once they added two droplets of Roc Marciano into the Petri dish.
Cooks is a brilliant melting pot of brick raps, incredibly engaging cadence and melodic tone. As he croons his super catchy hooks, he fluctuates between sounding like a bizzaro Mos Def (check "Break the Pyrex"), incarcerated wave god Max B (check "Jim Boeheim") with pops of Post Malone (check "Cocaine Cologne") — all of course without pivoting too far outside of his own signature sound. That's what makes this project feel like an outlier of the wave it surfs; it's bright without being sunny and dark without pushing into a niche pocket.
The way he harmonizes his struggle, singing, "Still smelling like a brick right now" on the drum-less "Cocaine Cologne" is enough to illustrate just how different his take on the sub-genre is in comparison to his peers.
None of this matters, of course, if the bars aren't there — and Cooks has pristine pen game. There is a curious blend of pop culture references, drug dealer-isms and this unmistakably humorous undertone. There are also these little details that add a layer of credibility to his raps.
One example is when he describes pulling up to a plug's mansion in an Enzo Ferrari — even noting the gate code — on the song "Bread of Life." Another is the $400,000 buried in his mother's yard (something he references more than once).
Cooks is only half of this equation. Roc Marciano has recently found himself inserted into numerous conversations about best rapper/producer in the game — something bolstered by his latest album, Marcielago. If Reasonable Drought's soulful, 70s tinged production doesn't convince you that Roc is a producer worthy of as many roses as possible, then it's unclear what else he can do.
This is the type of album that you purchase on vinyl and preorder the instrumental version without thinking twice.
The chief contextual drawback of the album is that it doesn't necessarily break any new ground. The title, while an homage, can be traced back to JAY-Z. There are clear comparisons that can be made to Raekwon's revered debut Only Built For Cuban Linx — and artistically, Cooks isn't the first MC to lean heavily on drug dealing ballads.
Reasonable Drought isn't an album poised to shift culture like Flygod, as an example. Still, the album's execution more than positions him as a rookie on a Kobe or LeBron level. There is something so dynamic about Cooks, and this album gives enough variation to suggest that holding him in a box may be impossible. The singing on the chorus of "Gloria Blemente" for example, with its funky, chunky bass licks, is a vibe that could easily be spread across an entire LP.
As far as debuts go, this featureless serving of real-deal street Hip Hop is the type of album you'd love to just distill into liquid and hook into your bloodstream. Album of the year contender, no question.