Run The Jewels Announce New Dates For Long-Delayed Rage Against The Machine Tour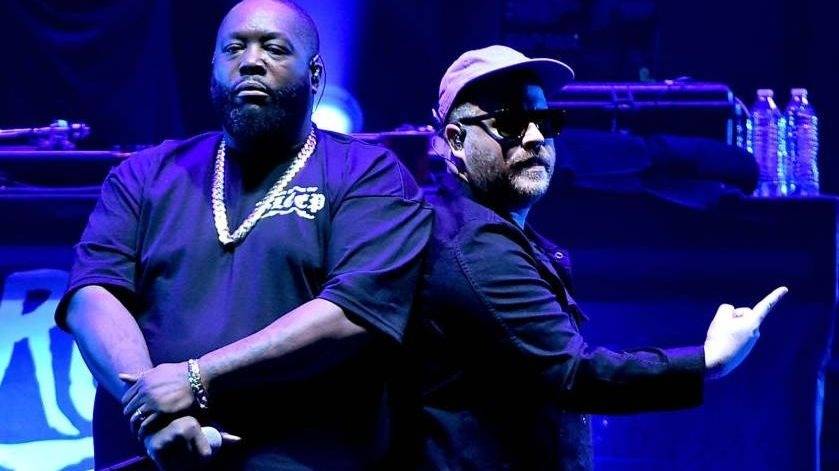 Run The Jewels and Rage Against The Machine were scheduled to co-headline a massive tour in 2020 — but then the COVID-19 pandemic hit. As the music industry struggled with the biggest shutdown in history, the two groups eventually rescheduled the canceled dates but were forced to postpone yet again.
Now, the Zack de la Rocha-fronted group is back with another update on the Public Service Announcement Tour, which was promptly shared by Killer Mike and El-P. While they didn't cancel the run, they did move the start date to July 9. As explained in an Instagram post, "The Rage Against The Machine 'Public Service Announcement' North American Tour with Run the Jewels will now start on July 9, 2022 in East Troy, Wisconsin.
"Headline shows scheduled for March 31, 2022 through May 23, 2022 will be postponed and rescheduled. All tickets for the moved dates will be honored. For fans wishing to obtain a refund for the postponed dates, refunds are available for a 30-day window from the point of purchase, starting today. We will be back to you with the rerouted dates."
The post was signed by Rage Against The Machine members Brad Wilk, Tim Commerford, Tom Morello and Zack de la Rocha."
View this post on Instagram
Nineteen dates have been confirmed so far with four of those being at New York City's Madison Square Garden in August. Meanwhile, dates in Texas, New Mexico, Arizona, California, Washington, Minnesota, Missouri, Michigan and Canada have been postponed.
The original tour was announced in February 2020, right before the pandemic started its rampage. The news was particularly significant because it marked the first time in years Rage Against The Machine had reunited. Morello, Commerford and Wilk had been busy with Chuck D and B-Real as Prophets of Rage, while Zack de la Rocha had been keeping a low profile.
Run The Jewels, on the other hand, dropped their latest album Run The Jewels 4  last June to rave reviews. Recorded primarily at Rick Rubin's Shangri-La Studios and the iconic Electric LadyStudios in New York City, the 11-track album featured appearances from Pharrell Williams, Mavis Staples, 2 Chainz, Zack de la Rocha, Josh Homme, DJ Premier and Greg Nice.
It also earned the duo their first Top 10 Billboard 200 album with over 38,000 total album-equivalent units sold in its first two days. Their last two albums — 2017's Run The Jewels 3 and 2014's Run The Jewels 2 hit No. 13 and No. 50, respectively.