Eminem Reveals He's On 'The List' Fat Joe & Jadakiss Referenced With Virgil Abloh Nike Air Force 1's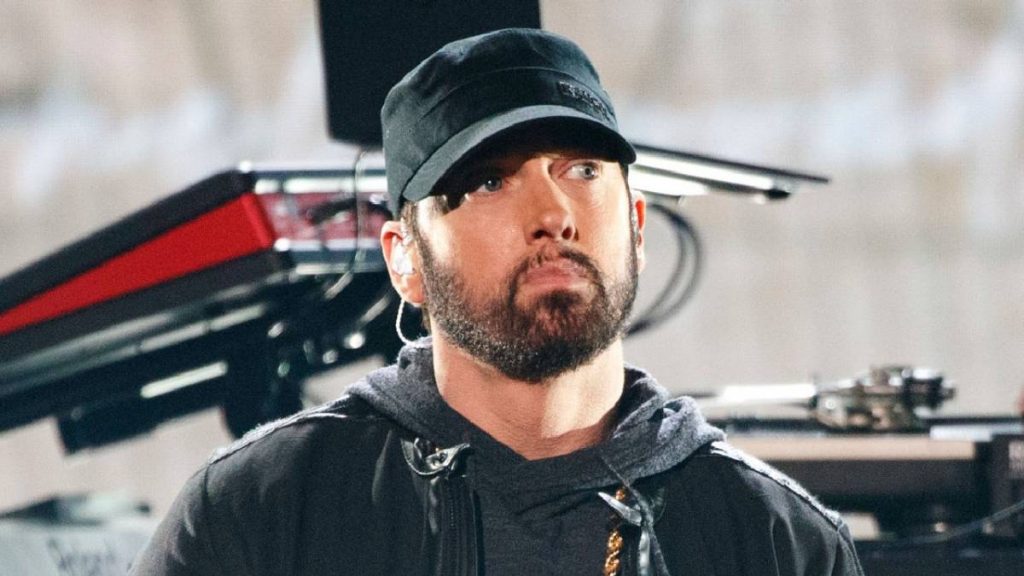 Fashion designer Virgil Abloh unexpectedly passed away last November after a private two-year battle with a rare form of cancer. As the Off-White founder's absence continues to leave a hole in the hearts of his friends and family members, Nike is celebrating Abloh with a Louis Vuitton collaboration in honor of his artist director role at the luxury brand. The special Air Force 1's have been delivered to a handful of celebrities, including Eminem who posted about them on Monday (January 24).
Sharing a pair of photos of the shoes to Twitter, Eminem expressed his gratitude for the meaningful gift. "These r just too crazy," he wrote. "Thank you @nike honored to be on #thelist rest easy @virgilabloh."
These r just too crazy. Thank you @nike honored to be on #thelist rest easy @virgilabloh pic.twitter.com/hy8wwuiRkj

— Marshall Mathers (@Eminem) January 24, 2022
DJ Khaled, Fat Joe and Jadakiss were among those who also received a pair of the Louis Vuitton collabs. On January 20, Khaled uploaded a video to Instagram as he opened the Louis Vuitton-branded shoe box with its matching Nike tag. The pair of red Nike Air Force 1s featured the famous Louis Vuitton print stamped across each shoe as well as Abloh's Off-White motifs on the laces and midsole.
"This is so beautiful," DJ Khaled said. "Virgil was here and Virgil is still here. Long live Virgil," a reference to the card included in each box.
Fat Joe, who received a purple pair, was equally as enamored by the rare shoe and wrote simply, "Virgil Was Here" with a heart and praying emoji. In another video, he referenced the same "list" Eminem did in his post. As for Jadakiss, he was gifted a royal blue pair and joked in his Instagram caption, "#TheList Not everyone can make the list."
View this post on Instagram
Abloh was just 41 at the time of his death and left behind a wife and two children. Diagnosed with cancer in 2019, he chose to kept his health issues close to home, which his family explained in an Instagram post.
"We are devastated to announce the passing of our beloved Virgil Abloh, a fiercely devoted father, husband, son, brother, and friend," the caption read. "He is survived by his loving wife Shannon Abloh, his children Lowe Abloh and Grey Abloh, his sister Edwina Abloh, his parents Nee and Eunice Abloh, and numerous dear friends and colleagues. For over two years, Virgil valiantly battled a rare, aggressive form of cancer, cardiac angiosarcoma. He chose to endure his battle privately since his diagnosis in 2019, undergoing numerous challenging treatments, all while helming several significant institutions that span fashion, art, and culture.
"Through it all, his work ethic, infinite curiosity, and optimism never wavered. Virgil was driven by his dedication to his craft and to his mission to open doors for others and create pathways for greater equality in art and design. He often said, 'Everything I do is for the 17-year-old version of myself,' believing deeply in the power of art to inspire future generations. We thank you all for your love and support, and we ask for privacy as we grieve and celebrate Virgil's life."
View this post on Instagram