Symba Explains How Meeting Nipsey Hussle Changed His Life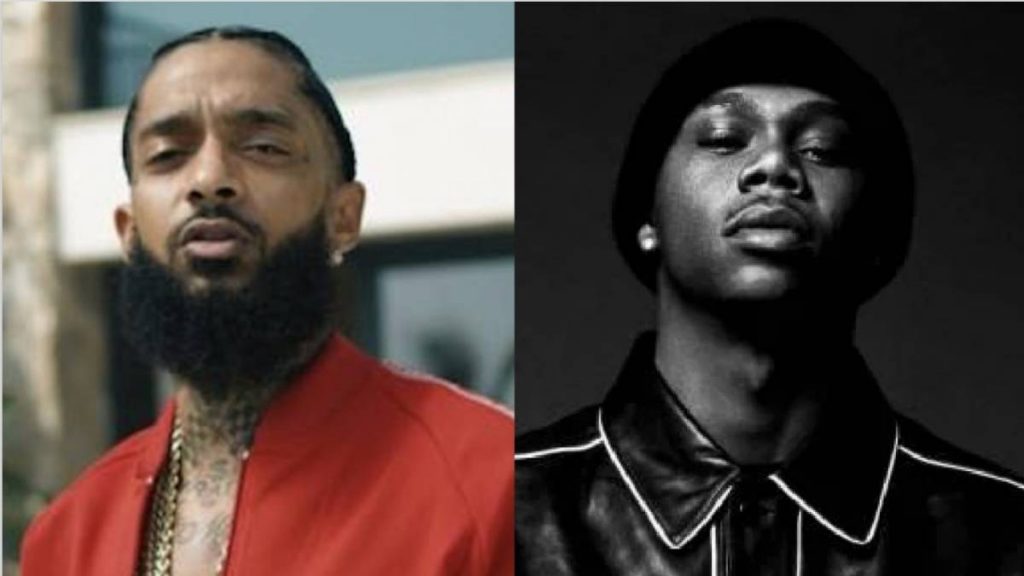 Symba has shared a story of the first time he met Nipsey Hussle and how the late rapper changed his life for the better, all thanks to some literature.
The Bay Area native spoke about the encounter during his visit to the Frequently Asked Questions podcast. According to Symba, his relationship with Nipsey started after the late rapper caught a whiff of the strong cannabis he was smoking with his friends.
"I met Nip in Atlanta at A3C fest in 2012, this when Cookies first came out," Symba recalled. "We had took some Cookies to Atlanta on A3C fest, and my homie he in the club smoking. So one of my other homies was a big Nip fan, and he was like, 'Bro, Nip keep looking over here.' He was like, 'Bro, we should go holla at him.' So as we getting ready to go over there, he start walking towards us."
Symba continued: "He was like, 'Hey bro, what y'all smoking? That shit smell crazy.' We was like, 'It's some new shit coming,' and he was like, 'Let me get some,' and we like, 'We wasn't gonna sell you no weed. You Nip, you can take this shit.'
"So we smoke with him, and he's like, 'Y'all ain't never been to L.A.?' I straight up lied to him I'm like, 'Yeah, I live in L.A.' I don't even got a spot in L.A. or nothing. I'm just driving back and forth at the time 'cause my homie had an apartment out here, so I'm like, 'I live in L.A.,' and he was like 'As soon as you get back, hit me.'"
Symba then explained how he flew back to The Bay but got right into his car and drove straight to Los Angeles to meet with Nipsey. The two linked up at a studio where they did a song together, and after they were done recording, Nipsey let Symba's cameraman take a copy of The 22 Immutable Laws of Branding by Laura and Al Reis.
"That book literally, like, us reading that book made me realize I didn't know what the fuck I was doing in music," Symba said. "I didn't know how to sell myself. I didn't know how to package myself or like brand myself, it changed my life."
Symba continued on to say one of the laws in the book that stood out to him was the law of extension, which highlights people doing so much and not understanding they're selling themselves short because others won't know what they're coming to that person for.
Fans became familiar with Symba through several different freestyles, and he mentioned this being the reason he finally figured out how to stand out from his peers.
"That's why I said that was the first time I knew what people like me for where I can duplicate it," the 23-year-old added.
Symba dished out another freestyle earlier this week on Funk Flex's popular Hot 97 radio show that found him confronting the legendary DJ for the disparaging remarks he's made about 2Pac over the years.
"Flex, it's an honor to meet you, but let's be clear/ I've done had a bone to pick with yo ass for four years/ You've been a big part of this culture my whole life/ So what I'm 'bout to say almost don't feel right/ You say some wild shit, most times you actually right/ But all that disrespecting 2Pac shit stops tonight," he rapped over Wu-Tang Clan's "C.R.E.A.M." instrumental.