Suge Knight Planned Attack On Bone Thugs-n-Harmony At 1995 Source Awards, Says Krayzie Bone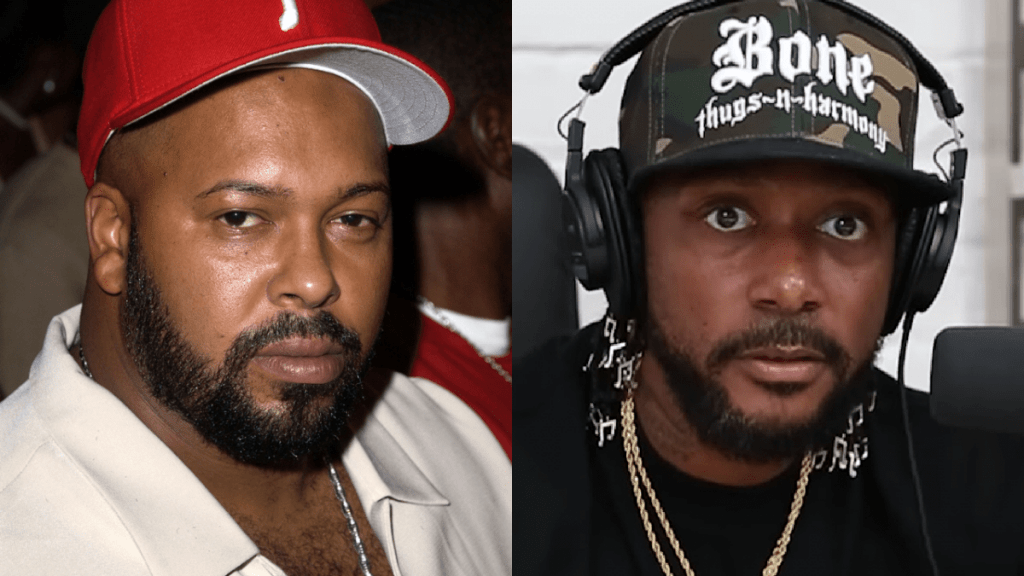 Suge Knight planned an attack on Bone Thugs-n-Harmony at the 1995 Source Awards, according to Krazyie Bone.
The Cleveland rapper made the claim during a recent interview with The Art of Dialogue, where he alleged the notorious Death Row Records co-founder offered goons $10,000 to assault them on stage during the awards show.
Krayzie Bone explained Knight felt disrespected by the group's "1st of Tha Month" music video, in which several members wore beanies — a staple of Death Row's fashion at the time — that were on fire.
"When we was at the Source Awards, they told me they was gonna pay somebody $10,000 to run up there and sling on [us] with a cane," he said. "There was a lot of beef going on back then, it was intense. I remember that Source Awards being very intense. It was wild."
He added: "They told us that [Suge] had called a meeting one time and told everybody to look at our videos. One of us was wearing a Georgetown Bulldogs beanie, but we had a New York Yankees — we had different [hats]. The director told us, 'Put the beanies on because the special effects gonna make y'all afros look like fire.'
"But I guess this n-gga didn't know what he was doing and he had the little patch on that hat on fire, and they took it as a form of disrespect."
Bone Thugs-n-Harmony's Death Row beef was inherited from Eazy-E, who signed them to his Ruthless Records label in the early '90s. Eazy and Dr. Dre had fallen out following N.W.A's breakup and Suge Knight is rumored to have strong-armed Eazy to secure Dre's release from Ruthless, paving the way for Death Row's formation.
Delving deeper into the feud, Krazyie Bone revealed Eazy-E had actually urged Bone Thugs to stay out of his squabble with Death Row, but that didn't stop tensions from rising.
"We had several confrontations with them. A lot of things was said, mentions in songs, when we were sitting in traffic sometimes, a lot of verbal confrontations," he said, referencing Bone Thugs' lyrical back-and-forth with Tha Dogg Pound in the mid '90s. "Nothing really physical ever jumped off, but it was known there was a little beef.
"Eazy told us not to get into beef, but it was like, 'Bruh, we with you. What do you expect us to do just, like, [stay out] of this beef?' It was like, 'We riding!' … It was definitely known inside both camps that there was no love for Bone at the time."
Layzie Bone also touched on Bone Thugs' feud with Death Row in a 2016 interview with VladTV and recalled 2Pac defusing a verbal confrontation between them and Suge Knight at a Dogg Pound show in their hometown of Cleveland.
"Suge tried to punk me out," he said. "I said, 'Look here n-gga, you in Cleveland. You won't get up out this muthafucka.' But luckily 'Pac was still living, so when 'Pac came in he's like, 'Oh, these my n-ggas, these my thugs.' So he kind of got Suge up off of that."
As both members noted in their respective interviews, the once-bitter beef has since been squashed, with Bone Thugs-n-Harmony and Tha Dogg Pound forming the supergroup, ThugPound, earlier this year.
View this post on Instagram