The Game & Lil Wayne Drop Digital 'A.I. With The Braids' Video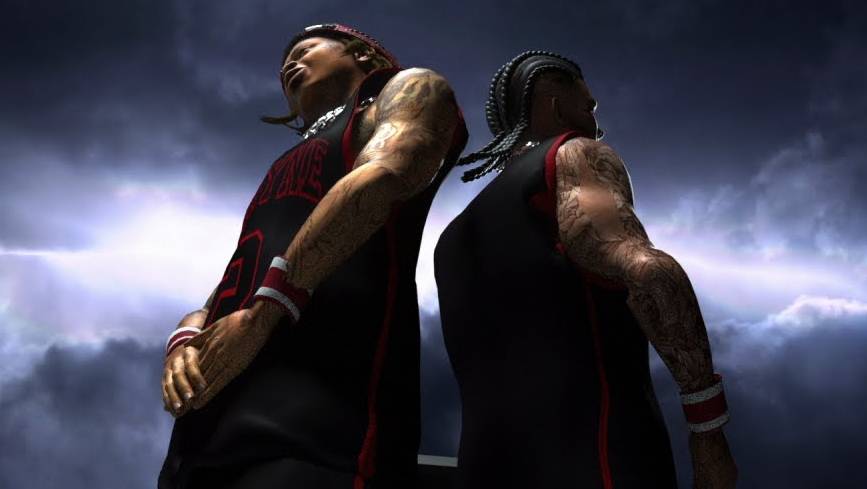 As The Game seeks to casually lure ex-nemesis 50 Cent into an automatic internet-breaking Verzuz battle, his "retirement" has begun to be jeopardized with the release of high-profile music.
On Wednesday (December 16), the West Coast rap stalwart unleashed an animated visual for his latest Lil Wayne collaboration, "A.I. With The Braids," a lyrical nod to retired NBA legend Allen Iverson — and a visual nod to Game's beloved NBA2K.
Illustrated by Tillavision, the video finds both crimson-laced rap stars balling out in a red city, complete with high flying dunkers and even hood cheerleaders as the Mike Zombie-produced sirens blare through the blacktop.
"A.I. with the braids is almost single-handedly responsible for most if not all trends you see in Hip Hop & professional sports these days," The Game says of the song's release. "Every kid including myself wanted to be Allen Iverson, from the baggy jerseys with the diamond chains, to the designs in his braids & whole swagger. Girls were in love with him & he was pound for pound the best player in the NBA. A.I. went from being my idol as a kid to being my brother in real life, so it's only right I pay homage."
Game adds, "He didn't care what anyone in the world thought of his style, he just did him … . and back then we had a little 'A.I. with the braids in all of us.'
Despite never winning a championship, Iverson was an 11-time NBA All-Star (and a 2X All-Star Game MVP) and won the league's coveted Most Valuable Player award in 2001.
"A.I. With The Braids" marks The Game's first single since his 2019 swan album Born 2 Rap and second appearance of 2020, having being featured on Punjabi rapper Bohemia's "Ek Din" single earlier this month.
Watch the "A.I. With The Braids" video above. HipHopDX can also confirm The Game will be releasing new music in 2021.