The Game's First Listen Of Eminem's 'My Name Is' Gave Him Same Feeling As Biggie's 'Juicy'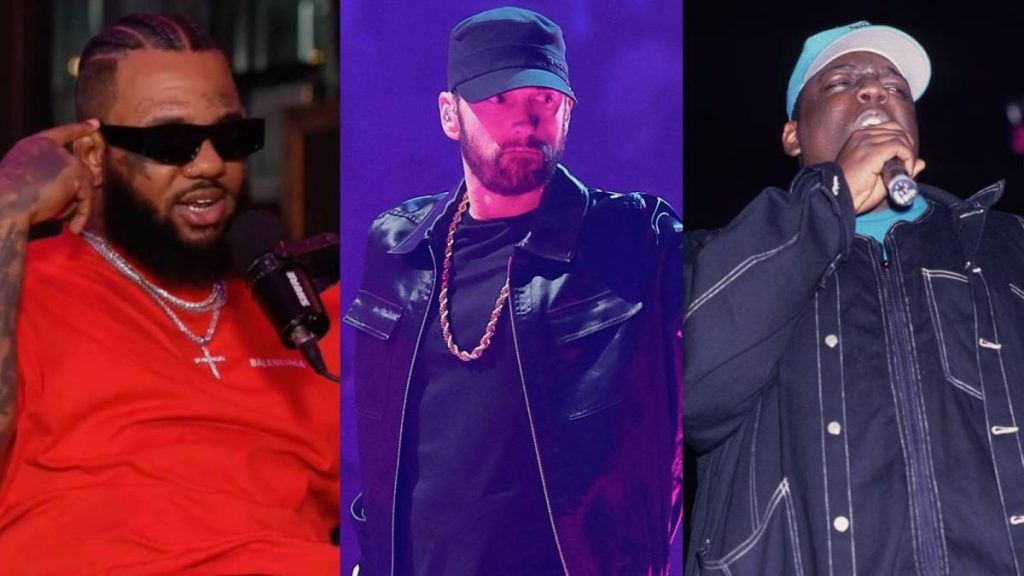 The Game has explained how Eminem's 1999 breakout single "My Name Is" hit him in a way he hadn't felt since hearing The Notorious B.I.G.'s 1994 debut single "Juicy."
The Compton native shared the revelation during an appearance on the Rap Radar podcast during which he was asked about his ongoing dispute with the Detroit legend. According to The Game, he's been taking shots at Slim Shady because no one else does, and it has nothing to do with anything personal.
"As far as, like, it being personal, like, it's not personal. I came up on Em too," Game said. "I remember the first time, you know, 'Hi, My Name Is,' you know, came out. I was like wowed by it. I felt that same feeling when I heard 'Juicy' from Big the first time. So yeah, I always fucked with Em and then the whole Aftermath and the Shady thing, and he was on The Documentary."
He added: "I think me and 50's fallout kind of made him choose a side, and he wasn't doing that shit that I did. He like, 'I'm going with 50. Fuck you n-ggas.' But yeah, I just felt like Hip Hop got to be interesting. These n-ggas these days are so goddamn boring, or everytime somebody want to beef, somebody gotta die, or some shit. Sometimes, ladies and gentleman, it's just Hip Hop, and you can leave it at that."
View this post on Instagram
Despite his appreciation for the Detroit rap legend, The Game has been targeting Eminem for months. In March, the 42-year-old rapper challenged Em to a Verzuz battle during a visit to Drink Champs.
"Eminem is Eminem, I like Eminem," he said. "He's one of the fuckin' good MCs, great MCs. I used to think Eminem was better than me. He not, he's not. Challenge it. Yes, I do [want to do Verzuz against Eminem]. What you mean, yeah I do? The fuck you mean? I'm not saying I want smoke with Eminem; I'm saying I want smoke with Eminem, him, and him, whoever."
The shots culminated last month when The Game dropped the scathing diss track titled "The Black Slim Shady" off his new album, Drillmatic: Heart Vs. The Mind, which arrived on August 12. The 10-minute song hears The Game taking aim at everything Eminem-related, from his ex-wife Kim Mathers and daughter Hailie to his race and struggles with addiction.
Although Eminem himself hasn't responded, the track sparked a lot of reaction, including from late battle rapper Pat Stay, who called The Game out for the diss track. The 36-year-old took to his Instagram and posted an image of The Game laying in bed shirtless while scrolling through his phone. Stay condemned "The Black Slim Shady" and suggested he was disappointed with Game's actions in the caption.
"I gotta say, as a fan losangelesconfidential its been hard to watch you desperately begging for @eminem attention trying to battle him," he wrote. "Trust me, I respect the hunger, but once you start that whole 'he only blew up because he's white' type sh*t it comes off more hater-ish than competitive."