The Weeknd Drops 'Out Of Time' Video Co-Starring Jim Carrey & 'Squid Game' Star HoYeon Jung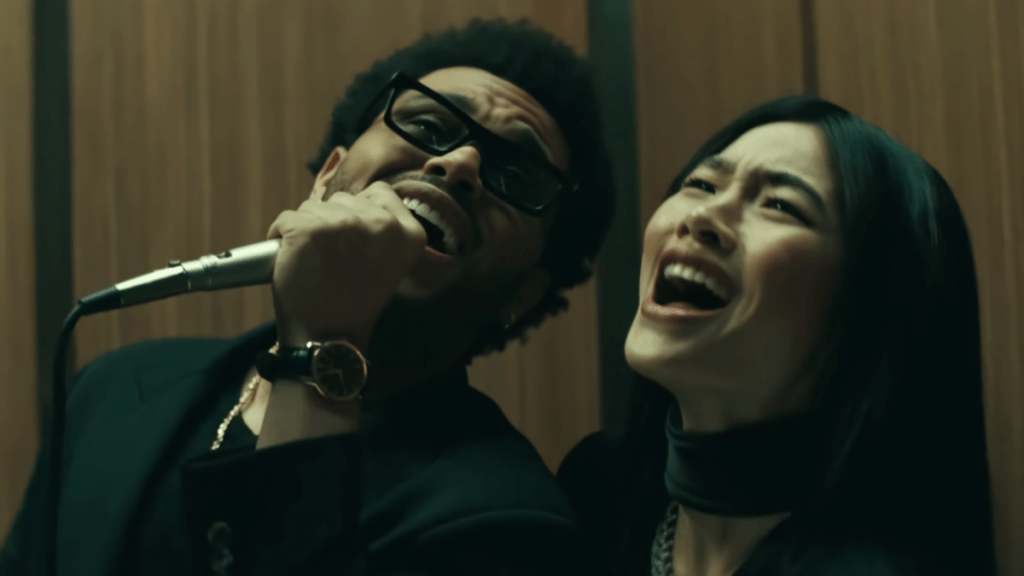 The Weeknd is having a lot of fun with the rollout for his fifth studio album Dawn FM. He's released three music videos and did an Amazon Prime Video experience that found the singer running through the entire project while playing a character that's an older version of himself.
On Tuesday (April 5), The Weeknd continued the campaign by unleashing a new music video for "Out of Time." In the Cliqua-directed video, the After Hours singer meets Squid Game star HoYeon Jung in a hotel elevator, where a romance seems to be brewing.
The two end up spending the night together where they share drinks, dance with each other and belt out the lyrics to the song, karoake-style.
View this post on Instagram
Things go smoothly until actor Jim Carrey's voice invades the song, telling listeners they are "out of time." Abel senses something is up as he walks back to Jung's room, before things get even weirder when he leaves the actress in bed and focuses his attention on a bright light emanating from the window.
Viewers are then transported to a hospital bed where they see through The Weeknd's eyes while Jim Carrey plays the role of a doctor and performs some type of facial surgery.
Despite most of his visuals being weird and unsettling, The Weeknd is yet again telling a story with his "Out of Time" video. Last month, the XO member went on Twitter to let fans know there's a specific viewing order for each of the Dawn FM music videos.
"Dawn universe videos in order… take my breath > sacrifice > The Weeknd dawn fm experience on Amazon prime > gasoline … THEN out of time," he explained on Twitter.
dawn universe videos in order… take my breath > sacrifice > The Weeknd dawn fm experience on Amazon prime > gasoline … THEN out of time pic.twitter.com/Z1KH5sixVS

— The Weeknd (@theweeknd) April 3, 2022