Tony Shhnow 'Reflexions' Proves He Can't Be Categorized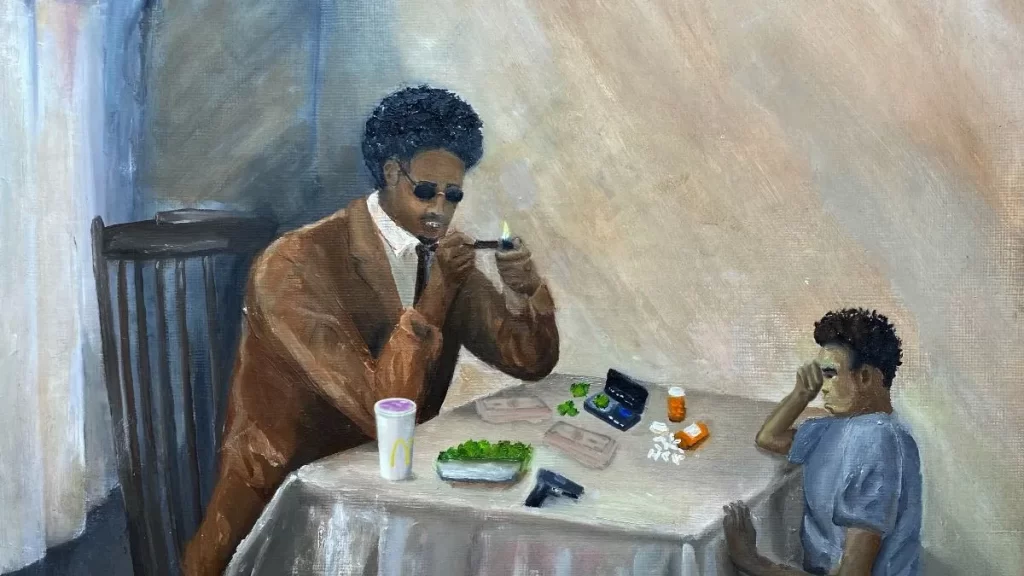 The concept of 'genre' in Hip Hop is carelessly used. It's a term which functions in one of two ways: to keep something out or hold something in. It's a word doled out by critics, journalists and fans, an errant and hasty label meant to uphold tidy lines and nonexistent, arbitrary boundaries. It's part of what makes Tony Shhnow's latest mixtape Reflexions so thrilling; his boundless raps resist any form of categorization. 
Not much time has passed since Shhnow's 2019 single "Goin' Through It," but so much has changed for the Atlanta MC. Where his music was once completely intertwined with the sleepy plugg of producers such as CashCache and DiorDaze – who worked on some of his biggest songs to date in "Vet" and "On Me" with 10kDunkin – Shhnow's latest is more in line with 2021's Kill Streak 2 (Deluxe), a sampler of sorts where he expands his beat selection without dulling the art.
Reflexions is a reminder that over the past two years very few rappers, if any, have been as consistently excellent as Shhnow — plugg music's Curren$y. He was already established as an underground prodigy, but his new output suggests his ceiling is far higher.
The tape kicks off with Tony's bars ice skating across FWThis1Will and Sparkheem's glitzy keys and kick drums, tapping into an '80s revivalist thread which loosely runs through the tracklist. "Show U," one of the album's strongest listings, finds Shhnow stacking cash ("I walk in the bank, Honey I'm home") and lauding independence ("'Tony went broke,' n-gga is you stupid?/Fully independent and I own all my music") over a beat from GeeohhS which draws influence from Michigan rap and Miami Vice soundtracks.
There's an apathetic confidence behind all of Shhnow's music, as though he's frustrated by how easy rapping is for him. A simple song structure bores him. He euro-steps between several different flows on the rage-inspired "Park My Car," cramming multitudes of ideas into a less than two-minute song. All rappers must balance their raps' style with its content, but Reflexions highlights Shhnow's insistence that the sound of his music is as compelling as any lyric.
Tony's ability to not only rap on the wide array of production present on Reflexions, but make each song fit into the album seamlessly without any binding lyrical themes, concepts or narratives is one of his most impressive skills. He pulls from every corner of rap, repackaging the sound into his own. Shhnow wades through depths of murky synths with Bear1Boss on the Popstar Benny and Jay xl-produced "Bape ☆," flipping between a slurred, meandering flow and staccato torrent. "Last Chance," with Bruiser Brigade's Zelooperz, revels in the discordance between the hued romantic sounds of the production and Shhnow's beaming toxicity: "Last bitch, she thought she had me/Couldn't tell the bitch, shit she chatty." Matt Ox slides in for a rabid verse on "Go!" and Atlanta legend OJ Da Juiceman is the restrained, mud-walking foil to Shhnow on "Nothing 2 My Name." 
Given Shhnow's unbothered approach, it's easy to forget how much of Reflexions is experimental. His effortless style makes one lose sight of how unexpected it is to hear dissonant influences come together. But occasionally, there is a moment which breaks the trance, when the experiment doesn't quite work. "Forgive Don't Forget" features the playful bounce of Cardo's production, but fits oddly in the tracklist and meshes awkwardly with Shhnow's raps about fair weather friends. The project's two skits, "Uncle Vince Skit" and "Rick Rap Radio Skit," are funny at first (particularly the latter) but become skips after the first listen. Shhnow's humor comes across better in his actual raps anyway.
Shhnow, like many of his plugg peers, isn't an album rapper. His M.O. hinges on a prolific output and a quick fluctuation of ideas; a process not typically best presented by tight-knit collections of songs. His Da World Is Ours trilogy is littered with moments of brilliance but aren't revelatory as albums in the traditional sense. Reflexions, though it's still intentionally scattered and unpredictable, is Shhnow's strongest body of work yet. It may jump rapidly between different flows, production styles and tempos, but it's held together better than his previous offerings through the order of its tracklist and a hyper-curated ensemble of featured artists.
In an industry ravaged by the desire to make a quick buck at any and all costs, Tony Shhnow is a black sheep, an artist who raps for himself first and everyone else second. There's nothing cheap about Reflexions: no flashy trends, hit-hungry A&Rs or marketing gimmicks in sight. It's a project which can be looped and repeated without ever sounding stale. But Shhnow doesn't care about any of that: he's already focused on the next one.
Repeat Me:
​​


Fan Feedback:
New Tony Shhnow Album Out Of Nowhere ? Can't Complain

— Dulli (@1WayDulli) June 6, 2022
tony shhnow is special i haven't fucked with no artist like this in a long time

— luy (@Sundaunn) June 7, 2022
No but seriously Tony Shhnow is the best rapper alive

— jae (@Jaybethatguy_) June 11, 2022