Travis Scott Directs Future's 'Love You Better' Performance On 'Jimmy Kimmel Live!'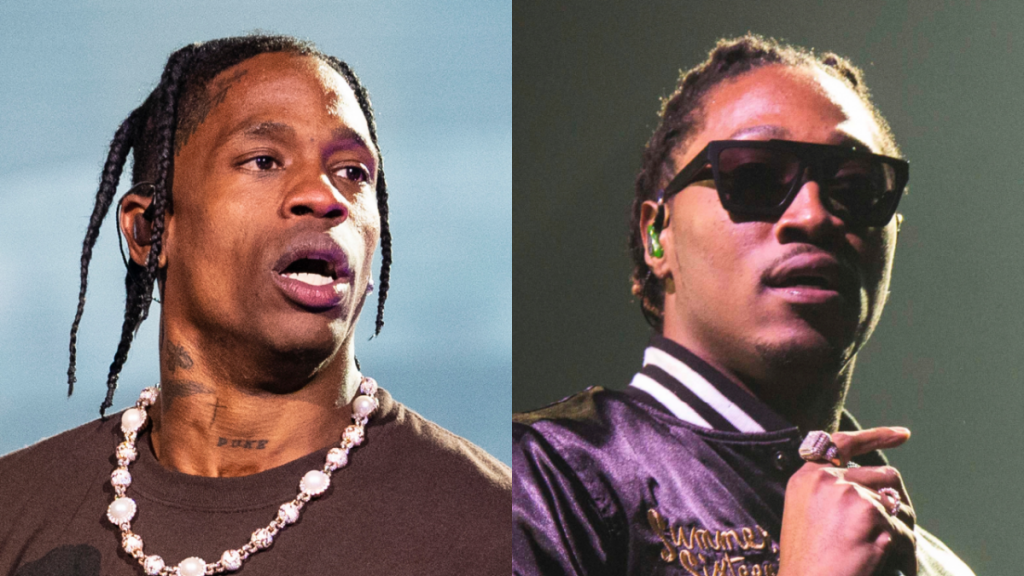 Travis Scott sat in the director's seat for Future's performance of "Love You Better" on Jimmy Kimmel Live! on Wednesday night (September 28).
The theatrical performance opened with the Freebandz boss being introduced as the next guest on Kimmel's late-night TV talk show, with the rapper walking out to rapturous applause from the audience.
"How is the Future, relatively speaking?" Kimmel asked, as if beginning a regular interview, to which Future replied: "Man, I been drifting on sometimes."
The camera then cut to a woman searching for the rapper backstage and stumbling on a note that read: "I never like u," the name of his shamelessly toxic album.
From there, Future performed the song from his seat as the stage turned into a dream-like setting surrounded by smoke. His brutal note clearly didn't deter the woman as she reappeared on stage and dragged him away, claiming him as her own.
Epic Records CEO Sylvia Rhone posted behind-the-scenes footage of the performance on Instagram, showing Travis Scott studying a camera intently while overseeing the production.
"@travisscott directing @future at Kimmel. LEGENDARY!!! [fire emoji]," Rhone wrote in her caption.
La Flame also took to Instagram on Thursday (September 29) to share a photo of himself and Future on stage with the Jimmy Kimmel Live! sign above them.
View this post on Instagram
View this post on Instagram
Future is no stranger to working with Travis Scott as they've joined forces on tracks such as "3500," "Franchise (Remix)" and, most recently, Southside's "Hold That Heat," the latter of which served as Scott's first musical offering since last year's Astroworld Festival tragedy.
In July, Pluto brought out the Cactus Jack boss as a surprise guest during his headlining set at Rolling Loud Miami, a festival he was rumored to have been banned from.
Scott performed a medley of songs during his roughly 10-minute cameo, including "Hold That Heat," "Antidote" and "Goosebumps." He also stuck around to play hypeman while Future ran through "March Madness."
"You might be the realest, man," Scott told Future on stage, to which he replied: "Nah, you the realest, bro. I love watching that shit."
The pair appear to have yet more musical collaborations in the works as Travis Scott debuted an unreleased song with Future during the opening night of his Road to Utopia residency in Las Vegas earlier this month.
La Flame also played never-before-heard songs with Lil Uzi Vert, Kid Cudi and Pharrell during his set, suggesting his forthcoming album Utopia will be another star-studded affair.