Tyler, The Creator Roasts Baby Keem Backstage: 'You Weird, N-gga'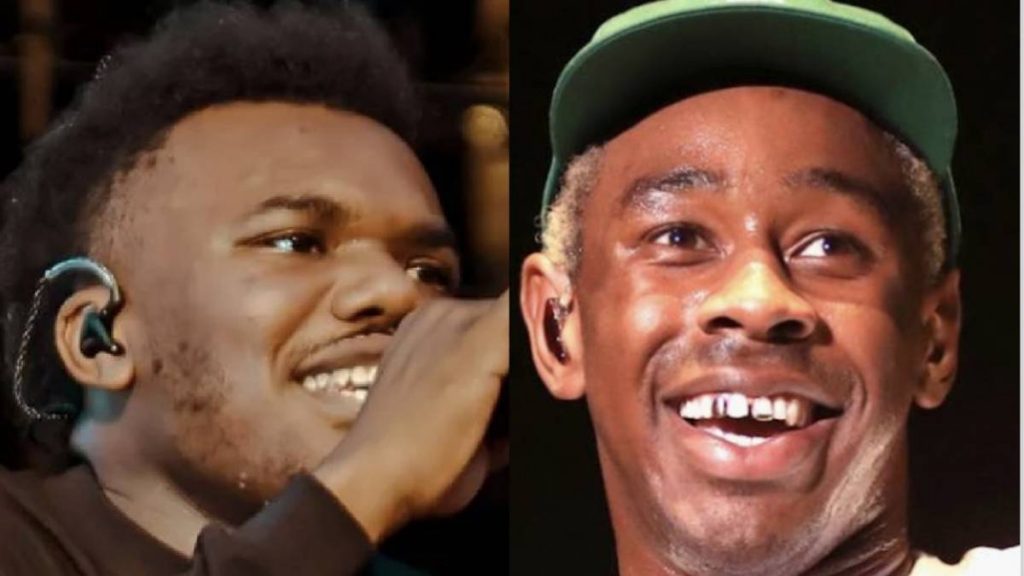 Tyler, the Creator had time in his day to roast Baby Keem's drink choices, and footage of the comedy circulated online over the weekend.
Clips of their hangout surfaced online, and the two rappers were seen laughing it up. Tyler had apparently found something in Keem's room that was out of the ordinary and pointed it out by calling him weird for having it in his room.
"So that's in your room bro? That's what you be drinking? Bro this is crazy. You weird n-gga, you weird n-gga, you weird n-gga," Tyler said as he pointed to a table in the room with a Keurig machine and creamer. "Bro weird, n-gga. 'Ay, I move to LA n-gga, and I can't catch a vibe n-gga 'cause n-ggas weird, n-gga. I move to LA and I can't catch a fucking vibe n-gga.'"
Tyler, The Creator making fun of Baby Keem backstage at Kendrick Lamar's tour ? https://t.co/FoC4kyecyo pic.twitter.com/Ba6KbK3bXS

— HipHopDX (@HipHopDX) September 19, 2022
Tyler didn't make it clear exactly what he was referring to, but whatever it was had Baby Keem and friends curled up in boisterous laughter.
The CALL ME IF YOU GET LOST rapper has been showing up at concerts all Summer, such as recently catching the vibes at Lupe Fiasco's show at Central Park in New York City. The event kicked off the short North American tour celebrating the 15th anniversary of Lupe's sophomore album, The Cool.
Tyler was spotted in the audience, rapping along vigorously to every single word of Lupe's "The Coolest," but the Igor rapper later tweeted that his favorite moment came when the Chicago native dedicated a song to him.
"Seen lupe do THE COOL in full last night," Tyler tweeted. "Amazing performer. gold watch the coolest but paris tokyo with the shoutout to me was….mannnnnnnnnn my heart jetted outta my body. loved."
Tyler, The Creator has been a die-hard fan and supporter of Lupe Fiasco and for years went to bat for him, claiming the music industry didn't appreciate the rapper's work.
He spoke on this thought in 2021, writing on Twitter: "we didn't protect Lupe mannnn." Lupe Fiasco responded and reassured Tyler that everything was all good on his end.
"I'm still here fam lol," Lupe wrote. "I'm happy. Family good. Life is awesome. Make my little money doing shows to Fund my lil side hustles. Joined the Illuminati. Pornography is better than it's ever been. Chill case looking promising. Lawsuits settled. Booty muscles looking 25 again. Solid."