Warren G Recalls Declining 2Pac Collaboration Over Fears For His Safety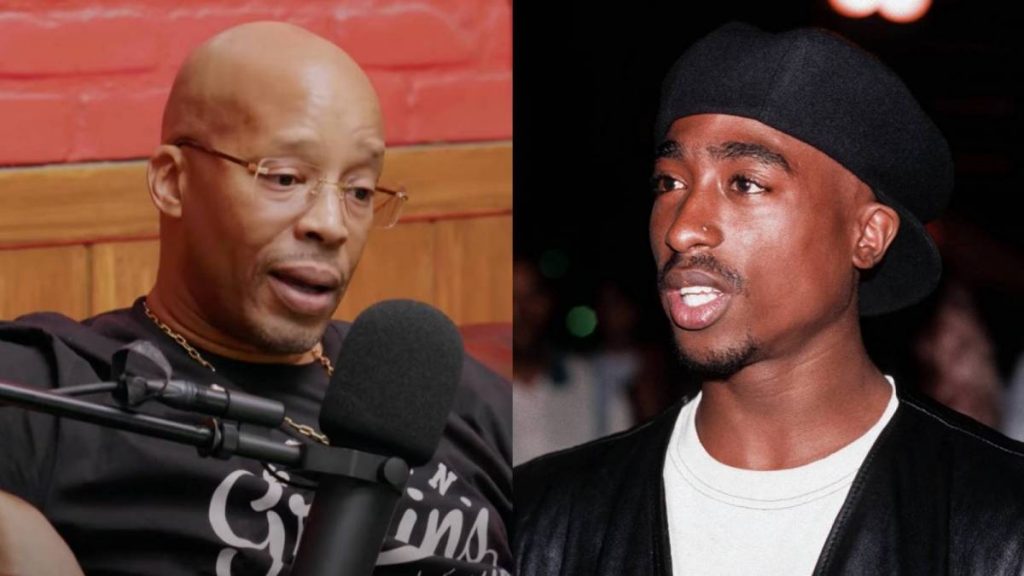 Warren G has recalled the time he declined a collaboration with 2Pac following an incident that resulted in his chain being snatched by Suge Knight's goons.
Speaking on the latest episode of Hotboxin' with Mike Tyson, the Long Beach rapper and producer was asked about his relationship with 'Pac. He revealed that it was harder to link up with the legendary rapper after he was released from prison in late 1995 and following his signing to Death Row Records.
"We didn't get a chance to link up after he got out — actually, I seen him one time when he got out," Warren G told hosts Mike Tyson and DJ Whoo Kid. "We was in the House of Blues and he hugged me like, 'Warren!' We was huggin' for a lil' bit and then he hit me a few days after that and he was telling me let's get in the studio, I'ma book some time."
Warren G declined 2Pac's offer after discovering he wanted them to record at Can-Am Recorders, the notorious Hollywood home studio of Death Row Records — now owned by Top Dawg Entertainment's MixedByAli. "I ain't just ready to step out there," Warren said he told 'Pac.
The "Regulate" hitmaker went on to explain that 2Pac was unaware that he had been jumped at the same studio previously. According to Warren G, he was at the studio with Snoop Dogg, Daz Dillinger and others when Suge Knight requested to speak to him in the studio's infamous "Red Room."
Warren said once he entered the room another man stepped in with Suge Knight and started verbally going off on him about some rumors he had heard, which Warren called "bullshit" on and in hindsight thinks the confrontation had something to do with the fact that his step-brother Dr. Dre had unceremoniously left Death Row — unbeknownst to Warren at the time.
"I knew it was bullshit when the motherfucka said something about some bitches saying I was trying to get at you. I don't know why they was trippin', but they was trippin'" Warren G said.
An altercation then ensued between Warren and some of Suge's goons which led to Warren having his chain snatched. "[Big] C-Style, I'm not gonna lie, he was the one who caused the diversion for me to get up out of there," he said, explaining how the LBC Crew rapper helped him escape catching a beatdown.
Warren added that he "had a glock on" him at the time. "I ain't gon' lie, I wanted to pull [it] out and start bussin', but I had to think because it was a bunch of dudes right here outside of the door, buncha police that was workin' at the same time around that time, so I was in a fucked up situation," Warren said.
It was because of this incident that he and 2Pac were unable to collaborate outside of Warren G producing 2Pac's "Definition of a Thug N-gga" and "How Long Will They Mourn Me."
Elsewhere in the interview, Warren G revisited the time he was planning on bailing 2Pac out of prison until Suge Knight famously beat him to the punch, which then led to the legendary rapper signing to Death Row Records.
"People can ask Richie Rich — the real Richie Rich from Oakland — I was gonna try to bail [2Pac] out; I got beat to the punch," Warren said. "I was gonna put up the money and I didn't want nothing, I swear to God. You can ask Richie Rich.
"I was gonna put up the money, I didn't give a fuck. It was like, I don't want nothing back. If I get this money to him to get him out of there I don't want nothing. I don't want him signing no paperwork, you ain't got to do nothing n-gga. If I ever need you on a song or something, get with me. It was serious, I ain't never told nobody none of this shit."
Watch the full interview above and hear Warren G talk about the incident involving 2Pac and Suge Knight at the 20-minute mark.