Wyclef Jean Explains Why He Thought People Might Not 'Dig' His Debut Solo Album 'The Carnival'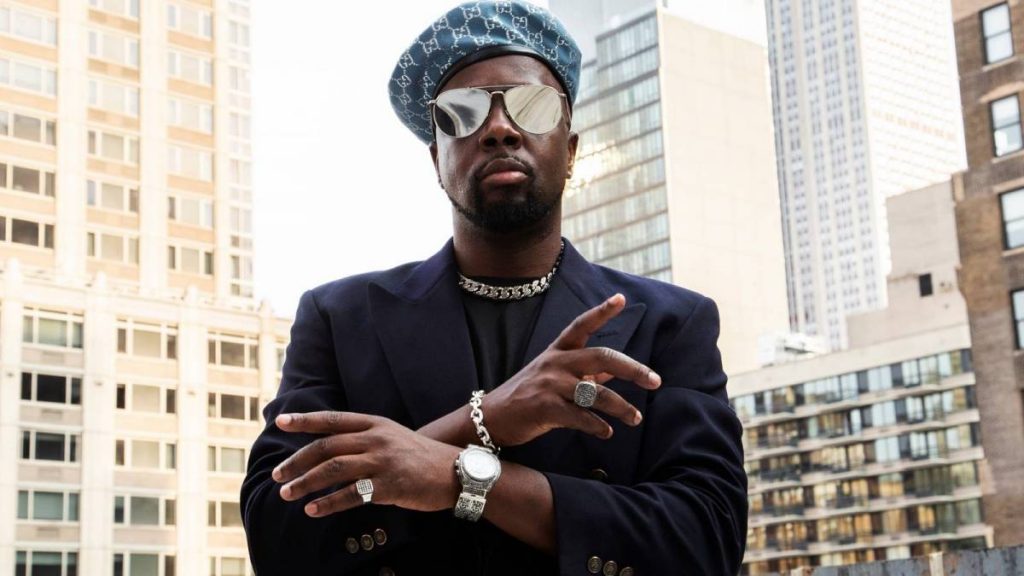 Exclusive – Wyclef Jean, Lauryn Hill and Pras — collectively known as Fugees — delivered their sophomore album The Score in 1996 to critical and commercial acclaim. As of February 2021, the Grammy Award-winning effort has been certified 7x-platinum by the Recording Industry Association of America (RIAA), making it one of the best-selling albums of all time.
Needless to say, the pressure to execute another chart-topping behemoth should've been palpable. But before a third album could be realized, the trio broke up and went their separate ways. Fortunately for Jean, they'd already completed work on his first solo album, Wyclef Presents The Carnival featuring the Refugee Allstars. With contributions from Lauryn Hill, John Forté and Pras, it still carried a lot of the aesthetics that made The Score such a massive success but was still innovative enough to separate Jean from the pack.
Released on June 24, 1997, the 24-track effort shattered any expectations for Jean as a solo artist and wound up earning three Grammy Award nominations, including two nominations at the 40th Annual Grammy Awards for Best Rap Album and Best Rap Performance by a Duo or Group for "Guantanamera."
With the The Carnival's 25th anniversary landing late last month, Jean had a chance to celebrate the milestone with a performance at New Orleans' Toulouse Theatre on July 3, where he played the album in its entirety. From "Guantanamera" to "Gone Til November," Jean sailed through the set like it was 1997 all over again. Looking back on that time, the multi-faceted artist told HipHopDX he wasn't really concerned about topping The Score. 
"The thing about me is, I was a producer first," he said. "People got to understand my DNA. Maybe it would've been pressure if I approached it from the point of view of an artist. I didn't come into the music business in my mindset as an artist — I came in as a composer. I wanted to be like Gershwin, like Quincy Jones; I was watching what those guys was doing.
"So, what that means was, I'm constantly in the studio recording. It wasn't no pressure, because it wasn't like, 'Oh, I had to come up with music.' It's literally like we was touring and while I was touring, I was working on Carnival, then I got back to New York and kept working on it. It just felt like just a body of work. I didn't know where it was going to land."
Wyclef Jean is currently working on his next solo album, 2097, and expecting to roll out the first single before the end of July. As he explained to DX, "All I can do is tell you I was very inspired and y'all know my music is all about the journey. So, get ready, because we got 2097. Prince had '1999,' right? We have 2097." In the meantime, check out the conversation about The Carnival below.
HipHopDX: Was it a scary to present labels with the genre-bending album like The Carnival? Did they know what to do with it? 
Wyclef Jean: Honestly, I was like, 'Man, I don't know if people are going to dig this, because it's sort of like, it was breaking all of the boundaries, too. So, think about it, when a group gets super successful, what the label says is, "Give us another one like that [laughs]." And the Fugees are very unorthodox to that shit. I was like, "No, I got an idea. It's this album, it's in four languages and it has disco, it has country, et cetera. They're like, "Man, what kind of mushrooms is this motherfucker on?" It was so far from the norm to what was considered Hip Hop at the time. I remember a music programmer saying, "Where are you going to get this played?" And I was like, "Well, let's start off by urban stations," then he was like, "Well, urban stations are not going to play a Spanish song." I said, "Yes, they are."
I was like, "Culturally, how can you … you're separating us as humans," right, because think about it, I was fighting this fight when we didn't have a streaming service. So, now, when you listen to The Carnival, you're like, "Oh, shit, this shit sounds like a streaming service." I can go from a Hip Hop song, from boom bap to a Latin record, to a country record, to a disco record, you know what I'm saying? It was pretty confusing for the label, no matter what they said. It looked kind of strange.
HipHopDX: But it worked and I think that's the brilliance of it, too. Whose idea was it to sample the Bee Gees for "We Trying to Stay Alive?" Because I wouldn't necessarily think of that as a Hip Hop beat.
Wyclef Jean: Anything from The Carnival is from my brain. So, through the years, everything connected. So, why the Bee Gees for me? You got to understand, a young man coming from Haiti, growing up in the projects, no television, and then one of the first freaking shows that I see and I can identify with is the freaking John Travolta, right?
HipHopDX: Oh, Saturday Night Fever?
Wyclef Jean: Yeah, I was like, "Yo, this is the coolest white boy ever." I was like, "Yo, this dude got a white suit, he walking like he from the hood — I'm liking this dude. I'm going to tell you something that's going to sound real crazy. I don't put genres on music. For me, I never be like, "Oh, this is disco," since my brain don't register it like that. Or, "This is reggae." My brain registers it like, I love this music, I dig this kind of music, you know what I mean?
HipHopDX: I am the same way actually. 
Wyclef Jean: So for me, it was just the fucking Bee Gees, the falsetto that they were singing. It was just the coolest shit I've ever heard. I was like, inspired, of course, by a generation before me, like Grandmaster Flash, Melle Mel, Kurtis Blow, and the way those guys would take these amazing Chic records or different records, and then put rap vocals against it. I was like, "How cool would that be to do something like that with the Bee Gees?"
HipHopDX: Wow, and you nailed that one.
Wyclef Jean: Thank you.
HipHopDX: There's so many tracks I want to talk about. On "Apocalypse," I feel like you're talking about some topics that are, sadly, still very relevant today. What was the inspiration behind that song? I like how you tell a story in it. I go on the ride with you as you're going through your verses. 
Wyclef Jean: "Apocalypse" was sort of like, coming up in that neighborhood, I guess, watching how N.W.A, Eazy-E and them was telling me stories from their neighborhoods and what was going on. I literally was just painting a picture of the projects of Brooklyn, and then moving to New Jersey and a lot of things that I got to see firsthand, all the way down. It was really about folks getting shot over mistaken identity. Literally, if you wasn't in the projects with me, the journey just took you through different areas of the hood. Then, when we said "Apocalypse," I felt like living in these rural areas was apocalypse, you know what I'm saying? Because no people come to this side of town. This is apocalypse. It's demon city.
View this post on Instagram
HipHopDX: We're still seeing so much of that today. There's been so many young rappers getting murdered, gun violence seems to be at an all-time high. It's dangerous out there.
Wyclef Jean: Big time, so when you hear "Apocalypse" or you hear records like "Gunpowder," you're like, "Oh, shit, this is still the same shit going on."
HipHopDX: Still the same shit. I also wanted to talk to ask you about "To All the Girls." As a woman, I was pretty impressed that you took accountability for some of your past mistakes. Was that a difficult decision to say you're sorry. Not all men would do that. 
Wyclef Jean: Well, definitely. Georgie Porgie kissed a girl and made her cry, you know what I mean? I would say for me, vulnerability is one of the greatest art forms, and it's not just in music. It's in paintings and poetry. When you can be vulnerable and honest with yourself and be apologetic and talk to yourself, then that record will speak to someone else, because someone wants to say that. They're not tough enough to say it. So, at the time when you say it, then the person feels like they're not alone. So, I hope every man that broke a woman's heart, when they hear that song, that they went and apologized.
HipHopDX: That's so true. I kind of feel like that I have been sober since 2006, and when I talk about my story, other people want to talk about their story and it's just such a powerful thing when it comes to connection.
I was watching a interview with you and you were talking about how Young Thug put you back in the conversation a little bit, and you ended up doing stuff with Kodak Black. What's it like collaborating with the younger generation being an elder in Hip Hop culture?
Wyclef Jean: It was amazing to just be sitting back and then get a call and someone's like, "Young Thug's looking for you, because he needs your permission because he's naming a song after you." When he put that song out, "Wyclef Jean," I think it made his generation go back — and his brother's generation is a Google generation, everything got to be Googled. So, they went and they started Googling the work. It was just amazing. With Kodak Black, one of his favorite songs is a song called "Lady Haiti" from an EP I did called J'ouvert. Someone had sent me his Instagram with him singing that to his mom and dancing with his mom. Then, he's like, "Yo, I got to meet him."
When I went and saw Kodak Black, we ended up doing the song called "Haiti." When you are doing music, because I'm always 25 years ahead, I'm never thinking of what's the trend, what's the topic, what's going on. As I'm doing that, there's some young kid that's 10 or 11 that's listening to that shit. They're listening to the newer stuff, not the stuff that's on the radio, this newer stuff. So, that happened.
HipHopDX: It's such a good way to introduce a younger generation to the Fugees and Wyclef solo stuff. Was there anything you would change about The Carnival? 
Wyclef Jean: Any real artist will tell you, I mean, there's always something that you feel could be better, right? You have to check your instinct at times and be like, "OK, it's time to go," or you literally will sit in there for years and shit and never put nothing out.
HipHopDX: Yeah, you'll drive yourself insane.
Wyclef Jean: Big time.