Yung Joc Reveals He Cried After Jamie Foxx Paid For 'Blame It' Beat Before Him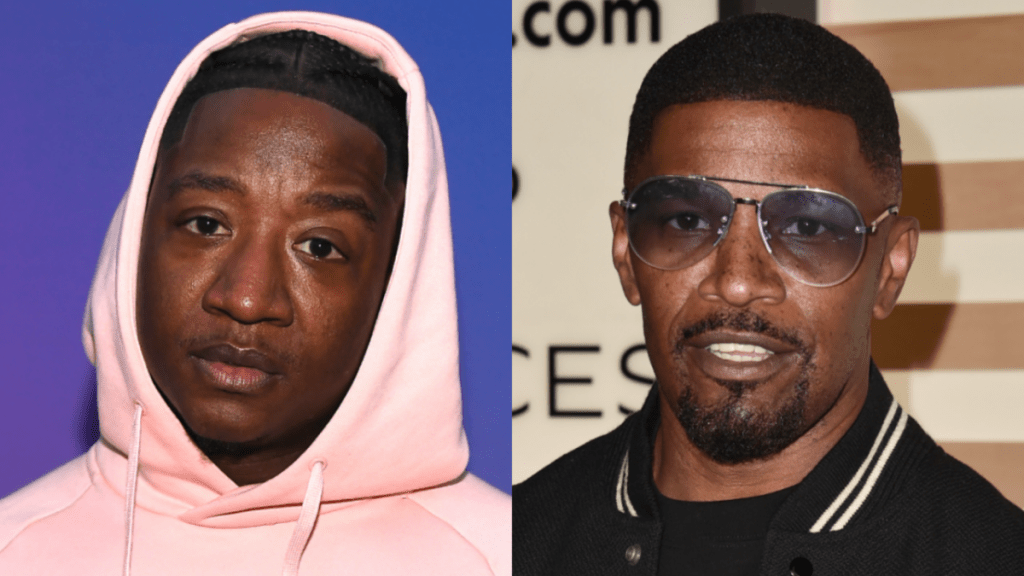 Jamie Foxx landed the biggest solo single of his career in 2009 with "Blame It," which peaked at No. 2 on the Billboard 200 chart. During a recent interview with VladTV, Yung Joc revealed he originally had the beat for the song, but Foxx ended up buying it before him.
"John Monopoly [Kanye West's former manager] said, 'Yo bro, I got a heat rock for you. There's this producer and writer, they got two records, one for you, one for Hotstylz,'" he explained. "That n-gga brought me 'Blame It on the Alcohol.' I was on tour with Crocs, the little Crocs shoes n-ggas wearing. I was on a fucking college tour with Crocs. Them muthafuckas gave me a big ass fucking bag. I was like, 'Yeah.'
"I called T-Pain while I was on that tour. I told John Monopoly, 'I'm calling T-Pain, and we gotta put Pain on this fucking record.' I did that."
Yung Joc doesn't name him specifically, but Christopher "Deep" Henderson wrote and produced "Blame It." Things got complicated when a member of Hotstylz — who he was on tour with at the time — had to turn himself in on federal fraud charges, but Joc made it clear he wanted the beat.
"I was like, 'But look, can I go to pay you for 'Blame It on the Alcohol' first? He was like, 'Nah, 'cause really, shit, Jamie Foxx wants it, but I'm holding it for you because I painted a picture for him.' I said, 'Shit, if you do it with me, you'll have a record out with Atlantic, and Hotstylz you'll have a record out with Jive.' I said, 'Shit, then you got Sony ATV publishing with them, and then you got muthafucking Warner Chappell publishing with me.' I said, 'You gon' have a fucking payday.'
"So the n-gga was like, 'You know what, that's the fucking way.' So when I called him, he was like, 'Look bruh, you gotta come on with it. I ain't hurting, but these n-ggas ready to spend this check. This is Jamie Foxx.'"
Yung Joc went on to explain he held a listening session for the song with key people from Atlanta radio stations. Their reaction led to him immediately calling the producer to sort out the payment, but it was all too late.
"They heard four seconds of 'Blame It on the Alcohol,' and everybody said, 'Stop it! Do it. Pay them what they want for both beats, even if Hotstylz don't – give them what they want.' I went upstairs, this is a true story, this seems like a Lifetime movie, n-gga. I'm standing in my kitchen. [Phone dial sound]. 'Hey bro, hey man, look here man, tell me who I need to go on and send this money to, I'ma have my accountant wire you the money first thing in the morning.'
"He's like, 'Ah.' I said, 'What?' He says, 'It's already gone.' I said, 'Huh?' He said, 'Yeah, Jamie Foxx. They just sent the money.' N-gga, I slid down the wall like a white woman on a Lifetime movie. And the phone, I just dropped the phone. N-gga, I just let that bitch hang up on its own. I was like, 'Damn.' So I'm sitting here like, 'This shit over with.' I'm crying. I'm laying on the tiles crying because I'm like, 'This the biggest fucking record ever.'"