600 NEWARK STUDENTS ATTENDED THE PREMIERE DINNER EVENT TO CELEBRATE THE LAUNCH OF THE OTHER SIDE OF NEWARK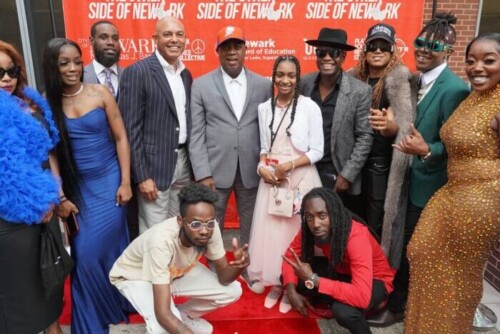 L-R, TOSON, Fatimah B, Monique The Star. Kelly Merlin, Mariano Rivera, Ras Baraka, Jerry Wonda, Azaniyah Roberson, Unicorn 151, Haze Heffner, It's Pearl Bottom: J.1.DA & Bigga Bz
Photo Credit: Wonda Music
600 NEWARK STUDENTS ATTENDED THE RED-CARPET SCREENING PREMIERE + DINNER EVENT TO CELEBRATE THE LAUNCH OF THE OTHER SIDE OF NEWARK, 10 STUDENT MUSIC VIDEOS
THE YEAR-LONG MUSIC PROGRAM WAS CREATED BY MULTI-PLATINUM GRAMMY AWARD-WINNING PRODUCER JERRY WONDA DUPLESSIS, THE HONORABLE MAYOR RAS BARAKA, BRICK CITY PEACE COLLECTIVE AND SUPPORTED BY THE NEWARK BOARD OF ED
The Other Side of Newark's Video Screening & Dinner Event, presented by Multi-Platinum Grammy Award Winning Producer Jerry Wonda Duplessis, The Honorable Mayor Ras Baraka and the Office of Violence Prevention & Trauma Recovery, and Brick City Peace Collective with the support of The Newark Board of Education and Baseball Hall of Famer Mariano Rivera, celebrated the outstanding accomplishments and impact of the arts of over 2000 students. The red carpet event occurred at Central High School in Newark, NJ where ten music videos showcased the talents of the students who participated in The Other Side of Newark's program. The lead single off the album is "They Won't" and the music video can be seen here.
The debut music release of the full album is Free and streamed on Spotify and other services and features a variety of artists, including spoken word poetry by Mayor Ras Baraka, West Ward's Councilman Dupré "Doitall" Kelly, and rappers from Newark's wards, J.1.DA, Khalil Jibran, Haze Heffner, Bigga Bz, Dangerous MBK, Unicorn151, Kellz Merlin, Its Pearl and singers Monique The Star and Fatimah B.
The Other Side of Newark Program began in August 2022, as a peace-building and anti-violence music initiative, Mayor Baraka explains, "This is about giving artists in Newark the opportunity to express themselves freely in a way that sometimes isn't celebrated and highlights the City, our artists and creates a space for their stories to be told. It is using music to drive unity and peace in our communities. When this is consumed by the larger public they will know Newark is strong and always will be. These artists did an outstanding, phenomenal, and amazing job. We celebrate the pioneers of the Other Side of Newark and the positive impact they are making using music and the arts."
Music Producer Jerry Wonda Duplessis added, "The program is changing students' lives through music and the arts, giving them confidence, self-esteem, and discipline for learning, improving social skills, and a better path to success after High School. The students worked as a team in an environment where everyone had to demonstrate their manners and no cursing or foul language was allowed within the program or any of the songs. Most importantly we are making an impact in our community and promoting peace and unity."

This special event celebrated the students participating in the program, many of which faced life challenges and adversities. Through their collaborative work, they have learned a life lesson in finding better ways to succeed. 

The Other Side of Newark anti-violence and arts education advocacy program is a collaboration of the great City of Newark, Multi-Platinum Producer Jerry Wonda Duplessis from Wonda Music (Fugees, Whitney Houston, Shakira, Justin Bieber) the Honorable Mayor Ras Baraka, The Office of Violence Prevention and Trauma Recovery, Brick City Peace Collective with the support of Newark's Board of Education and Newark Public Schools. 
© 2023, Seth "Digital Crates" Barmash. All rights reserved.