6ix9ine Calls Out Nicki Minaj for 'Threatening' Barbz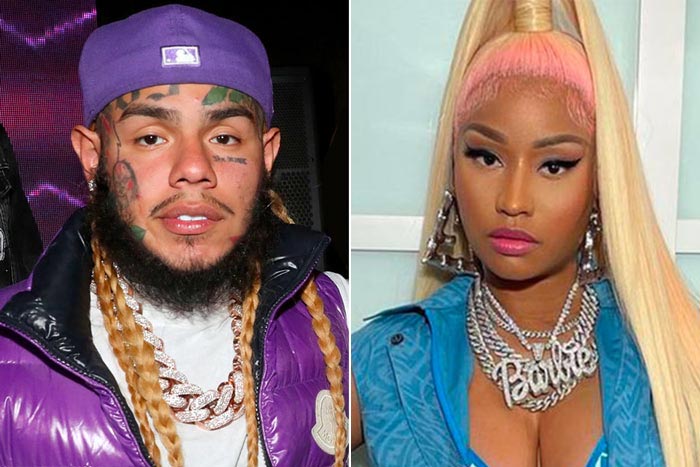 No one is off limits when it comes to 6ix9ine.
Despite collaborating on their chart-topping hit "TROLLZ," the infamous rapper couldn't help but criticize Nicki Minaj after she called on her Barbz to boost the YouTube views for "We Go Up," her collaboration with Fivio Foreign, with whom 6ix9ine has beef.
"If y'all don't do what needs to be done with the #WeGoUpVideo I will significantly and I DO mean significantly…delay the…the…the…oh what's the word… oh! the album," Nicki tweeted. "That's right. *sighs* the album *devil wears Prada Meryl Streep voice*."
6ix9ine responded by calling out Nicki for threatening her fans. "I love Nicki .. but threatening the barbz and fans is crazy," he commented before throwing shade at Fivio Foreign after he called himself the "King of New York."
"You can't make someone king that don't got it," Tekashi added. "Anyway if it's that important to you got it that threat was crazy."
View this post on Instagram
Nicki showed her loyalty to 6ix9ine by collaborating with him on "TROLLZ" following his high-profile racketeering case when most rappers turned their backs on him.
This is not the first time 6ix9ine has made shady remarks about his collaborator. During an interview with Billboard, he was questioned for calling out other artists for using Drake to get a hit. But when the interviewer pointed out that he had an assist from Nicki on "TROLLZ," he tried to discredit her.
"Nicki's my sister. I love that girl to death," he said before asking, "When has Nicki ever had a No. 1 till this date?"
Despite his reputation, 6ix9ine recently claimed that he never starts the beef, only responds to it. "My plan was never to come at nobody, it was just to drop music, get back into the realm of my art," he told TMZ. "I came out, I didn't mention anybody. Fivio jumped out the window first. He could've just stood quiet."