Basheer Jones: From Spoken Word Poet to Rhythmic Warrior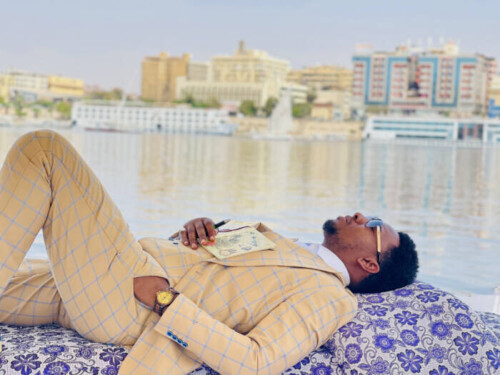 Are you prepared to go out on a literary voyage that will have you in fits of laughter, sobs, and all-night dancing? You don't need to look any farther because Basheer Jones will captivate your senses with his unique style and polished delivery. This multi-talented artist, whose influences range from Black Thought to Eminem, is poised to rule the globe with his self-titled album, "Basheer: Thoughts of a Warrior." But despite his skill with words, Basheer is more than just a talented poet; he is a formidable presence on and off the stage.
Basheer Jones fell in love with poetry at the tender age of 10. He had no idea that his love of the spoken word would lead him from Egypt's picturesque Aswan towns to the storied Apollo Theater. Basheer has left audiences in awe of his creative brilliance with just a pen and a microphone. It's safe to assume that he doesn't hesitate to use the entire world as his stage.
But poetry is only one aspect of Basheer's talent as an artist. The literary and musical worlds have been forever changed by this Renaissance man, who has published five books and four spoken word/Hip Hop CDs. Even films and classrooms have used his lyrical works to inspire young people around the country. Talk about rhyming and rhythmic knowledge dissemination!
Basheer cites an astounding list of artists, including Black Thought, Andre 3000, Eminem, Lauryn Hill, Nas, and Amir Sulaiman, when questioned about his artistic influences. His father served as the catalyst for everything, exposing him to rap at a young age. Basheer remembers, "I fell in love with rap after hearing it for the first time from my father. At the age of 7, I created my first rhyme. Basheer, a budding poet, seemed to have had his future predetermined by the stars.
Although Basheer's music surely makes you want to dance and get pumped up, it is more than just fun. Basheer's music transforms into a potent tool for change thanks to his ardent love for activism and community leadership. His lyrics are more than just a call to action; they serve as a reminder that each of us has the ability to change the world for the better. Every lyric of Basheer's song demonstrates his dedication to social justice, which leaves a lasting impression on the hearts and minds of his listeners.
Basheer is a devoted Muslim who formerly held the position of councilman, as if his artistic achievements were not already noteworthy sufficient. His passion for helping the general population as well as his faith have influenced the path he has taken and given the songs an astonishing feeling of depth as well as significance. Basheer is not only a performer but also a writer, a storyteller, and a warrior who is willing to use his art to spur change.
Ladies and gentlemen, Basheer Jones is about to take you on a fantastic adventure, so be ready for a lyrical rollercoaster ride. Get ready to sway to his words while you dance, cry, and laugh. But take note: once you enter Basheer's world, nothing will ever be the same for you again. Be ready for an artist who will challenge the status quo and challenge authority. Basheer Jones is prepared to make his imprint on the world with each impactful song he composes. Let the poetry revolution begin!
 ig is @basheerj
https://basheerjonesmusic.com/electronic-press-kit-epk
© 2023, Logan. All rights reserved.