Big Cousin Drops New EP "Sport Mode"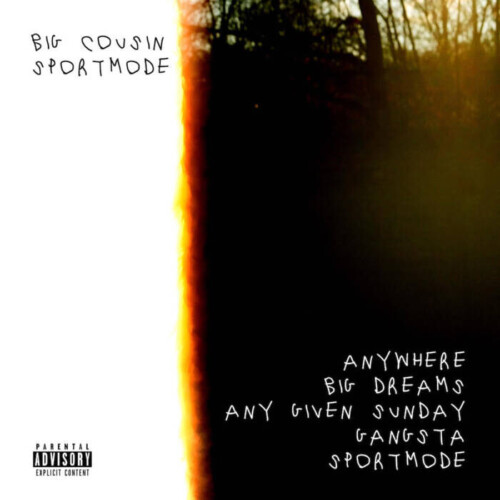 "The message from 'Sport Mode' is gliding through the gears of life knowing the curves and hitting that victory lap. Each track is shifting gears into a new emotion."—Big Cousin on his new project, Sport Mode
Four years after releasing the acclaimed Blue Money EP, Big Cousin is back in the driver seat for his phenomenal new project, Sport Mode. The London by way of Long Island-based artist brings a more confident sound that explores the various dimensions of hip-hop with the multi-hat wearing Ibn Itaka. Depending on who you ask, Itaka is a renowned producer and deejay, though you may also know him as the head of Abu Records. And on Sport Mode, he's firmly riding shotgun with production that bangs and pushes boundaries.
It's the perfect pairing for a project that finds Big Cousin ready to conquer the feeling of not knowing what would come next during the pandemic. Rather than succumb to the uncertainty, the emcee grabbed his pen and began crafting the EP's lead single, "Anywhere." It was initially set to a different beat, but after he and Itaka met in 2021, the track found new life as a moody, yet optimistic, anthem.
The creativity continued to pick up from there, as Big Cousin realized the project's ultimate direction alongside Itaka. "The idea is to envision your dreams by being prepared for the highs and lows that'll accompany the journey," he explains. "And when you're ready to make it happen, you launch into 'sport mode.'"
It's not about hustle culture or "rise and grind"; it's about knowing when the time is right to push yourself. Like Big Cousin raps on the soulfully produced title track, "This is for all my dreamers in the basement." That sentiment walks the line of feeding inspiration and empathizing with feeling stuck, and he delivers it with the maturity of someone who's been there and has persevered.
Big Cousin's Sport Mode EP is available now through all major DSPs through Global Not Local Records.
© 2023, Seth "Digital Crates" Barmash. All rights reserved.