DDG Shares NLE Choppa and BIA Remix Of Viral Hit "I'm Geekin"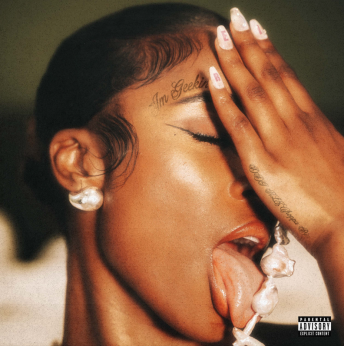 DDG continues to ignite his simmering summer anthem "I'm Geekin" with the release of a new official remix featuring two of the game's hottest stars, NLE Choppa and BIA. Stream "I'm Geekin" ft. NLE Choppa & BIA at all DSPs HERE via Epic Records. Along with the latest and final in a series of "I'm Geekin" remixes, DDG notably announces his newest project, Maybe It's Me…, set for release on July 14. Pre-order the project HERE.
This time around, NLE Choppa blesses "I'm Geekin" with his distinct and dynamic flow. He twists together an instantly quotable cameo. Meanwhile, BIA delivers a head-turning flurry of bold bars laced with one-liners and no shortage of attitude. In between, DDG's instantly recognizable cadence holds down a head-nodding groove. The accompanying visual brings these three powerhouses together on-screen in blockbuster fashion, showcasing the next era of hip-hop together. Would you expect anything less?
"I'm Geekin" has put up serious numbers since release this spring. It has continued to trend Top 10 on TikTok Music's US Top Tracks Chart, where the slowed down version has maintained a steady position for several weeks. It has also seen well over 700 million views on original TikTok creates and is rapidly rising each day. The viral phenomenon has notably incited countless creates. Just a few weeks ago, DDG served up his first remix installment featuring rapidly rising rap phenom Luh Tyler. Overall, "I'm Geeking" and its remixes have amassed well over 24.5 million streams. The song has also received praise, with critical acclaim from XXL, BET, Uproxx, Hot New Hip Hop, Hip Hop DX, REVOLT, and more, with VIBE proclaiming "DDG is cool, calm, and collected despite his new track being titled 'I'm Geekin' and the duality is real. If this is geekin', perhaps everyone out to follow suit to how DDG is living."
Now, Maybe It's Me… picks up where he left off on his fan favorite and critically acclaimed album, It's Not Me It's You. On the new project, DDG continues to assert himself as an innovator, storyteller, and hitmaker with a collection of undeniable bangers. Released in the fall of 2022, It's Not Me It's You offered a more personal reflection of the artist and brought the budding superstar to a whole new level. Featuring collaborations like "9 Lives" ft. Polo G and NLE Choppa, "Bulletproof Maybach" ft. Offset, "Love Myself" ft. Kevin Gates, and the hit "Elon Musk" ft Gunna, the project received critical acclaim, with Billboard commenting "the Michigan rapper reflects on his journey to stardom, giving an intimate look into his family life and the struggles that ultimately turned into his present-day success," while Rap Radar stated, "from exploring the highs and lows of love to embracing his newfound success, the rapper and singer stunts effortlessly." Uproxx proclaimed it one of the week's "biggest rap releases" last fall, and VIBE called it his "breakthrough." Along the way, he received support across the board from GQ to Harper's BAZAAR, Esquire, People, XXL, ESSENCE, The Breakfast Club, Hot New Hip Hop, and more, and was named to Forbes coveted 30 Under 30.
Now, with Maybe It's Me…'s imminent arrival, DDG is continuing to cement his status as a forward-looking culture shifter.
[embedded content]
© 2023, Seth "Digital Crates" Barmash. All rights reserved.