Futuristic & Jgriff Dive Deep In Their Newest Song, 'Ego'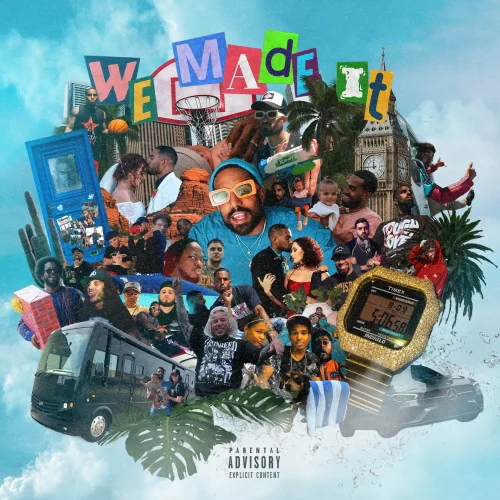 If you're looking for a rap song that packs a punch both in production and lyrical content, look no further than "Ego" by Futuristic and Jgriff. This high-energy track is the 16th song on Futuristic's latest album, "We Made It," marking their second collaboration together. Brace yourself for a sonic journey that explores the complex nature of ego and its impact on individuals.
Right from the start, Futuristic sets the stage with his captivating verse, laying down clever wordplay and thought-provoking lines. The heavy-hitting production amplifies the intensity of his delivery, demanding attention from the listener. As the song progresses, it becomes evident that ego plays a significant role in shaping one's identity, for better or worse. The chorus embeds itself in your mind with its infectious catchiness. It's the kind of hook that keeps you coming back for more, adding an addictive element to the song's overall appeal.
Jgriff's verse enters like a breath of fresh air, introducing a melodic switch that provides the perfect contrast to Futuristic's hard-hitting delivery. This dynamic change in tone adds depth to the track, revealing the versatility of both artists. Jgriff's verse showcases his ability to seamlessly blend rap and melodic elements, enhancing the song's overall sonic texture.
As "Ego" reminds us, ego can be a double-edged sword—both a driving force for success and a potential stumbling block. This thought-provoking theme adds depth to the song, inviting listeners to reflect on their own relationship with ego. It's a testament to the power of music to delve into complex topics while remaining entertaining and relatable.
Futuristic and Jgriff have once again proven their chemistry and artistry with "Ego." Their collaboration exemplifies the essence of contemporary rap, blending heavy-hitting beats, skillful lyricism, and infectious melodies. "Ego" is a standout track on "We Made It" and a testament to the creative heights that can be achieved when talented artists come together.
© 2023, AMMPRO. All rights reserved.