Hip-hop Has A Home In Hoboken With Summer Blockfest By What Hoboken Sounds Like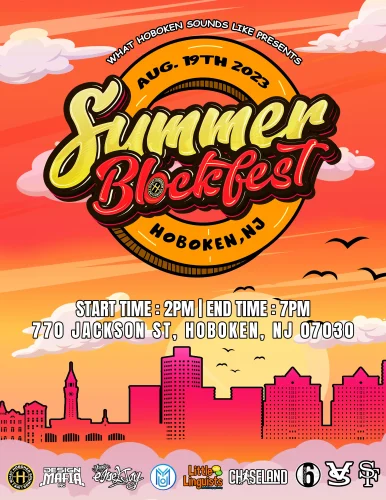 Get ready to groove, Hoboken, because an exciting musical extravaganza is headed your way! What Hoboken Sounds Like is set to host its very first Summer Blockfest on August 19th, promising a day of electrifying beats, talented artists, and a celebration of the vibrant culture of hip hop.
Located at the vibrant 770 Jackson Plaza, the inaugural event by this organization, which is dedicated to spreading the love of hip hop across the Mile Square City, will kick off at 2:00 p.m. and keep the rhythm going until 7:00 p.m. Hoboken residents and visitors alike are invited to come together and embrace the rhythm and groove of this captivating music genre.
Victor Manuel Lopez Jr., the visionary CEO and Founder of What Hoboken Sounds Like, envisions this event as a powerful platform to shatter misconceptions about hip hop. With 2023 marking the 50th anniversary of this influential musical genre, Lopez Jr. and his team are determined to break free from the stereotypes often associated with hip hop.
The lineup for the Summer Blockfest is as diverse and dynamic as the genre itself. Prepare to be wowed by performances from an array of talented artists including Chaseland, Phat Rob, Pootie, Lucaso, Rara, B. More, Indigo Morale, Dopeboidrew, Od Reek, Just Guttah, KYY, OneShotOnce, Harlem Cam, Gunner Montana, RichDoubleM, Mp14, Sosa Da Don, Spic Hippie, Jonboiiera, Automatic Mula, General Ace, Mr. Deranged, Angel Octaves, Jayna Destiny, and the School Of Rock Hoboken.
Victor Manuel Lopez Jr. is passionate about this event being a representation of unity, creativity, and artistic expression. He shares, "In 2021, our nonprofit organization was founded with the soul intention of showing support for a diverse community of artists within my area that weren't highlighted." Through the Summer Blockfest, the organization hopes to amplify these voices and bring them to the forefront.
The festival promises much more than just music. Attendees can look forward to live performances, captivating artwork, delectable food, and an array of vendors showcasing their unique creations. Lopez Jr. promises an unforgettable experience, urging everyone to witness history and discover the soulful heartbeat of Hoboken through this vibrant event.
With over 25 hip-hop and R&B artists, diverse vendors, and a shared passion for music and community, the Summer Blockfest is a testament to the power of unity and love. As Lopez Jr. eloquently puts it, "Together we all speak the universal language of love, and that is music."
For those eager to learn more about What Hoboken Sounds Like, make sure to visit their website and follow their journey on Instagram. Mark your calendars for August 19th and get ready to immerse yourself in the rhythm and culture of hip hop like never before!
© 2023, AMMPRO. All rights reserved.