Kid Cudi Talks 'Man on the Moon III,' Feeling Slept On, & Encouragement From Travis Scott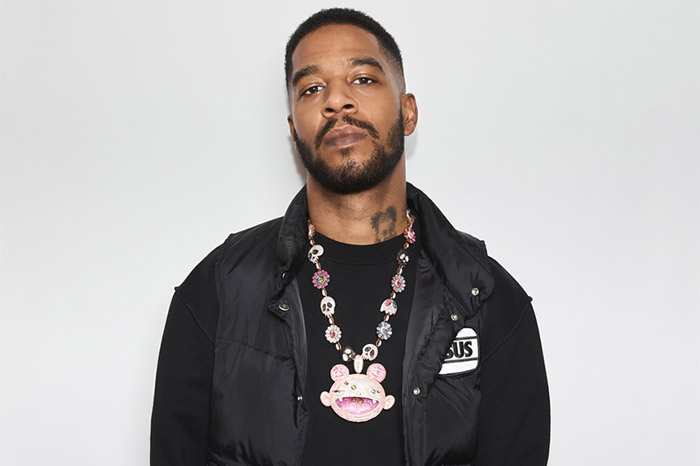 The Man on the Moon returns.
Before he drops Man on the Moon III: The Chosen, Mr. Rager sat down with Apple Music's Zane Lowe to discuss the final installment in his trilogy and his evolution since 2016's Passion, Pain & Demon Slayin'.
"I was already in a really good place working on Intergalactic, going crazy on The Scotts sh*t, had that in the chamber," Cudi said. "But then I was making something else that didn't fit those two projects. And I think after two or three songs, I was like, 'Whoa, this sh*t really feels like a Man on the Moon. Like this is what the universe is telling me to make here.'"
In the interview, Cudi also reflected on the spiritual process of creating 2018's Kids See Ghosts with Kanye West. "I think we were both feeling like we were entering new chapters in our lives," he said. "We just shed old skin and we're starting new."
Plus, he revealed how his Eminem collaboration "The Adventures of Moon Man & Slim Shady" made him feel validated and credited Travis Scott for building his confidence as a rapper.
Man on the Moon III: The Chosen arrives tonight features collaborations with Pop Smoke, Skepta, Phoebe Bridgers, and Trippie Redd.
Read highlights from the interview below.
On isolation and loneliness: "That's when I did my best work, when I wrote my best sh*t or when my best ideas were conceived. I had a lot of time to just sit and think and whether it was designing the album packaging or thinking of sets for my tour, I was always plotting something. I was always figuring it out. Because I always took it like, 'Oh, I'm some art student that just got some crazy grant to make whatever he wants to make.' That's how I felt every time. Even to this day, I still feel like that. I'm just like some art student getting a crazy grant every year or to just make whatever I f**king want to make."
On the period after Man on the Moon II: "I was a madman. My daughter was born that year. I was scared about being a parent. I was scared about the future because I didn't know what I was going to do after Man on the Moon II. I had no ideas. I think I took 2011 off. I didn't drop any music that year. Still young, still trying to figure it out. But I quit cocaine, cold turkey. I never really faced my issues with that. That's why it ended up coming back later on in life. Because it's not like I really addressed that sh*t when it happened. I kind of got arrested and then people knew about it and people started looking at me funny. And then it was just like, 'I don't really like the way this feels.' I just knew I have this beautiful baby girl who needs me. I have to rise to the occasion. This is not about Kid Cudi being a role model to the fans anymore and me being scared to be that. This is a whole nother beast here. I'm a father now. From that moment on, I was dropping an album every year, 2012, 2013, 2014, 2015, 2016."
On making Kids See Ghosts with Kanye West: "That was like music to my ears. I think the fact that we were both dealing with the same things at the same time is what made it such a solid thing. Because if one of us was on another page than the other, then it would have not come together how it came together. I think we were both feeling like we were entering new chapters in our lives. We just shed old skin and we're starting new. That energy just ran through the whole project."
On working with Ye: "When I'm working with Ye, it's always like, 'I hope he likes this sh*t.' It doesn't matter how excited I get or the people in the room around me get. If he doesn't f**king like it, then I got to f**king rewrite it. But in the whole entire history of me and Kanye West working, I've never written something where he's been like, 'Rewrite that.' Never."
On encouragement from Travis Scott: "I just remember Travis saying something to me about my raps. He was just like, 'Man, your raps, man. I love when you rap.' And I was just like, 'Okay.' I kept that in mind. I said, 'Okay. Travis is saying my raps are good. That must be something that the kids like. I'll keep that in mind.'"
On feeling slept on as an MC: "But I felt like in hip-hop, I'm slept on as a rapper. You know, as a lyricist. And I really wanted to elevate my whole sh*t on that front, on this project. And I did that with the rapping and the singing. Everything has kind of evolved."
On working with Eminem: "It was something for me to get the validation from Eminem by doing that record. Him doing that record let me know, like he was telling me like, 'Yo, I f**k with you as an artist fully, even your bars are dope.'"
On learning to write quickly from Snoop Dogg: "I remember Snoop coming into the studio, me playing a beat for him, him getting a pen and some paper, writing this verse in like 15 minutes and laying it down. And it was like, chef's kiss. Like ever since that moment, I was like, 'Yo, I want to get to that level.' Because it didn't take me 15 minutes to write a rap at a time. It took me hours. So like over the years, I've just gotten better with this writing sh*t I'm not judging myself when I'm writing something. I'm letting it flow."