King Moore feat. Nickelodeon Kid Superstar Young Dylan "Big Dreams Remix" is officially out now!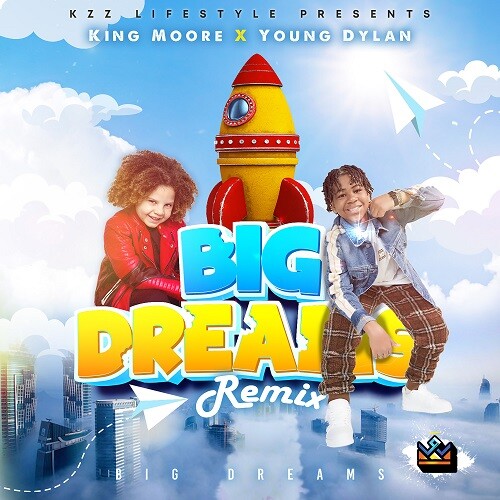 The highly anticipated "Big Dreams Remix," video and single have both been released on June 23, 2023. Produced by KZZ Lifestyle and Banger Committee, this dynamic remix features the talented Young Dylan, and its main motivation is to inspire and motivate listeners to pursue their dreams relentlessly. The infectious lyrics, like "When I make it to the top we off the clock, don't worry 'bout the bumps keep going never stop," delivered by King Moore, and Young Dylan's empowering verse, "Never listen to the people if they say that it ain't so, you just take it on your shoulder and keep moving like a soldier," serve as anthems of determination.
When listeners dive into the "Big Dreams Remix," they can expect a perfect blend of fun, inspiration, motivation, and catchy melodies from both King Moore and Young Dylan. With their combined talents and lyrical prowess, this song is sure to leave a lasting impact on those who listen. King Moore's unique stage presence, catchy riffs, and smooth dance moves, along with Young Dylan's undeniable charisma, make for an incredible musical collaboration that is not to be missed.
Notable accolades have been piling up for King Moore, including an appearance in an AT&T national commercial with LA Clippers basketball player Jason Preston. Additionally, his last two singles have garnered over 500k streams each, demonstrating the growing popularity and recognition of his talent. To celebrate the release of "Big Dreams Remix," King Moore will be performing alongside Young Dylan in Brooklyn, New York, at The Coney Island Ford Amphitheater on June 24, 2023. This highly anticipated performance promises to be a memorable experience for fans.
Hailing from Florida and now residing in Texas, King Moore is a force to be reckoned with in the music industry. His musical influences range from Michael Jackson to Drake, showcasing his diverse taste and versatile style. King has recently signed a distribution deal with Beatroot Music, a prominent independent music distributor under the Made in Memphis Entertainment (MIME) family of companies. As an actor, he has already made his mark in the independent dark comedy film "Cora Bora" and has appeared in an AT&T national commercial. Whether in the studio or on stage, King Moore's passion for creating music and his captivating performances are bound to leave a lasting impression on audiences worldwide.
[embedded content]
© 2023, MysticsEnt. All rights reserved.