LA PAT RIDES UP THE CHARTS WITH "RODEO"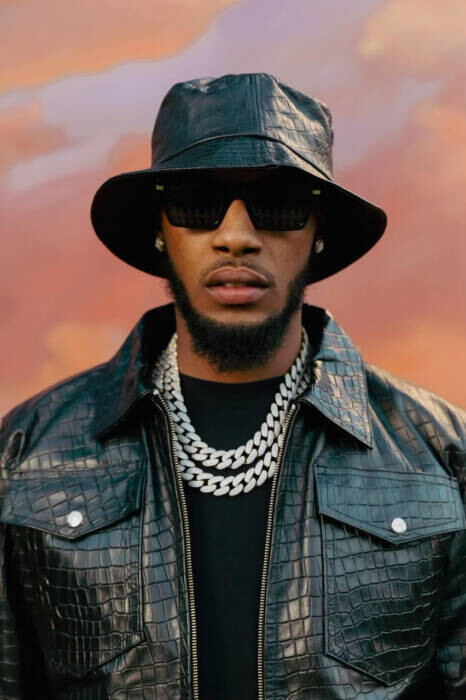 Patrick Simmons, more widely known as Lah Pat, continues to defy the odds. His melodic music oozes with Southern charm and an undeniable charisma that sets him apart as a genre-defying artist. Making waves with his "new-age swing music" that marries smooth R&B with hip hop influences, Lah Pat is undoubtedly carving out his own path.
Lah Pat was born in New Orleans which is where he spent most of his formative years until relocating to Houston after Hurricane Katrina. While both cities played an integral part in his life and personal development, Pat still considers himself to be a New Orleans native. His artist moniker would come from a childhood nickname "Lil Pat", which evolved into Lah Pat as he grew and matured. Pat grew up as the oldest of his three siblings, which fostered a close relationship with his aunts and uncles who exposed him to music at an early age. His aunt was a singer, and his uncle was a choir director, and it was through their influence that he developed an unwavering love for music.
In 2011, Pat's life changed when he was sentenced to eight years in prison at only 16 years old. Due to the sentence, this would lead Pat to spend most of his teenage years in juvenile detention, but despite the adversity, he aimed to make the best out his circumstances. He found solace in going to school, which became an escape from the dorms, and he used singing as a form of catharsis. He had dabbled with writing songs growing up, but the passion for writing and perfecting his craft became his guiding light while completing his sentence and he quickly became known for his musicality amongst his peers. Playing chess also became a beloved hobby for Pat while he was incarcerated and a friend he played with often challenged him to remix songs which would ultimately influence his subsequent releases. His desire to educate himself on the music industry and sharpen his techniques was stronger than ever, and he turned to books like Jay-Z's Decoded, Rick Ross' Freeway and publications like Forbes to stay active and prepare him for when he got home. It was also during this time that Pat wrote the first song that he ever played for his mother. She cried the first time she heard it, and it was at that moment that Pat decided that being a musician was the only path for him.
In 2022, Pat released his single "Rodeo", which reimagines Ginuwine's iconic 1996 hit "Pony", which would become a defining point in his career. With "Rodeo", Pat re-imagines Ginuwine's iconic 1996 hit "Pony". He recorded the chorus and beginning verse of the song during his last 15 months in prison but hadn't gotten around to completing it. One day after he was back home, he was humming the melody on Instagram Live when he was encouraged by a stranger to remix it, giving Pat the push he needed to finish the song and officially debut it. A few months after the song's release, it began to spread like wildfire on TikTok, sparking a viral "Rodeo" dance challenge and racking up tens of thousands of creates. Outside of TikTok, "Rodeo" began to buzz in Houston and get radio pickup, as he was already locally recognized for early releases. When Pat began to see the positive response of the song, his priority became promoting it and performing it all over the city. He even featured dancers and content creators who did the challenge online.
"On the heels of the success of "Rodeo", Lah Pat is ready to begin his next chapter. His forthcoming single "Kamikaze" is produced by his uncle who he cites as one of his earliest musical inspirations", States Publicist, Lynn Hobson. Pat is laying the bricks for his forthcoming project, which will serve as a formal introduction to his unique sound. As he continues to craft his sound, Pat learned that genre can be fluid and that "what you're singing about is more important than how you do it".
Pat says that he is "here for the long haul" and only just getting started.
[embedded content]
@_LahPat
© 2023, deblazeo. All rights reserved.