Mega Ran Releases "Buddy's Magic Toy Box" Album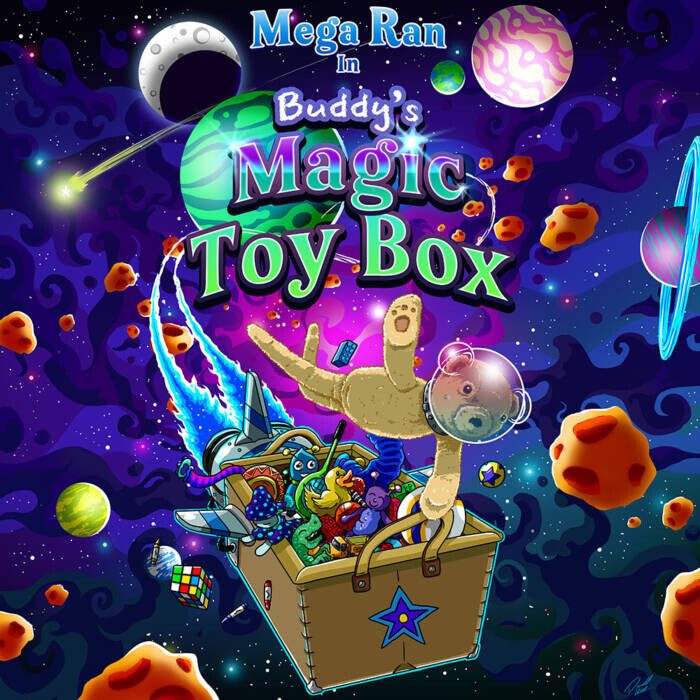 Prolific rapper, DJ, author, Guinness World Record holder, and now father Mega Ran releases new album Buddy's Magic Toy Box today. Bandcamp writes, "If the arc of kids' albums tends toward obnoxious repetition and patronizing lyrics, Buddy's Magic Toy Box is a much-needed course correction…Mega Ran is a friend, and we all—kids and adults, alike—could use a friend."
Mega Ran spent the past several years expanding his family as a foster parent and innovating his already cutting-edge approach to production to create Buddy's Magic Toy Box for his new son. This joyous and genre-bending album entertains and inspires the young (and the young at heart) with help of Mega Ran's friends like G. Love & Special Sauce, JER (Skatune Network), New York Brass (Kanye West, Jay Z, Eminem), Stacked Like Pancakes, Whitney Peyton, Kadesh Flow, Koo Koo Kanga Roo and more.
Philly native turned Phoenix resident Raheem "Mega Ran" Jarbo has toured the world from London to Paris to Tokyo to a sold-out performance at Madison Square Garden. He's shared stages with Tech N9ne, The Roots, Lizzo, Common, KRS-One, The Protomen, AJJ and more. He's collaborated with legends like Del The Funky Homosapien, MURS, Kool Keith, and Young RJ of Slum Village. His song's have been heard on television (WWE, ABC/NBC News, The Muppets Mayhem, ESPN, Portlandia, Tosh.O, AEW), movies (Clerks III) and video games (Mortal Kombat 11, TMNT Shredder's Revenge, River City Girls 2). Four of his albums have placed on the Billboard Top 200 list.
Buddy's Magic Toy Box
 is a heartwarming record that teaches us to be better people and to respect the people around us—from anti-bullying and not judging a book by its cover, to eating well and having self confidence. This album reminds us to be lifelong learners, no matter our age.
"My family and being a new father is what this is all about for me," says Mega Ran. "Foster care and adoption is a journey. They said don't get attached, but we're with him all day, everyday. What if one day the mom says, 'I'm back, let's go?' Affection was hard. I didn't think I was ready at all. Now I've grown into that position. Nothing will prepare you for anything like parenthood. This doesn't come easy and shouldn't be taken for granted. He makes me want to be a better person. Now I want to make songs that he'll want to groove to. I want to address those things that we experience as a kid, and how that makes us a better person."
Inspired by the greatest Sesame Street song of all time, "Pinball Number Count" by The Pointer Sisters, Mega Ran kicks the album off with "Count Me In," a boom-bap groove that has fun with sight-word rhymes bouncing off of counting children. "I imagined myself in a library and kids singing along with me," says Mega Ran. "I wanted rhymes with predictable patterns that would make me smile when I said them."
Standout single "Special to Me" is a shiny, indie-pop love letter to his child. It follows a legacy of songs like Stevie Wonder's "Isn't She Lovely" and Will Smith's "Just the Two of Us." Its jamming synths and New York Brass' funk horns lead to a chorus that makes you want to clap your hands and sing along. Mega Ran's clever lyricism stands out in lines like "Daddy shark when the bills is due-do-due / Ain't too much that I would not do for you / Hold you down, always come through for you / Stick by you like tubes of super glue."
Just in time for hip hop's 50th anniversary comes "The Story of Hip Hop." It's a song built to preserve the history of one of the most important musical genres in the past 100 years. It chronicles the birth of hip hop with DJ Kool Herc in the Boogie-Down Bronx in 1973, while elaborating on rap, DJing and break dancing as the essential elements of hip hop. Its informative lyrics are simplified and fun so even toddlers can sing along over its bouncy reggae beat and old school record scratching.
Health is wealth with "Gimme The Fruit (feat. Whitney Peyton)," an adorable take on The Notorious B.I.G.'s "Gimme the Loot." Beginning with a flamenco guitar riff and bolero handclaps that wouldn't be out of place on the Kill Bill soundtrack, the song blasts off in a hyped-up fruit-loving anthem with Mega Ran and Peyton trading lines about their favorite citrus, berries and melons. The final chorus ends in male-choral backing vocals and New York Brass' banging noir horn lines intertwining with Mega Ran's bombastic vocal delivery.
"Recess (feat. JER and Stacked Like Pancakes)" is a sonic standout with its triumphant ska-punk call to action to take time to play everyday. The image of hundreds of children rushing to the playground from classrooms around the world is emphasized by the horns from JER and New York Brass as they call the charge to aggressive leisure.
The laid back flow of "That's Okay (feat. Kadesh Flow)" and Mega Ran's New Orleans jazz-singer chorus is heightened by Kadesh Flow's trombone. It deals with patience and potentially subconscious microaggressions when it comes to the names of some people of color and folks with tough to pronounce names. PoC will understand this most, and people who haven't experienced it can learn to empathize with it.
"That's a Bully! (feat. Last BeNeVoLeNcE)" starts off with a shout out to Greg Barrett, a Texas man who confronted his middle school bully three decades later in a public forum. The childhood trauma of viscous bullying continues to hold on throughout a person's life. Mega Ran—who's been bullied, and was a teacher who's dealt with bullying with his own students—gives us sage advice in this song. Mega Ran tells us the best way to deal with this is to simply tell them that they're being a bully, as most bullies don't even realize that they're tormenting someone. We touch on the idea that violence rolls down the hill, that hurt people hurt people, and that peace always needs to start at home.
"This one was hard for me to write," says Mega Ran. "I've been bullied. I've read books on bullying. What's the resolution? I thought about Greg Barrett telling this superintendent about these terrible things he did to him, and he didn't even remember. He said, 'What you did to me, I almost ended my life.' And I knew this is something that needed to be addressed. While teaching, I've seen kids stop coming to school, or stay with me after school for an hour. A lot of kids don't understand that they're being a bully. If I brought that up to kids, they would say 'nooooo' because they don't like that title. That would normally squash it."
"Good Day (feat. G. Love & Special Sauce)" lightens the mood with Mega Ran and G. Love bringing good day vibes, but it's brought to song-of-the-summer status with German singer Kati Gazela's uplifting chorus. "Big and Scary" is about not judging bodies. Mega Ran, making comparisons to dinosaurs, sings, "I may look big and scary, but I'm really quite nice."
"Lovable and Capable" is a song about wanting to fit in and a reminder that everyone is worthy of love. It's a song prompting you to be confident and proud of who you are. In the spirit of Rev. Jesse Jackson's poem "I Am – Somebody," the chorus is a call and response of self affirmation, "I'm good enough / I'm smart enough / I'm lovable and I'm capable."
"Friends Winning (feat. Koo Koo Kanga Roo)" is about lifting up your friends and celebrating their successes, particularly in regards to artists and in this age of social media. It's a song that pushes you to be conscious of jealous feelings, and turning those bad feelings into something good. It's a life hack for positive mental health that we can all utilize and teach our children. There's room for everyone at the top.
The album closes out with the jazzy R&B groove "Goodnight, Baby," perfect for lullaby playlists. "I wrote this after watching our kid sleep one day," says Mega Ran. "He was passed out like he just worked a 20-hour shift. Just all stretched all out and snoring. This song is what I would say to him in that moment. 'It's time to go to bed, and wake up tomorrow, and go take over the world. I'm just happy to be a part of this journey with you.' It's the perfect button to end the album."
Mega Ran has come a long way from his teenage days of freestyle rapping with friends, Philadelphia open mics and producing beats on a Playstation one with MTV Music Generator. He worked in studios, producing artists from the Philly street scene whose violent lyrics he couldn't connect with. He dropped his first album, The Call (2006), under the name Random Beats.
He moved to Phoenix and dug back into his video game roots, particularly Mega Man by Capcom, who's soundtrack lived inside his head. He released Mega Ran (2007) with all beats produced from Mega Man games, and it was a hit. Capcom found the record and gave him a platform, and was instrumental in him being the first rapper to play Comic Con. He became so associated with the record that he changed his name to Mega Ran. He shifted the musical content he was creating primarily to gaming, which led to his Guiness Book of World Records entry for most songs that reference a video game.
Releases like Mega Ran 9 (2009), Forever Famicon (2010) and his Final Fantasy 7 record Black Materia (2011) brought press attention for combining hip hop and gaming. He quit his job and cut his teeth playing mostly sold-out shows on a 50-date tour with MC Chris at the height of his nerdcore fame. He released an abundance of singles and records including RNDM (2015) featuring Open Mike Eagle and Kool Keith, wrestling heavy albums Mat Mania (2016), Mat Mania: The Revenge (2017) & Wrestling is Real, People are Fake (2023) which lead to WWE song placements and a Ring of Honor Wrestling (ROH) live performance where he actually wrestled. Live '95 (2021) focused on his love of '90s basketball and features Del the Funky Homosapien.
There's a mountain of releases and accomplishments in addition to these. Over the pandemic Mega Ran lost a parent and began to reevaluate his life. He sat down and wrote his book Dream Master: A Memoir: From The Stoop to the Stage To The Stars (2020), chronicling his rise from obscurity to Guinness World Record holder.
Mega Ran has done a lot of reflecting and has dug deep into his childhood to create Buddy's Magic Toy Box. He chose the moments in his life that were most important to him, and would work as wisdom and guidelines to pass down to his own child. This is an album that teaches all of us how to live a loving and compassionate life under the guise of a children's record. Many adults could benefit from the lessons taught on Buddy's Magic Toy Box. Mega Ran has been making music for nearly two decades, and has always taken on the responsible moniker of a role model, and the world couldn't ask for a better ambassador of kindness and joy. Listen to this record with your child, and grow into better members of society together.