Offset Surprises Cardi B with a Billboard for Her Birthday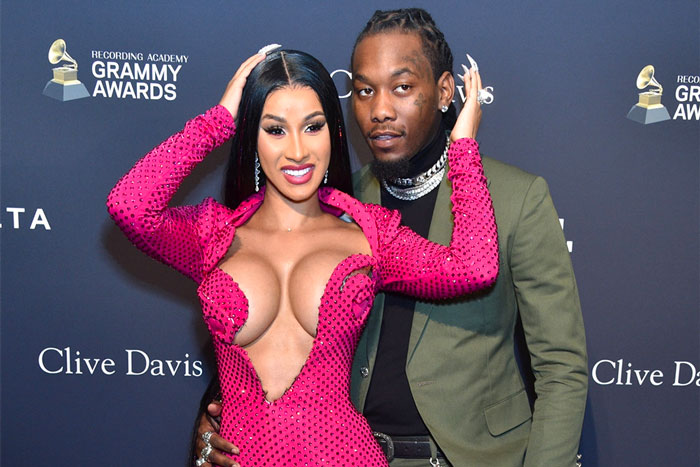 Offset still has love for Cardi B.
While they may be separated, that didn't stop the Migos rapper from surprising his estranged wife with a lavish gift ahead of her 28th birthday on Sunday. Offset splurged on a billboard wishing Cardi for her birthday from her daughter Kulture.
Cardi pulled up to check out her b-day gift, which has a prime spot on L.A.'s famed Sunset Blvd. and features a photo of her and Kulture in matching pink outfits. "Happy Birthday Mommy Love, Kulture," it reads.
Cardi was overwhelmed by the thoughtful gift. "Oh my goodness, oh my God!" she said before thanking Offset in her caption. "Thank you sir 😏😏😏I love it," she wrote.
View this post on Instagram

Thank you sir 😏😏😏I love it
The "WAP" rapper filed for divorce from Offset last month after three years of marriage. "I didn't wait until he cheated on me again," she told fans. "I didn't wait [for] another controversy with him being involved. I decided to leave. If I wanted to stay, I could have stayed. I decided to leave."
Despite their breakup, she won't tolerate any disrespect towards the father of her child. In a series of since-deleted tweets, she defended him against fans. "He a dumbass not a bad man," she wrote. "I don't give a f**k if you don't like him. I don't talk to him but you not going to disrespect my child father. I will slap the shit out of you in curtesy of Kulture."
While Cardi is happy being single, Offset is seemingly not over his ex. A fan recently said he looked "stressed out" in a photo, to which he replied, "I am I miss MRS.WAP…call her for her me but private."
update: offset misses his missus https://t.co/9HkqRPraIv pic.twitter.com/Hc7YB5rLD5

— TheRealJayKenzo💙💫🎶 (@iamjaykenzo) October 9, 2020