RED BULL CULTURE CLASH RETURNS TO ATLANTA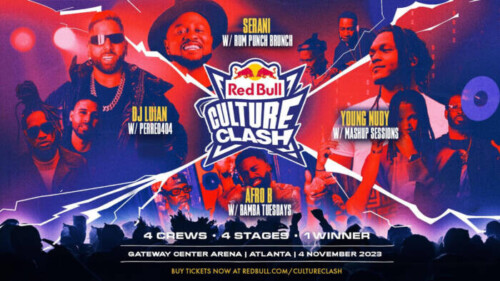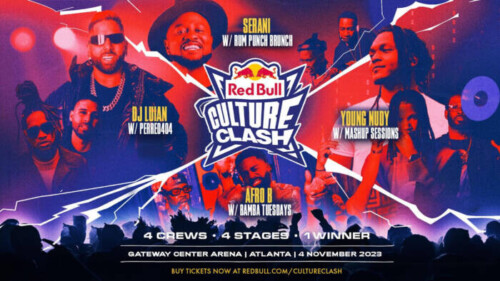 Red Bull Culture Clash, the groundbreaking live music experience featuring four opposing crews across four stages, is thrilled to announce its return to Atlanta this November to deliver the nightlife event of the year. Set to unfold at the Gateway Center Arena on Saturday, November 4, tickets are now on sale for this spectacle that pays homage to the city's unique tapestry of culture, color, and sound. 
For one night only, four dynamic crews representing Atlanta's hottest parties will bring their fiercest competition and freshest sounds in Dancehall, Reggaeton, Amapiano, and Hip-Hop to one location: Rum Punch Brunch featuring Jamaican dancehall sensation and producer Serani; Perreo404 featuring Bad Bunny collaborator, DJ, and producer DJ Luian; Bamba Tuesdays featuring singer and songwriter Afro B; and Mashup Sessions featuring rising Atlanta rap star Young Nudy. In a four-round battle, they'll bring booming soundscapes, unreleased tracks, intense rivalry, and a thrilling lineup of special guests and surprises, all aimed at winning the crowd's hearts and outshining their opponents. Only one winner can be crowned Red Bull Culture Clash champion and earn bragging rights as the best party crew in the A. 
This year, Red Bull Culture Clash will also feature a special performance from Atlanta's own Crime Mob, including original members Diamond, Lil' Jay, M.I.G., Money Blacc formally known as Cyco Blacc and Princess. The revered group have carved out their place in history with their iconic Southern rap anthems "Knuck If You Buck" and "Rock Yo Hips." The show will be hosted by Jessie Wooand Paige Shari, while Jay Shale, the Atlanta DJ who spins for the WNBA's Atlanta Dream and Overtime Elite, will serve as house DJ for the battle.
Get to know the crews of Red Bull Culture Clash Atlanta
Coined as Atlanta's most celebrated brunch, RPB started it all back in 2016, and has become a must-attend event for those looking for exotic eats, big beats, the best rum punch, and the coolest vibe. The crew will be joined onstage by Jamaican dancehall singer and producer Serani and featured DJs Tony Matterhorn and Willy Chin. 
The open-format experience for Music Lovers, where music is remixed, flipped, and reconstructed. Delivering music that feeds the soul, Mashup Sessions is all about good drinks, good people, and better vibes. The crew will be joined onstage by local Atlanta rap star Young Nudy and DJs Unruely and The Canterbury Tales.
One of the nation's premier Amapiano events, as well as an Atlanta cultural institution, Bamba Tuesdays seamlessly blends Amapiano, Afro House, Gqom, Afro Tech, and Afro Beat. The crew will be joined onstage by singer and songwriter Afro B, known for his hit single, Drogba, plus DJs Kash, DangerVybz, and Polish.
An all-inclusive community uplifting the Latin culture through nostalgia and sounds, featuring Reggaeton, Perreo, Latin House, and more. Que viva el perreo! The crew will be joined onstage by Bad Bunny collaborator, DJ, and producer DJ Luian, plus DJ EU and Nino Augustine.
Red Bull Culture Clash previously came to Atlanta in 2017 and 2018 and, perhaps boding well for Rum Punch Brunch, Dancehall crews won both prior years. Crew Unruly with DJs ZJ Liquid, Chromatic, Jazzy T, and Jabba won in 2017, while Jamaica reggae and dancehall artist Kranium and crew Frequent Fliers took the title in 2018. After a four-year hiatus, Red Bull Culture Clash made a triumphant return to the U.S. in 2022, selling out venues in NYC and LA. 
"Super excited to be a part of Red Bull Culture Clash this year because I've been a team member a few years back with Mike WiLL (Made-It) and the Eardrummers. Now it's time to lead the charge for my own team," said DJ Kash of Bamba Tuesdays. "Red Bull Culture Clash is like a legit gladiator battle for DJs, producers, and whatever you do creatively in the music. For me, this is super important because this lets you know where you stand as far as how to rock a crowd."
The two prior Red Bull Culture Clashes in Atlanta also saw guest appearances from Ludacris, Mavado, Rae Sremmurd, Rico Nasty, and Waka Flocka Flame, among others.
"Red Bull Culture Clash is an important event in Atlanta because it highlights all the people that are doing movements in the city of Atlanta – that are really putting on for the culture of the city and showcasing all the vibes and sounds of our cultures," said DJ EU, who won Red Bull 3Style in Atlanta in 2013. "Red Bull Culture Clash takes me back to my Red Bull 3Style battling days, but this time it's not one person – it's the crew and I could not be happier to be repping the Latinos in Atlanta with my Perreo404 crew."
For more information on Red Bull Culture Clash and to purchase tickets for Red Bull Culture Clash Atlanta, visitredbull.com/cultureclash. 
© 2023, Seth "Digital Crates" Barmash. All rights reserved.