Rihanna Claps Back After Being Called Out for Being Late to Dior Show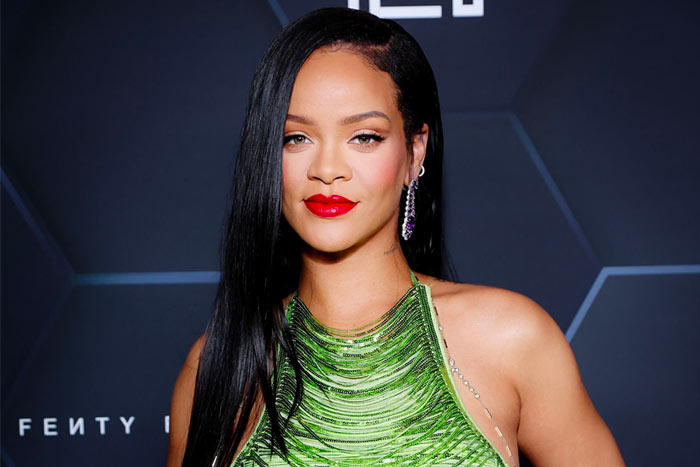 Rihanna is the queen of the catwalk—and the clapback.
The fashion icon dazzled while attending the Dior show during Paris Fashion Week on Tuesday (March 1). The mom-to-be was stunning as she flaunted her growing baby bump in lacy black lingerie, including black panties and a bra underneath a sheer skirt. She completed the racy look with thigh-high black patent leather boots and a matching jacket.
Rihanna, posing with Maria Grazia Chiuri, the Artistic Director of Dior, today at the Dior fashion Show. (March 1, 2022) Via Instagram/martinabonnier pic.twitter.com/MNsljIjy7X

— Fenty Headlines (@FentyHeadlines) March 1, 2022
The pregnant singer made a fashionably late entrance into the show while starstruck attendees gawked and filmed on their phones. In one viral video, someone on the sidelines screamed out, "You're late!"
The Bad Gal turned around and responded with the ultimate clapback: "No shit." She then calmly continued to walk with her hands on her belly.
Rihanna arriving at the Dior Fashion Show #PFW pic.twitter.com/owjrI8gIdP

— christelle. (@fentibetter) March 1, 2022
The day before, she and A$AP Rocky sat front row at the Off-White show, which served as a tribute to the late Virgil Abloh.
Up Close: Rihanna at the Off White Fashion Shoe in Paris #PFW pic.twitter.com/5b23Zh8jMi

— christelle. (@fentibetter) February 28, 2022
Last week, the couple stepped out to the Gucci show at Milan Fashion Week, where Rih once again showed off her maternity style.
"I'm trying to enjoy it as much as I could, and fashion is one of my favorite things, so redefining what it even means to be pregnant and maternal," she recently told "ET." "It can get uncomfortable at times so you can dress the part and pretend."