Rowdy Rebel Connects with Fivio Foreign and Fetty Luciano for "Posture" Video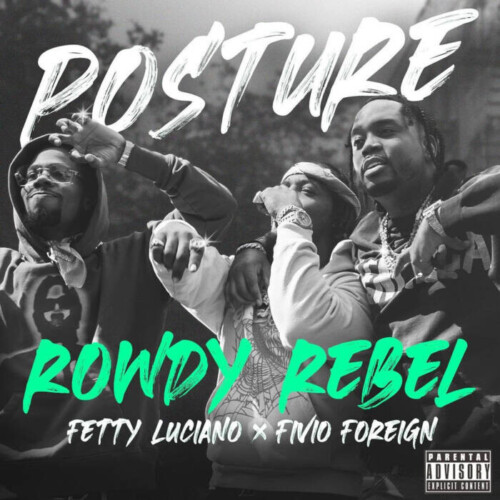 Revered throughout the Five Boroughs as a pioneer of Brooklyn drill, Rowdy Rebel infuses his music with the type of energy that can move mountains. Returning to the roots that anchor his unshakable stature, Rowdy recruits his brother Fetty Luciano and fellow East Flatbush native Fivio Foreign for "Posture," his new video single. Over a fast-paced, booming drill instrumental, the track finds Rowdy setting the record straight for anyone foolish enough to question his résumé: "N****s is mad, I pull n****s cards, cause n****s ain't spinning, let's keep it a buck/All my real n****s from the Floss that's out here spinning, they know what's up."
The video for "Posture," directed by Fuego and G Train Productions, is as much of an East Flatbush affair as the song itself. With Rowdy front and center as his crew turns up to the music closely behind him, the clip recalls some of Rowdy's most iconic early visuals in those same streets, now with a more polished look and eye-catching transitions.
A mythical presence in the New York scene for nearly a decade, Rowdy Rebel's super-charged, energetic style of rap never fails to live up to his name. After bursting onto the scene in 2014 with his Bobby Shmurda-assisted breakout hit, "Computers," which Rolling Stone ranked #94 on their list of "The 100 Best East Coast Hip-Hop Songs of All Time," Rowdy released his first solo mixtape, Remain Silent, in 2015, followed by 2016's Shmoney Keeps Calling, with appearances from Lil Durk, A$AP Ferg, Rich The Kid, and many more. Last summer, Rowdy made a full return to music with Rebel vs. Rowdy, his first full-length effort in half a decade, which featured guest verses from A Boogie Wit da Hoodie, Fivio Foreign, French Montana and more. The 17-track Rebel vs. Rowdy arrived on the heels of Rowdy's high-profile guest appearance on Pop Smoke's "Make It Rain." Late last year, Rowdy blessed stages alongside fellow Brooklynite Bobby Shmurda on "The Bodmon Tour." In April, Rowdy released Splash Brothers, his joint project with Fetty Luciano, featuring recent singles like "We On It" featuring DBoyLo, and "Whamm."
Now signed to GoodTalk/Cinematic Music Group, Rowdy Rebel hopes to expand his kingdom in the Five Boroughs and beyond. Stay tuned for much more from the Brooklyn native as the summer progresses!
[embedded content]
© 2023, Seth "Digital Crates" Barmash. All rights reserved.